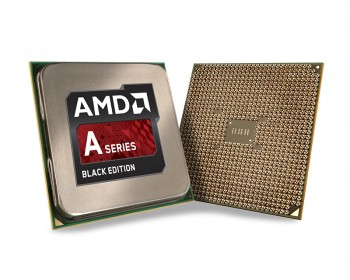 Back in 2011, AMD released their APU line of processors. The APU features a processor and a "powerful" GPU on the same chip. The on-board GPU in the APU line is considerably less powerful than its desktop component counterpart, but more powerful than other comparable integrated graphic products. In the beginning 2014, AMD released the new Kaveri APU. The new APU consists of a quad core processor and a Radeon R7 built into the chip and a slew of other features that are designed to enhance the user experience while using an AMD Kaveri powered system. The ideal behind Kaveri is not just to build a processor, but a whole system that yields good performance yet doesn't break the bank doing so.
Review Sample Provided by: AMD
Product Name: AMD A10-7850K Kaveri APU
Price at time of review: $  USD
Product was given in exchange for work done to produce this review.
Features
Up to 4 "Steamroller" x86 computing cores
- Support for the latest ISA instructions including FMA4/3, AVX, AES, XOP – Up to 2MB L2 cache per dual-core module (up to 4MB total) – Maximum Turbo Frequencies up to 4GHz
Up to 8 GCN-based GPU cores
- Up to 512 shaders – Up to 720MHz – 8xAA and 16xAF Support – DirectX®11.2 Support – Mantle Support – AMD Eyefinity Technology and 4K Ultra HD Support
- DisplayPort 1.2 Support
FM2+ Platform
- Backwards compatible platform means support for other FM2+ APUs new and old – PCI Express Gen 3 support – AMD CrossFire support with AMD A88X motherboards and above – AMD Memory Profile (AMP) support for up to DDR3-2400MHz – AMD Dual Graphics  support with AMD Radeon™ R7 graphics cards
HSA Hetereogeneous Computing
- hUMA – Heterogeneous Unified Memory Architecture enables shared memory between CPU and GPU cores
- hQ – Heterogeneous Queuing allows both CPU and GPU cores to independently schedule tasks
AMD TrueAudio Technology
- Dedicated DSP for true-to-life audio with no performance compromise – Enable dynamic 3D sound processing effects across more audio channels – Programmable audio pipeline grants artistic freedom to game audio design
Unified Video Decoder and Video Compression Engine
- Dedicated hardware to offload video encoding/decoding from CPU – AMD Picture Perfect support with HD Post-Processing technologies
The Kaveri APU rolls out with an updated version of the AMD's Bulldozer architecture called Steamroller. The Steamroller architecture focuses more on improving the IPC of the APU. IPC is Instructions Per Clock cycle. IPC also determines how "fast" the CPU is. The Kaveri also uses a new manufacturing process that moves to 28nm. This allows the Kaveri to contain a Hawaii based GPU on board. The Kaveri APU contains 4 Steamroller cores and 8 GCN cores for a total of 12 "compute" cores in the A10-7850K.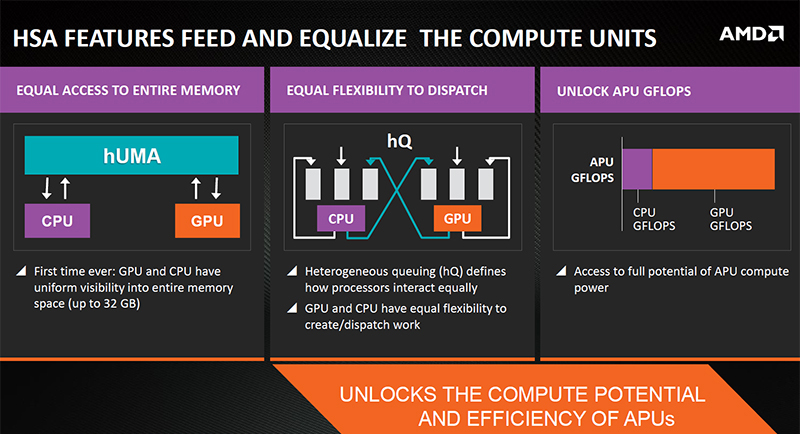 The Kaveri APU introduces Heterogeneous System Architecture or HSA. With HSA the GPU and CPU are treated like equals. The CPU and GPU are able to work on the same data in the same memory space. Both have equal access to the memory space. HSA unlocks performance, as it is able to leverage the entire chip for processing functions. However, in order for the system to leverage HSA the applications need to up updated or written to use HSA. AMD expects HSA enabled applications in the wild over the next 12 to 18 months.

Since the Kaveri APU features a Hawaii based GPU, TrueAudio support is available for the applications and games that support it. TrueAudio is supposed to give more realistic audio while unloading the audio processing from the CPU.

Article Index: