Cooler Master M2 Silent Pro 1500 Watt Power Supply Overview
Power, we all want it and need it and so does your computer hardware. The real question is how much do you need and do you have enough. Over the past few years the hardware that we use has gone up and down in how much power it needs to be feed. Cooler Master understand that when your hardware is hungry you need to feed it. That is why they gave us the Cooler Master M2 Silent Pro 1500 Watt Power Supply.
 
Review Sample Provided by: Cooler Master
Product Name: Silent Pro M2 1500W
Product was given in exchange for work done to produce this review
---
  First Look
 This particular review will be an overview of the Cooler Master Silent Pro M2 1500 Watt Power Supply. Currently Modders-Inc does not have the proper equipment to give you the absolute numbers needed to give you a fully in-depth look into the heart of a power supply, but what we can do is give a detailed look at the all the features that they contain.
The Cooler Master Silent Pro M2 series of power supplies is the second generation of the successful Silent Pro M series. The M2 Silent Pro 1500 has the largest amount of wattage available in the series with a powerful dual 12 volt rail that is capable of pushing the maximum amount of power to your ever hungry CPU, single or multiple GPU's. 
The power supply comes in a well designed box that gives you plenty of information about the 1500 watt PSU (Power Supply Unit).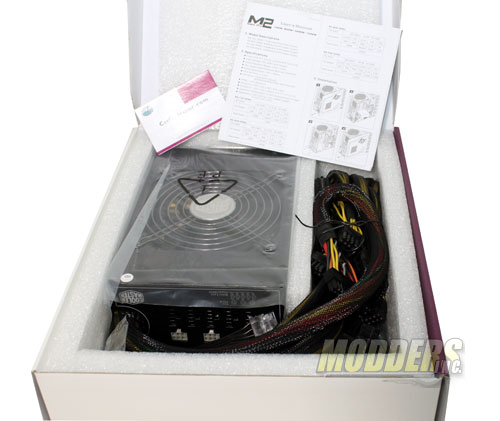 Packaged tightly and nicely you are guaranteed that the power supply will make into your hands safe and sound. A user manually and all the needed power cables are included in the box. The cables have all the connection points that you could ever want and need. Listed below are how many of each connector you receive.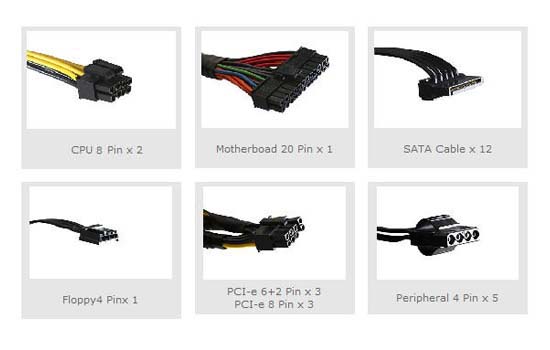 The fun does not stop here. With the all the power connectors you not only get the cables, but everything that makes it work.
Model
RSF00-SPM2D3-US; RS-F00-SPM2
 
Type
ATX 12V V2.3
 
Dimension
150 x 220 x 86mm (5.9 x 8.6 x 3.4 inch)
 
Input Voltage
90-264Vac (Auto Range)
 
Input Current
18 – 9A
 
Input Frequency Range
47 – 63Hz
 
PFC
Active PFC (>0.9)
 
Power Good Signal
100-500ms
 
Hold Up Time
>17ms
 
Efficiency
80 Plus Silver
 
MTBF
100,000 Hours
 
Protection
OVP/UVP/OCP/OPP/OTP/SCP
 
Output Capacity
1500W
 
Operation Temperature
0-40°C(Nominal Input Voltage)
 
Certification
80 Plus Silver
 
Regulatory
TUV / CE / UL / FCC / BSMI / GOST / C-tick / KC / CCC
 
Fan
Silent HDB 135mm
 
Connector
M/B 24 Pin Connector x 1
CPU 8 Pin x 2
PCI-E 8 Pin x 6
PCI-E 6+2 Pin x 6
SATA x 12
4 Pin Peripheral x 5
4 Pin Floppy x 1
 
Warranty
5 years
Tagged Cooler Master, Power Supplies