Twelve CPU Air Cooler Roundup
Article Index: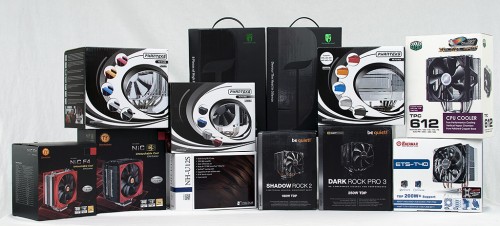 The evolution of the CPU has forced manufacturers to change how CPU cooling is approached. There no single correct way, but there are various options, some options are extremely simple while others can be rather complex. In the market today, there are various options for cooling that address the same thermal issues. Custom built closed loop water cooling, All-in-One water cooling, phase change cooling and various sizes of air coolers are available. I put out a call to our vendors to send me some air cooler for a round up. I did not specify size, shape, number of fans, or price; just that it had to be air cooled. Some vendors sent one CPU cooler while others sent three.  The coolers that you will see in this article are from Thermaltake, Cooler Master, Phanteks, Deep Cool, Noctura, BeQuiet!, and Enermax.
Each page will have a brief overview of the cooler, the specifications, features and accessories, and the final installation pictures.
Here are the coolers featured in this article:
Thermaltake NiC F4
Thermaltake NiC C5
Cooler Master TPC 612
Phanteks PH-TC14CS
Phanteks PH-TC12DX
Phanteks PH-TC 14PE
Deep Cool Assassin
Deep Cool Lucifer
Noctua NH-U12S
BeQuiet! Shadow Rock 2
BeQuiet! Dark Rock Pro 3
Enermax ETS-T40
Article Index: