Article Pages:
A Closer Look »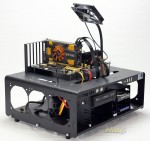 The Dimastech Bench/Table Easy V3.0 started of from a hobby of Phase Change Cooling, but that hobby soon turned into a real company. This tells me that Dimastech understands the needs and wants for those who are currently serious about the PC hobby. Using an open air case or otherwise called a test bench can save those that which out hardware on a regular basis a lot of time. Even for those that rarely change out hardware need to look at Dimastech Bench/Table Easy V3.0  for its ease of access, looks and options. Lets jump into the review and I will walk you though the build.
Review Sample Provided by: Dimastech
Product Name/Link to Website: Bench/Test Table Easy V3.0
Product was given in exchange for work done to produce this review.
Dimastech ships out the test bench in a very plain cardboard box, but you have already been all through their site and placed your order so why would you need a pretty box.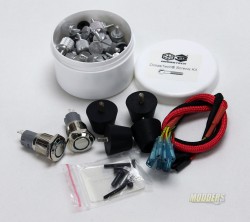 Included in the box are all the items you need to put the Dimastech Bench/Table Easy V3.0 together. A assortment of thumb screws are placed in screw top container. Two lighted push buttons and cables along with four rubber feet round out what was in the box.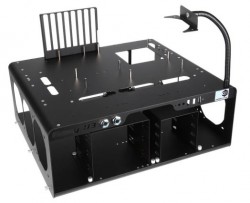 The Dimastech Bench/Table Easy V3.0 that we got for test was black in color, but the same unit is available in blue, grey, red, white and orange.
Dimensions:
430mm Depth x 490mm Width x 205mm Height (Height is measured by considering the Rubber Feet and not considering the 25mm spacers to support the Motherboard and 8 slot Expansion Boards Support)
Production Specifications:
CNC Laser Cutting of sheet thickness 1.5 mm

Hand Welding

Powder Coating

Finish and Quality Control Standard in accordance with strict internal regulations

"Made in Italy"
Technical Specifications:
Motherboard Compatibility ATX, Full ATX, NanoATX, MicroATX, XL-ATX, Mini ATX, MiniITX

Installation of up to 3 Devices 5.25 inches

Installation of up to 4 Hard Drive 3.5 Inch – (Optional up to 8 Hard Drive 3.5 Inch – BT149)

Wide Step Area under the Socket for Heat Sinks removal.

New DimasTech® Buttons for Reset and Power Switch with LEDs Ring

8 PCI Slots

Compatibility with Power Supplies up to 22cm in length,

DimasTech ® Knurled Screws M3 and 6-32 (Step UNC) complete with Knurled Nuts – all made of Anodised Aluminium.

Rubber Feet

1 DimasTech ® FlexFan 120 V2.0

Lower drawer with sliding track and fixing with ThumbScrews

Positioning Supports Peripherals with Quick Release Hardware Antivibration DimasTech®

Positioning Devices Supports Modulable

Total Elimination of the use of the External Instrument

Possibility Mounting Panel – I/O DimasTech® V2.0 (including 2 USB 3.0 ports, 1 Audio IN / OUT 1 Audio, 1 E-SATA) – (Sold separately in the Accessories Section BT163)

Compatibility with Radiators up to 360 (Fan 120mmx3) or 280 (140×2) – Radiators 120, 140, 240, 280, 360, and Black Ice Sr 360 (20mm fan space)

Pump Support compatible with DDC (DDC 3.25), DCC (DCC 300, 500, DCC-1RT), D5, AQUASTREAM XT, SANSO PD054 (Sold separately in the Accessories Section BT152)

Full Compatibility with the Support of the Products Series Mini V1.0
Package Included:
DimasTech® Bench / Test Table Easy V3.0

1 DimasTech® HD Support 3,5″  x 4 Slot

1 DimasTech® Support for Optical Drive 5,25″ x 3 Slot

1 DimasTech® Expansion Board Support 8 Slots

1 DimasTech® PSU Support

1 DimasTech® Through Wall Fitting Support for Organizing Tubes 16/17

1 DimasTech ® FlexFan 120 V2.0

A Complete Kit of Screws for Hardware, Knurled Screws to Support Expansion Cards, PushButtons (Ring LEDs) and Cables DimasTech ® Reset and Power and DimasTech® Feet.

10 DimasTech® Spacers 25mm

1 DimasTech Sticker ®

Installation Manual DimasTech