Adding to its "G" series of gaming peripherals, Logitech has released the G13 Advanced Gameboard.  The G13 offers 25 programmable keys, 3 quick switchable profiles, a 4 way control stick, and a GamePanel LCD.  Read on to see how the G13 fares in a world of keyboards and controllers.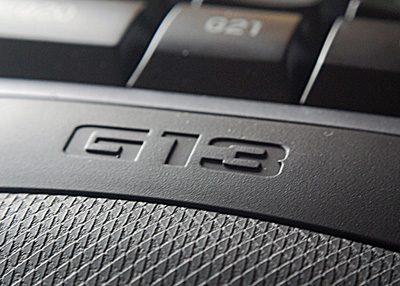 Sponsor: Xoxide
[hr]
First Impression
The G13 arrived at my doorstep in a standard cardboard box; apparently UPS took a dislike to it, because the end was all smashed up.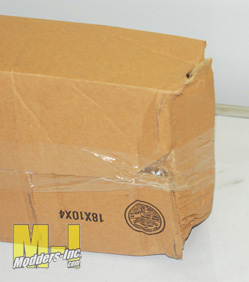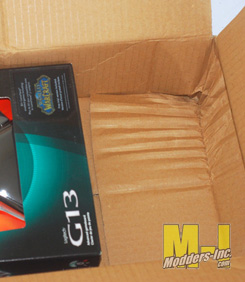 Luckily (or because?) that was the end that only had paper in it, the manufacturer packaging and the G13 are fine.  I personally would have preferred bubble wrap, air bags or packing peanuts, but the stiff paper that was used to pad this box seems to have sufficed.  Below you can see the formed plastic bubble that the product is displayed from; the plastic is quite thick providing excellent protection, but just flips open for easy access; no sharp tools needed.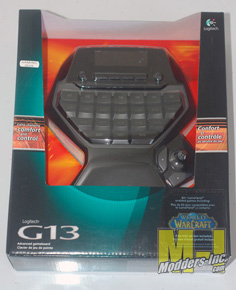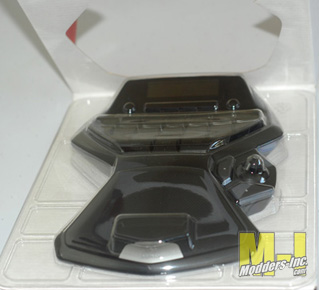 The G13 comes pretty slim in the accessories department, just a driver CD quick start guide and basic information pamphlet.  The gamepad itself has a huge wrist/palm rest and an ergonomically curved key shape. There are 22 "G-keys" arranged in a familiar keyboard layout, and just where your thumb naturally lands is the 4 way controller and 2 more mouse-like buttons.

Specifications:

- Naturally curved
- 25 programmable buttons
- On the fly macro creation
- Programmable "mini joystick"(website)/"analog stick"(box)***
- Backlit keys
- GamePanel LCD

*** NOTE:  This stick has no analog functions enabled (like a joystick or playstation/XBOX controller), instead it is seen as 4 separate buttons.

Requirements:

- PC/Mac with Pentium or compatible processor
- OS X 10.4 or later
 or
- Windows XP/Vista
- 256 MB RAM
- 20 MB hard drive space
- CD drive
- USB Port

Article Index: