Up for inspection today is the NZXT Hades, a mean looking mid-tower, designed for performance by NZXT. Read on to find out if this price conscious case can back up its claims of high airflow and enthusiast class compatibility.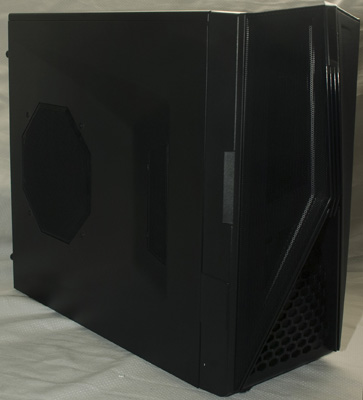 Sponsor: NZXT
[hr]
We are checking out the Crafted Series: Hades case from NZXT.  This case promises to provide plenty of space for your enthusiast class build and maintain a high airflow/low noise profile.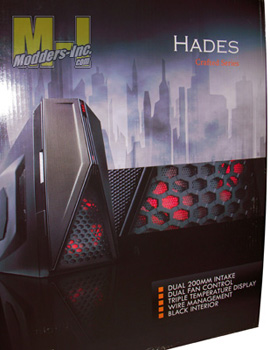 The case appeared at my doorstep in the standard NZXT box, Gloss black with several full color pictures, key facts in several languages, and some more details (in English only) on the back.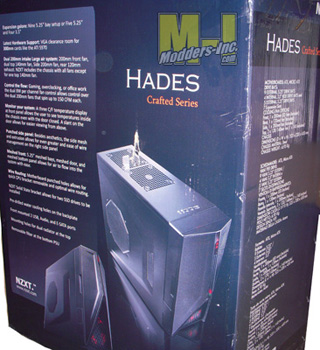 The Hades dropped out of the mildly mistreated box surrounded by a thick plastic bag and two sturdy foam end caps.  Though there was no external damage, something inside rattled a bit more than I like to hear.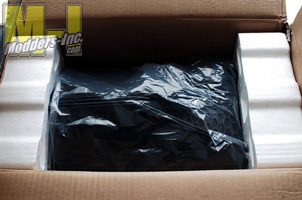 Before we open this case up, lets take a look at the features.

The NZXT Hades is:
- a mid tower case
- matte black on both exterior and interior
- steel
- designed with wire routing in mind

The NZXT Hades has:
- nine 5.25″ drive bays (4 external/5 internal)
- adapters for up to four 3.5″ drive bays
- an adapter to mount two 2.5″ drives in a 3.5″ bay
- 7 expansion slots
- two 200mm (1 led), one 120mm and one 140mm fans (included)
- one additional 140mm or 120mm mount
- top mounted USB, Audio, and e-SATA ports
- a dual channel fan controller
- three channel temperature display (F/C switch-able) 
- rubber grommetted hose ports
- 2x120mm radiator mounting holes.

NZXT seems quite serious with their airflow, 4 of the 5 available fan mounts are filled  right out of the box! Both the front door and the drive bays are made with a perforated grill to allow for easy airflow.

Article Index: