Xigmatech has been a recent edition to the CPU cooler market. Established in 2005, they have been releasing cooling solutions for many different configurations, designs, and budgets. We will be reviewing their 4th entry into the SD1283 line of coolers, the Dark Knight – Night Hawk Edition. Does this cooler justify your hard earned cash and destroy the heat, or does it just fly away with your wallet?

Sponsor: Xigmatek
[hr]
Building a stealth heat fighter….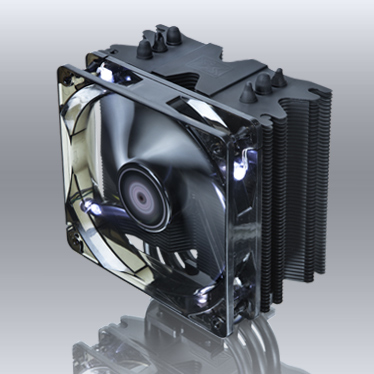 The Night Hawk Edition of the SD1283 line of coolers from Xigmatek sets itself apart from other coolers in a couple ways. The most obvious and striking difference is the color of the unit… black. And not just any black, but a stark, deep, flat black that has a slight texture to it. It has a nice look to it. In a dark case, I could see people wondering if there really was a heatsink in the computer, it's that dark! Of course, you would have to change out the fan if you wanted true stealth, as the fan is a white LED variant, but that also makes for a striking appearance of a fan floating in a dark case… Many modding possibilities with this cooler!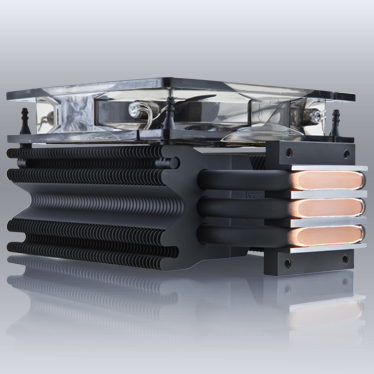 The other distinctive difference is the contact method made with the CPU. Xigmatech opts for a direct contact surface for it's heat pipes, in order to accelerate heat removal without having to pull it through an intermediary material, like most other manufacturers. The trick to doing something like this is a smooth and complete surface area. If your gaps are too large, your heat pipes will not be as efficient. You will also have to use too much TIM to fill in the gaps, which you don't want to do. So, production of these units must be constantly watched to insure the base surface is as tight, and continuous as can be. 
Product Name
Dark Knight SD1283 – Night Hawk Edition
Product Number
CAC-SXHH3-U13
Dimension
120(W) x 50(D) x 159(H) mm
Heat Sink
Base Material
H.D.T. (Heat-pipes Direct Touch)
Fin Material
Aluminum Alloy
Surface Material
Ceramic Surface Coating
Heat-pipe
SPEC
Φ8mm
Qty
3pcs.
Fan
Dimension
120(W) x 120(H) x 25(D) mm
Voltage Rating
12V
Starting Voltage
≥7V
Speed
1000~2200 R.P.M.
Bearing Type
Long Life Bearing
Air Flow
89.45 CFM (Max.)
Air Pressure
4.1 mmH2O (Max.)
Life Expectance
50,000 hrs
Noise Level
30.1dBA (Max.)
LED Color
White
4 pin with PWM
1 pcs.
Weight
406g (Heat Sink Only)
Thermal Resistance
0.14°C/W
The ceramic coating helps to increase the heat wicking power of the aluminum alloy, and get the heat out of the metal, while the 120mm fan blows a respectable 89.45 CFM (max). Fan sound is rated at 30.1dBA, which is just a hair above "whisper" quiet levels, I'll let you know my feelings on that sound level with the fan attached to the heatsink.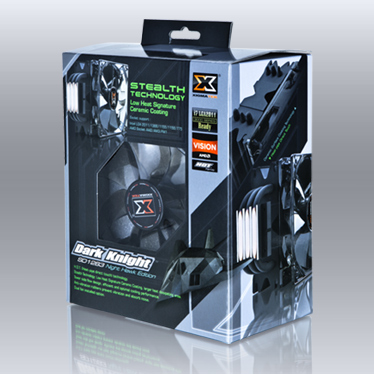 From Xigmatek:

Special formulated ceramic coating with stealth technology for ultimate heat dispensing. This innovative composite coating is specially designed to conduct heat away from its source rapidly and dispense it extremely fast without leaving any trace on the surface. Night Hawk comes with 3 x 8 mm HIGH PERFORMANCE heat pipe rated at 160W+ and Xigmatek Crossbar Pressure Vault mounting system.

 

 

H.D.T (Heat-pipe Direct Touch) technology.

 

 

Stealth Technology; Low Heat Signature Ceramic Coating, larger heat dissipating area.

 

Tower side flow design, efficient and optimal cooling performance.

Anti-vibration rubbers prevent vibration and absorb noise.

 

Dual fan capability.

 

Equipped with multiple clips to support Intel LGA 2011/1366/1156/1155/775 and AMD FM1/AM3/AM2+/AM2.

 

High Performance 3 x 8mm heat pipe design, way superior than 4 x 6mm heat pipe.

All major CPU revisions covered here, so If you have a machine bought in the last 5 years, you should be OK! 

Article Index: