So, I posted my case mod over in the gallery section, and the reason for that was because I didn't know if I had to keep my Portal:ATE worklog exclusive to my forum (for an award). But, after checking, I found out I could so I thought I'd post it up. (I'll inform Americanfreak about it.)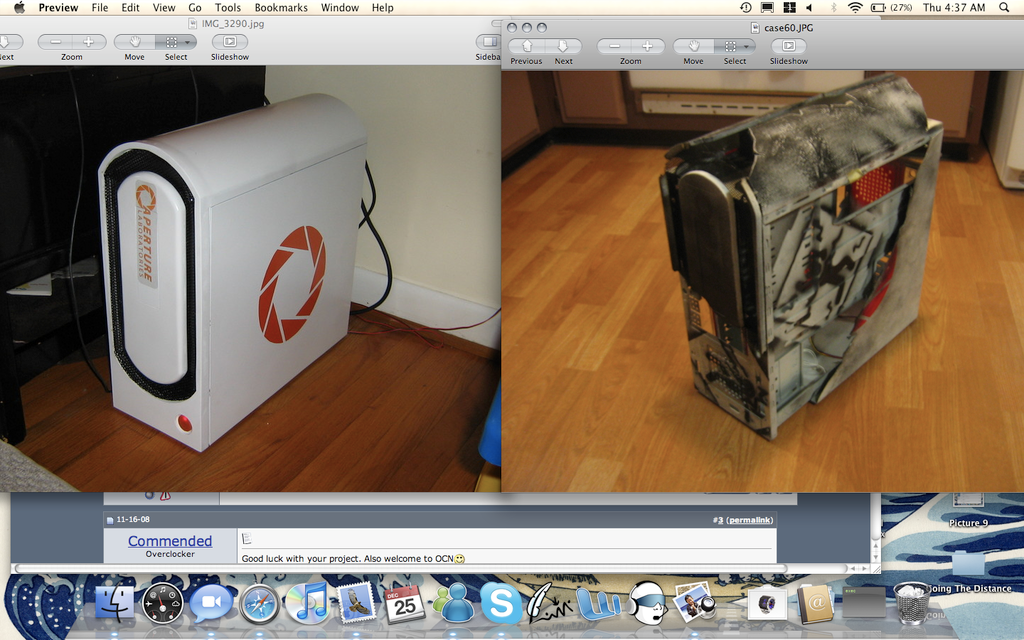 ================================================== =
01 - The Start
(boring background stuff) So, the idea. When the new Portal:Prelude came out (everyone should play that) and I finished the game, I had an all new love for the game of Portal. And, since I just got a job and been wanting to build a new computer, I decided I wanted to try my hat at a case mod, surrounding Portal. I looked over the net and the obvious good ideas of a companion cube case and the Aperture Science Enrichment Center (ASEC) case were already done, and I wanted something original. After coming up with many many different ideas, and what I wanted to do, it took about a month to come to a solid case mod plan. I'm going to build an ASEC case, but, instead of it being all clean, it's going to be all cut up, burned, tagged and broken looking. ...Maybe I should show some pictures now.
Alright, I apologize for not having a picture of the case before, but posting the log on a forum just didn't cross my mind at the time. Pretend that there isn't any paint on the case. That's how boring it was.
I started out spraying the top with white primer in hopes of putting a black spray design on top. The idea is the case to be rugged so while the paint was drying, I took a paper towel and dabbed the paint to cause it to peel. Then I sprayed my black design on, using parchment paper as the stencil paper. (I had it in my kitchen)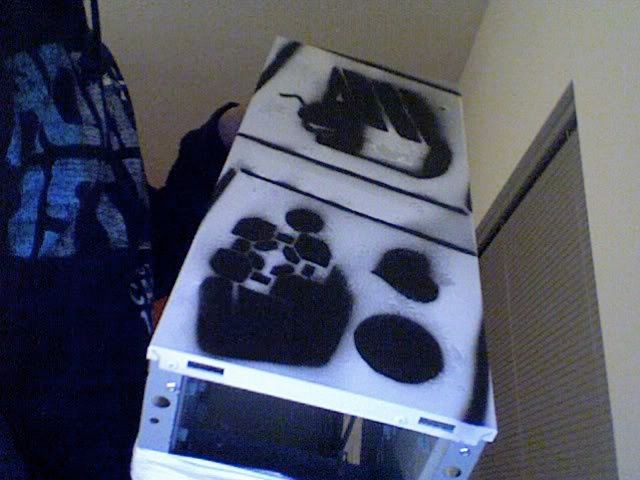 After looking at how that came out, I decided to do that to the whole case with different Portal squares. Same white primer, same flat black paint.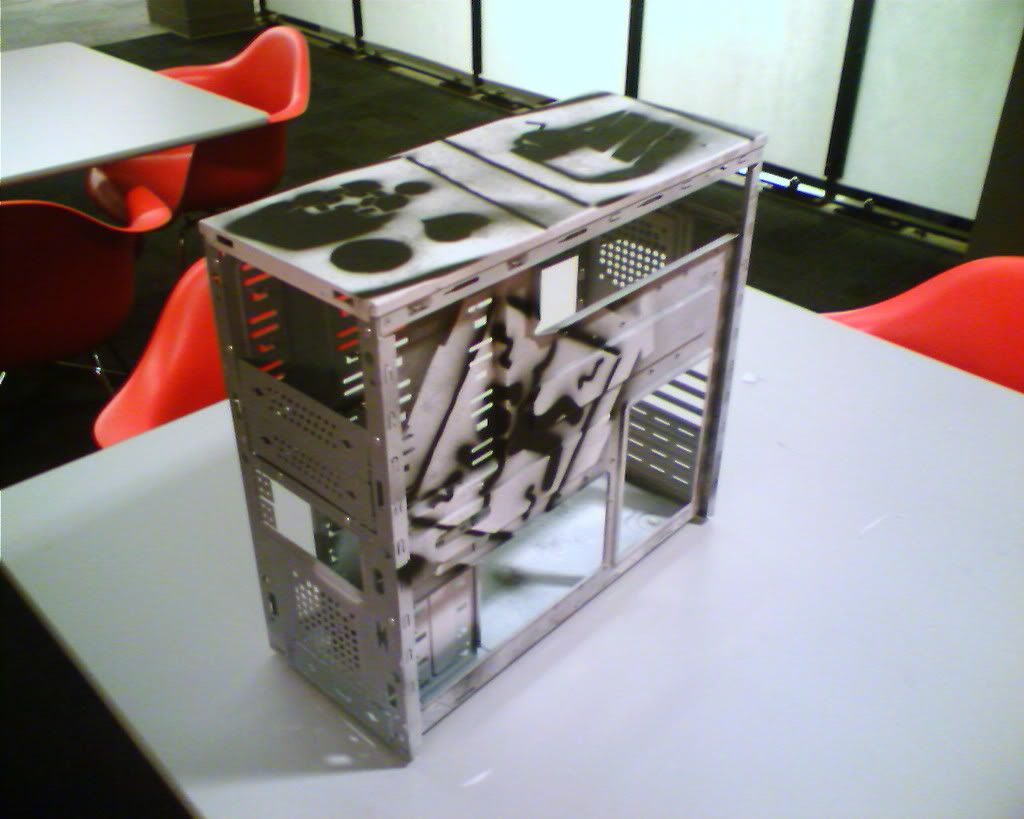 For what I could tell, it came out well. The overspray was intentional because I wanted that look. I also would point the black spray far away and spray to get black splatter over the white, to have a soot effect. The back was painted all flat black, as I have different plans for the back.
Originally, the front was going to get the white plexi treatment, before the ASEC case idea, and I was going to make it look like one of those light up panels that say what level it was. But, because I'm on a time crunch (I'll explain), I ditched the idea and painted the front white primer with a spray.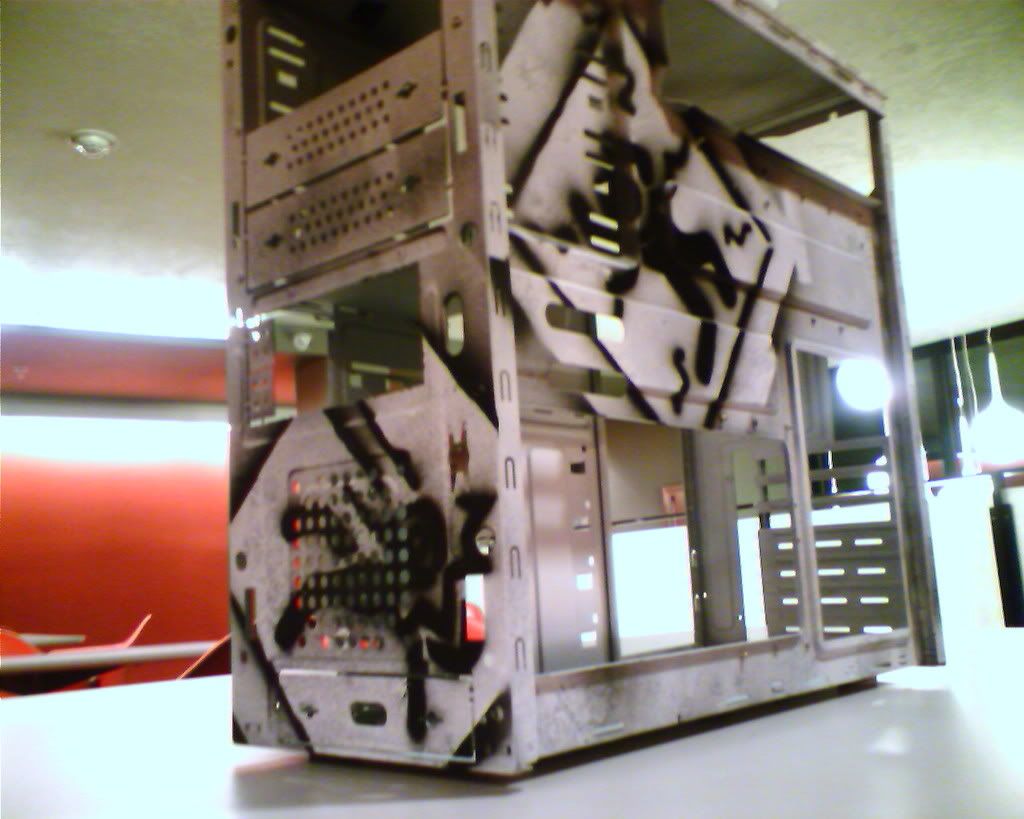 Now that I had the base of the case completed, it was time to work on the doors. I couldn't work on left side door yet (it's depends on the video card I buy) but I could get a start on my right side door, the one behind the mobo. According to the ASEC case, its all flat, no indents, and has an orange ASEC logo. Sounds simple enough, except my case had an indent used as a handle. So, it was spackle time.
Sanded it down, respackled, sanded down, respackled, sanded down and painted later, it was white...well, enough of it.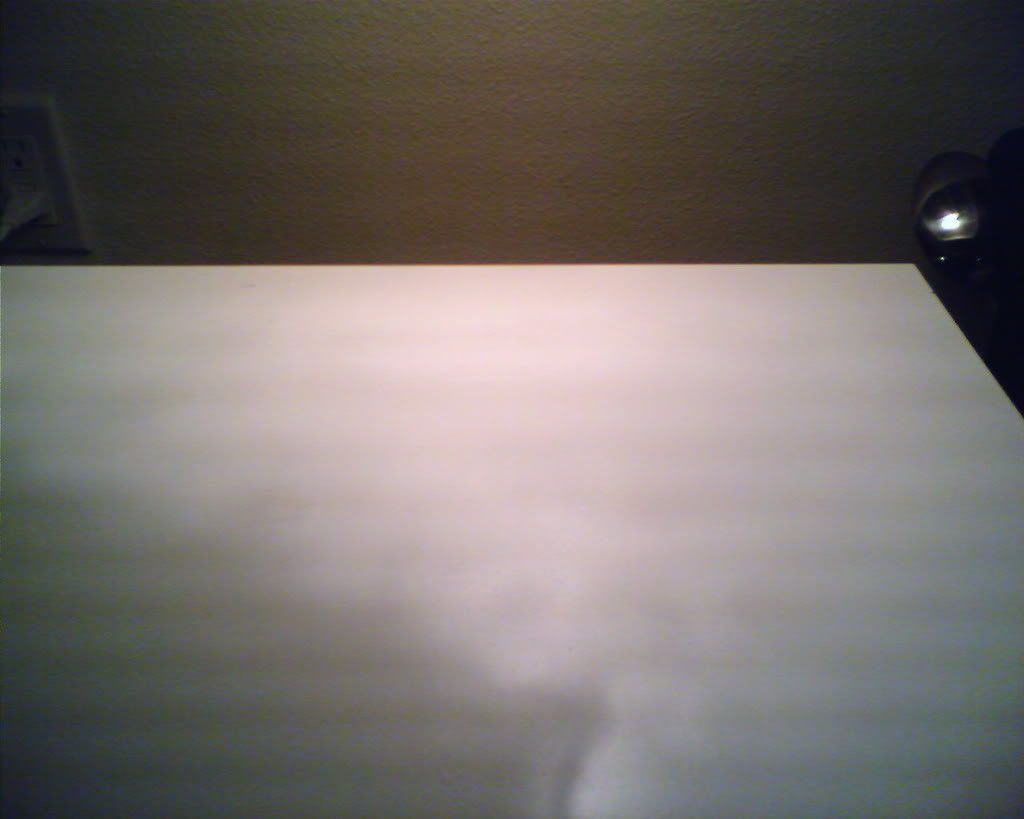 Next, I marked and tapped down the ASEC logo on the case, and after a half hour (and some choice cuss words), it was ready for spray.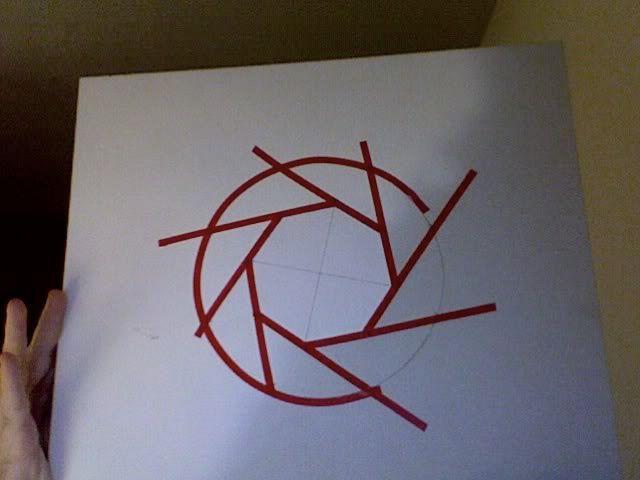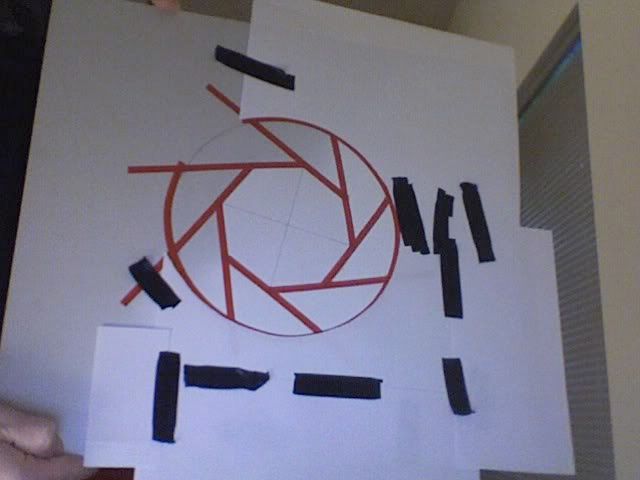 And here's how it came out, and then I had to respray white to touch up where the orange leaked. Then, I took out the black and did a soot look to the side.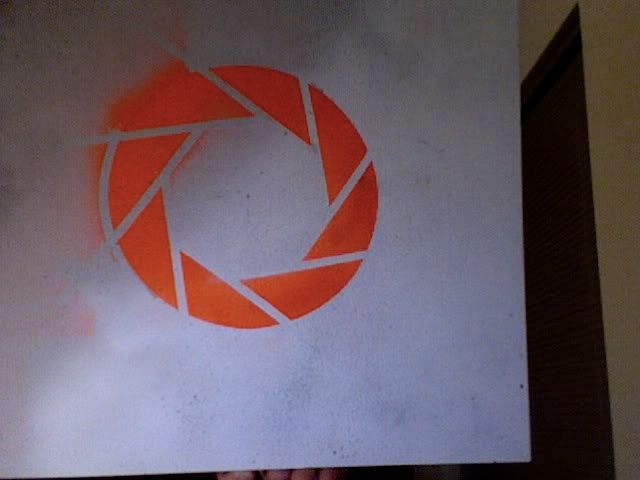 And that's where I am so far. The reason I only painted about half the door is because I'm going to take a jigsaw and a torch and I'm gonna cut the door, to give an exploded and burnt effect. I don't get to use a jigsaw until this next weekend, but I still have to draw out how I want to do the front, which will probably come after Wednesday (I have a physics midterm
) O, and the reason I'm on a time crunch is because I'm planning on entering it into the PDXLAN 13 case mod contest. I know I'm going up against some experts, but I thought I'd at least try.
02 - Cut right side panel

Alright, sorry for the long delay. I had a big physics midterm and, when that rolls around, I pretty much shut down everything (and everyone) around me and study. Hey, I got an A at least.


Right, so, I worked on the case yesterday and finally got the pictures loaded. I'm not that snap happy, but you can get the idea.

So, before I worked, here's what it looked like.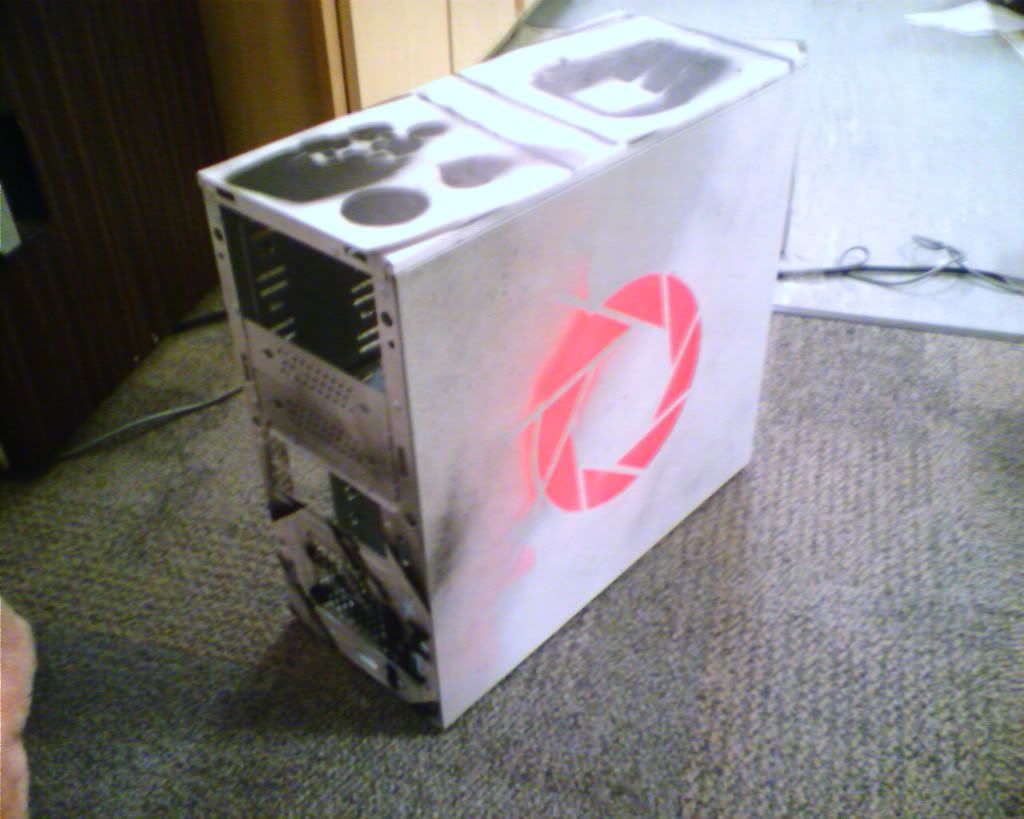 I took the ASEC symbol side panel and a jigsaw and went medieval with it. I cut off a large chunk very roughly, then cut little pieces off and cuts into the side. Then, I took some pliers to pull up the sides to give a 3-D effect. Lastly, I took a propane torch and tried to burn edges without getting too hot. Here's how it turned out.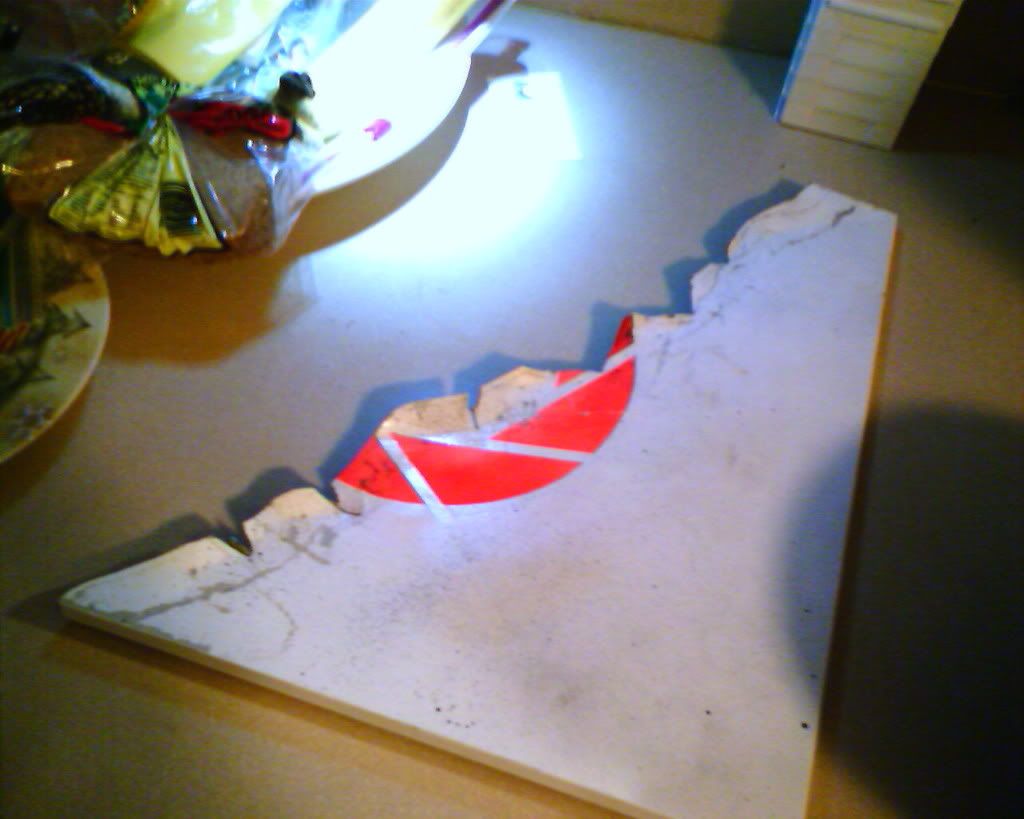 And here's how it looks like on the case.



Before anyone gets on my case, I'm.....not very happy with how the side panel turned out. It doesn't feel done and I think it needs more black spray near the edges of the side panel. I'll get that done by Wednesday (yes, another midterm, last one), as by then, I should have my pipe material, which will allow me to make the front of the case. Also, I installed a custom power button on the back, but its not done yet so I'll take a picture when it is.


03 - More spray on right side panel

There was no possible way I was gonna sleep and just let my side panel look unfinished. So, I took out the black spray and got to work. Here's how it turned out, and if you look at the before and after pictures, IMO, I think it looks MUCH better.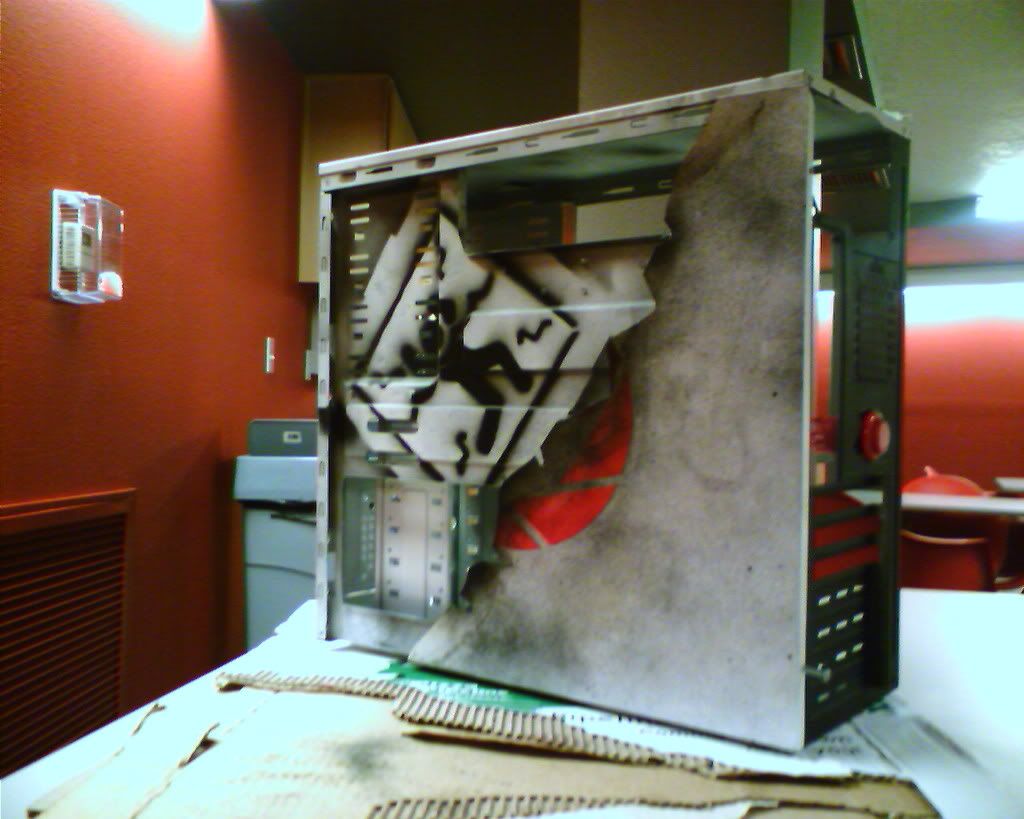 Ya, and...yes, you can see what I'm doing for a power button. But, it's not done yet. Any real Portal fans know what I could be doing with that button? Hmm?

04 - Button painted
I know, small update, but I just finished it and thought I'd show everyone. I don't have a very steady hand, but hey, I tried.
I'll put a little black overspray on it later, but for now, it looks alright.