Those looking for an affordable large 4K gaming display should look no further as AOC has just released the U2870VQE, a 28-inch 3840 x 2160 UltraHD TN panel that is currently on sale at Microcenter for only $349 from the regular MSRP of $499. Connectivity options include VGA, DP, Mini-DP and HDMI (MHL).
AOC, a worldwide leader in monitor display technology, today announces their U2870VQE, an affordable 28-inch 4K monitor with 3840 x 2160 Ultra HD Resolution. The 28" large screen size offers more space and four times the resolution of a Full HD display and delivers clear crisp images to the value-minded shopper. The display features a professional non-glare TN panel with fast refresh and response times, along with 1 billion colors for rich details and ample connectivity options. The U2870VQE monitor is available today on sale at Microcenter for $349 ($499 MSRP).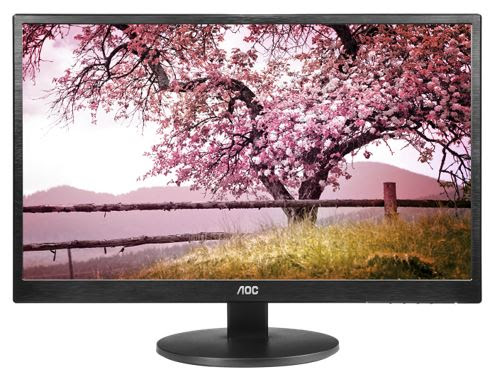 Ultra High Definition (UHD) allows users to see more on the screen at one time and gives more real estate to the user. It also shows more detail for sharper and clearer images.  Users working on the photos, designs, or even a wide spreadsheet will appreciate the crisp picture from a UHD display, which is usually reserved for monitors with much higher price points.
The U2870VQE features ample connectivity options with VGA, DP, Mini-DP and HDMI (MHL). With MHL-enabled HDMI connection, users can connect their smart device to their monitor to simultaneously charge and stream mobile multimedia on to the 28″ 4K display. The monitor boasts 1ms (gray-to-gray) response time, 70,000,000:1 mega dynamic contrast ratio and a 10-bit panel (8-bit + FRC) with 1.07 billion colors. The Frame-Rate-Control (FRC) technology is used to enhance the color depth of the 8-bit panel and boost the normal 16.7 million colors found in most displays to 1.07 billion colors. More colors mean that the panel can present more depth and richer color, for more vivid images.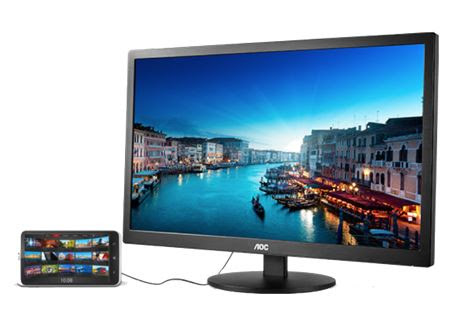 For designers, the high definition, high pixel density provides great details for precision work such as architecture design. With the UHD resolution and large screen, CAD designers can see more on screen and spend less time scrolling in and out to accomplish more. If you are a gamer looking to dominate, the 4K resolution and 1ms fast response time will deliver. Combining impressive technical specifications with modern aesthetics, the display has an extra narrow bezel and hairline texture in the front with matte in the back for a sleek and attractive look. The 4K display has tilt flexibility and is also VESA 100mm wall-mount compatible.
Viewable Image Size: 28″ (16:9)
Brightness (typical): 300 cd/m2
Contrast Ratio: 70000000:1
Response Time: 1ms
Optimum Resolution: 3840 x 2160 @ 60Hz
Colors Supported:1.073 Billion
ENERGY STAR Compliant: Yes
EPEAT Rated: Yes
About AOC
AOC is the world's largest manufacturer of LCD/LED monitors and HDTVs. With more than 60 years of design and manufacturing experience, AOC has earned a reputation for selling user-friendly, technologically advanced monitors, TVs and multi-functional displays. Every aspect of AOC's global business focuses on the development of products that fit seamlessly into consumers' digital lifestyle. For more information, please visit us.aoc.com. Connect with AOC on Facebook at Facebook.com/AOCAmericas and on Twitter at Twitter.com/aocusa.