ASRock Gaming PC M8 won 2013 Chicago GOOD DESIGNTM AWARD
TAIPEI, Taiwan, January 23, 2014—More awards! Collaborating with BMW Group DesignworksUSA, ASRock's Gaming PC M8 received the 2013 Chicago GOOD DESIGNTM AWARD. This award is the world's most prestigious and oldest Design Awards program organized annually by The Chicago Athenaeum Museum of Architecture and Design in cooperation with the European Centre for Architecture, Art, Design and Urban Studies. Over 700 new products and graphic designs from over 38 countries were selected by the organization and ASRock M8 won the award with its innovative and futuristic design.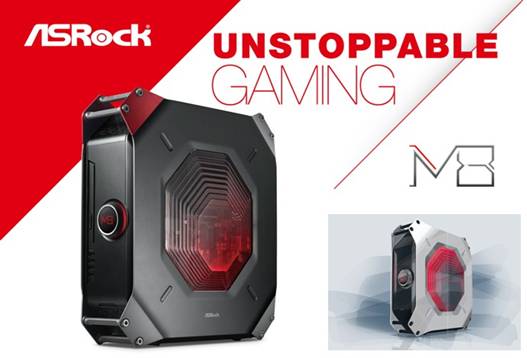 GOOD DESIGNTM AWARD covers the world's top design masterpieces from numerous fields, such as electronics, transportation, energy systems and much more. All the awarded products are designed with unique features and excellent practicability. Without a doubt, GOOD DESIGNTM AWARD is the design icon of innovation, sustainability, creativity, and technology. Well-known modern electronic brands such as Alessi, Samsung, Apple, and Bosch also received the 2013 Chicago GOOD DESIGNTM AWARD.
James Lee, VP of ASRock Sales and Marketing, comments that, "ASRock is known for its innovative design and excellent technology, and also for providing personalized products for every end-user. ASRock M8 is designed with outstanding features and is the perfect base for everyone to build their own high-end gaming machine. M8 is also the first product which ASRock collaborated with BMW Group DesignworksUSA, and won 2013 Chicago GOOD DESIGNTM AWARD. With this honor, ASRock will keep leading the market and showcases sustainable, personalized, and well-designed products."
"It's very rewarding for DesignworksUSA to see our core principle of cross-fertilization reflected in the list of winning entries for Good Design," said Sonja Schiefer from BMW Group DesignworksUSA. "ASRock´s M8 illustrates how our designers give shape to performance in diverse industries  – from automotive to medical to consumer electronics. In finding a design language that grew out of ASRock´s core values, we created a design that is authentic and desirable and we congratulate ASRock for their uncompromising approach in the product development and for staying true to the initial design intent", she continues.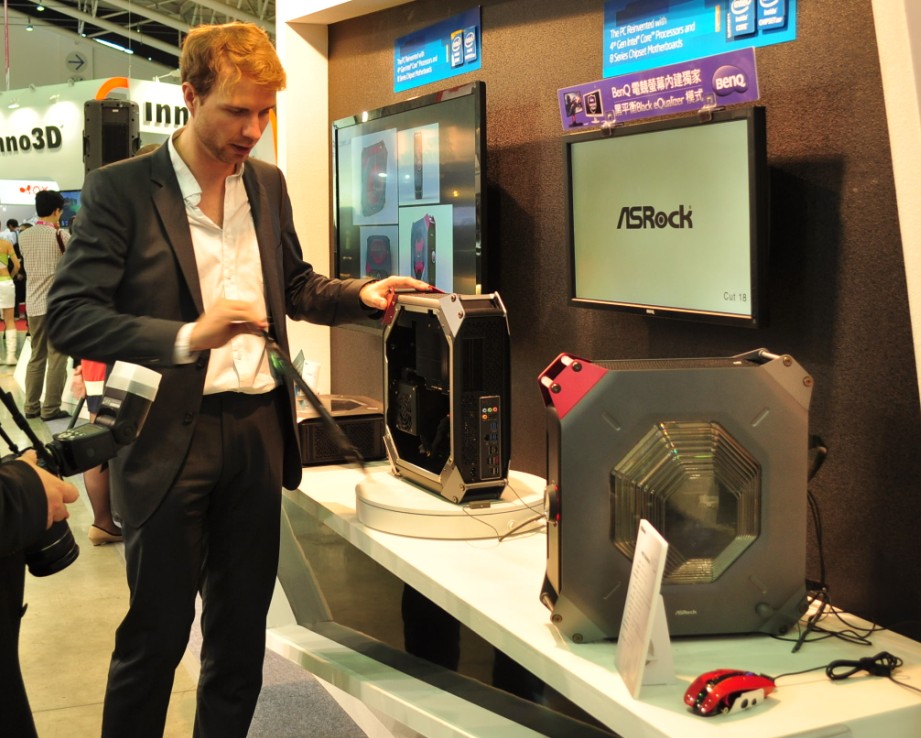 M8 features an aluminum exterior, while hidden magnets hold the whole case together. Inside the box lies a Z87 mini-ITX motherboard for advanced portability and space efficiency. The functionality of this gaming PC lives up to its awesome appearance. The case may contain any standard mini-ITX for future upgrades, and M8 is sold as a barebone system so that gamers have the freedom of choosing their own components, such as swappable DDR3 DIMMs, any standard PCIe x16 graphics card, and also has 6 SATA3 ports lined up for storage.
For more product information, please visit:
http://www.asrock.com/microsite/M8/
###
CONTACTS
ASRock Inc.
Jeff Hong
Marketing Department
TEL: +886-2-28965588 ext.11732
FAX: +886-2-28931557
E-mail: jeff_hong@asrock.com.tw
About ASRock
Established in 2002, ASRock Inc. is now the world's third largest motherboard brand with headquarters in Taipei, Taiwan and branches in Europe and the USA. Driven by its passion for innovation, the young and vibrant company has achieved many world firsts with its motherboard designs. With its 3C design concept, "Creativity, Consideration, Cost-effectiveness", ASRock has earned a reputation for quality and reliability in the entry and mainstream segments. ASRock is committed to environmentally friendly manufacturing methods. For further information, please visit http://www.asrock.com