Corsair has added 480GB and 960GB capacities to their Force LS SATA SSD lineup, catering to increasing storage requirements in the cost-effective segment. The 480GB version has an MSRP of only $189.99 while the 960GB version will retail for $379.99, boasting transfer speeds of up to 560MB/s read and 530MB/s write. For more photos and information, check out the official press release below:
Corsair Adds 960GB and 480GB Capacities to Force Series LS SSD Line
Corsair Brings Cost-Effective Solid-State Storage to Notebook and Desktop PCs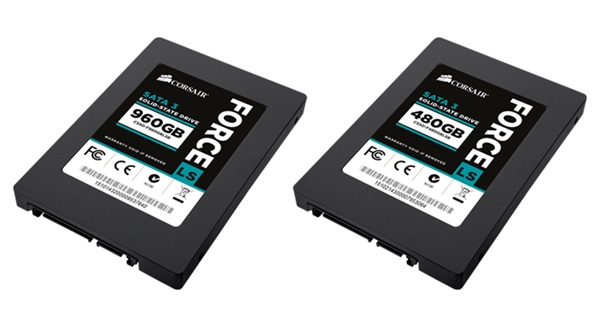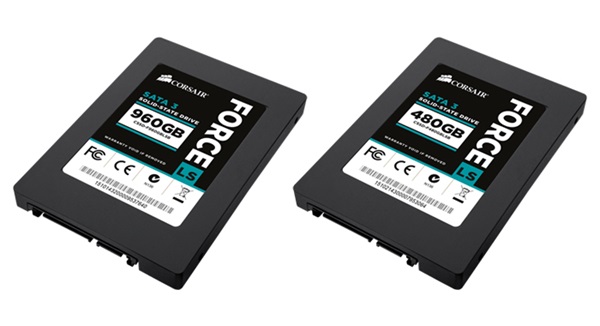 Fremont, CA— April 14, 2015 — a worldwide designer of high-performance components to the PC hardware market, today announced the release of the addition of 960GB and 480GB capacity models to the existing line of Force Series® LS SSD drives. The new Force Series LS SSD models, like the previously announced 240GB, 120GB, and 60GB models, provide consumers a cost-effective way to upgrade their notebook or desktop PCs to faster, more reliable solid-state storage.
The 7mm-high Force Series LS SSDs can be installed into most desktop or notebook PC with a standard 2.5" or 3.5" drive bay (3.5" bays require optional adapter). The drives feature SATA 3 6Gb/s support for optimal performance with the latest systems, and are backward compatible with SATA revision 1.0 and 2.0 for maximum compatibility. A copy of the powerful Corsair SSD Toolbox software utility is included as a free download.
Force Series LS SSDs deliver file transfer speeds of up to 560MB/s read and 540MB/s write, up to 10 times faster than standard hard drives. The new drives support TRIM, garbage collection, and S.M.A.R.T commands and include built-in an advanced dynamic and static wear-leveling algorithm to extend the lifespan of the drive flash memory.
Pricing, Availability, and Warranty
The Force Series LS 960GB and 480GB SSDs are estimated to sell at an average price of $379.99 and $189.99 respectively. The SSDs are available immediately from Corsair's worldwide network of authorized retailers and are backed with a three year warranty and Corsair's renowned customer service and technical support.
Product Images
About Corsair
Founded in 1994, Corsair supplies high performance products purchased primarily by PC gaming enthusiasts who build their own PCs or buy pre-assembled customized systems. The company's award-winning products include memory upgrades, USB flash drives, power supply units, solid-state drives, PC speakers, gaming headsets, gaming keyboards, laser gaming mice, system monitoring and control devices, PC cooling products, and computer cases.
Copyright © 2015 Corsair Components, Inc. All rights reserved. Corsair, the sails logo, and Flash Voyager are registered trademarks of Corsair in the United States and/or other countries. All other company and/or product names may be trade names, trademarks, and/or registered trademarks of the respective owners with which they are associated. Features, pricing, availability, and specifications are subject to change without notice.