News and Articles
CORSAIR Launches DOMINATOR PLATINUM RGB DDR4 Memory
In a Class of its Own!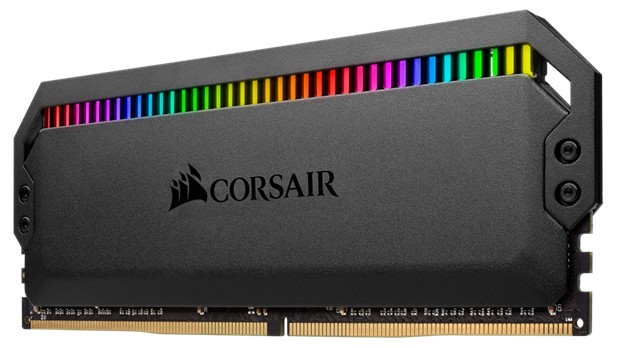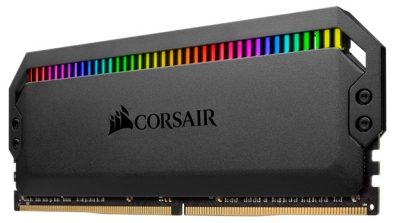 Are you someone who loves your RGB's?  If so, Corsair has a treat for you!  From Fremont California, Corsair, a world leader in PC gaming, announces the launch of a new addition to the Dominator series.  The Dominator Platinum RGB DDR4 Memory!  Corsair has taken their already popular Dominator Series Memory and stepped up the game by adding individually addressable RGB lighting.  This robust DDR4 memory with an updated heatspreader and hand-sorted memory chips can reach amazing frequencies of 4,8000MHz!  With Corsair's iCUE software there is no limit to the color combinations you can create.  Take a look at the full article from Corsair below and begin your own journey to RGB heaven with one of the industries premier Memory manufactures, Corsair!
In a Class of its Own
CORSAIR Launches DOMINATOR PLATINUM RGB DDR4 Memory
Latest Edition of CORSAIR's Flagship DRAM Line Introduces New CAPELLIX RGB LED Technology
CORSAIR announced the launch of DOMINATOR PLATINUM RGB DDR4 Memory, raising the bar once again for premium, world-class DRAM. DOMINATOR PLATINUM RGB delivers the high performance that custom PC enthusiasts demand for their cutting-edge systems, while renewing the celebrated and iconic design of DOMINATOR PLATINUM. A fully updated aluminum heatspreader, hand-sorted memory chips, frequencies up to a record-setting 4,800MHz, and individually addressable RGB lighting – a first for a DOMINATOR PLATINUM module – combine to create DDR4 memory that's in a class of its own.
Each module of DOMINATOR PLATINUM RGB represents the pinnacle of premium craftsmanship, starting with a custom 10-layer PCB that guarantees signal quality and stability. Every memory chip is hand-sorted and tightly screened to ensure tight response times and high-frequency performance, with kits available from 3,000MHz to an incredible 4,800MHz, with ample headroom for overclocking. DOMINATOR PLATINUM RGB stays cool even under extreme stress thanks to CORSAIR's patented Dual-Path DHX cooling technology, which cools the module through both the anodized aluminum heatspreader and copper planes embedded directly into the PCB.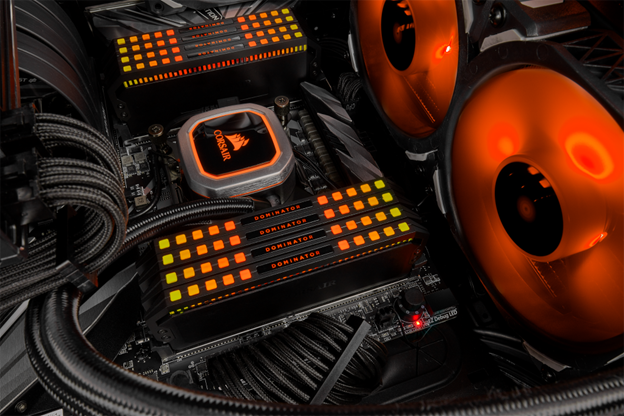 A die-cast zinc-alloy top bar houses DOMINATOR PLATINUM RGB's 12 ultra-bright CAPELLIX RGB LEDs, the first time CORSAIR has used this all-new LED mounting method. At just 0.2mm³, CAPELLIX LEDs improve upon conventional LEDs in almost every measurable way, able to shine brighter and last longer, while using less power with higher energy efficiency. This results in more vivid, stunning lighting than with any other RGB memory currently available, without impacting performance or thermals thanks to their greatly reduced power consumption.
CORSAIR iCUE software enables powerful control and customization over DOMINATOR PLATINUM RGB. Make sure your memory is running at its full potential with real-time system monitoring that tracks temperature and frequency. iCUE's dynamic RGB lighting customization lets you choose from dozens of pre-set lighting profiles, or create your own patterns and effects with complete control over each individual LED. iCUE can also synchronize lighting across all of your iCUE-compatible devices for truly intricate system-wide lighting effects.
DOMINATOR PLATINUM RGB is available in a wide array of capacities and frequencies and sold in kits of two, four, and eight modules. DOMINATOR PLATINUM RGB also becomes the fastest air-cooled production memory kit available today with the 4,800MHz, 2 x 8GB kit, running on ASUS Z390 Maximus XI GENE and Z390 Maximus XI Apex motherboards and an Intel® Core i5 8600k CPU.
For PC building enthusiasts who demand both uncompromising performance and gorgeous visuals to complement the look of their system, DOMINATOR PLATINUM RGB is strictly in a class of its own.
Availability, Warranty and Pricing
CORSAIR DOMINATOR PLATINUM RGB DDR4 Memory is available immediately from the CORSAIR worldwide network of authorized retailers and distributors, as well as direct from the CORSAIR webstore. Some select SKUs of CORSAIR DOMINATOR PLATINUM RGB DDR4 Memory are exclusive to the CORSAIR webstore.
DOMINATOR PLATINUM RGB is backed by a limited lifetime warranty and the CORSAIR worldwide customer service and technical support network.
For up-to-date pricing of DOMINATOR PLATINUM RGB, please refer to the CORSAIR website or contact your local CORSAIR sales or PR representative.
Web Pages
To learn more about DOMINATOR PLATINUM RGB, please visit:
https://www.corsair.com/dominator-platinum-rgb
Video
To watch the launch video for DOMINATOR PLATINUM RGB, please visit: