Corsair extends their DDR4 memory line with the release of the new Dominator Platinum DDR4 3400MHz memory kits with distinct orange light bar accent. The Dominator Platinum DDR4 modules were on display during CES 2015 installed to a matching orange Gigabyte X99-SOC Champion motherboard. The pair has been optimized for performance and has garnered a world record for fastest DDR4 memory frequency set by HiCookie at 4365.6MHz. For more information and photos, check out the official press release below:
Corsair Releases Dominator Platinum DDR4 3400MHz Memory Kits Tuned for Gigabyte X99-SOC Champion Motherboard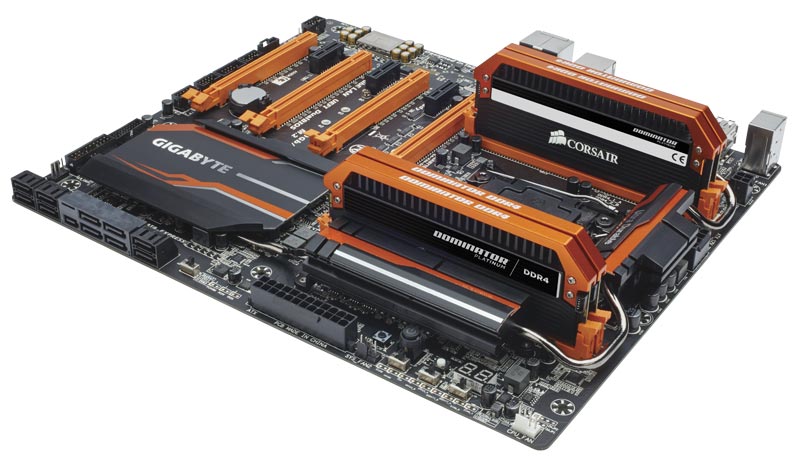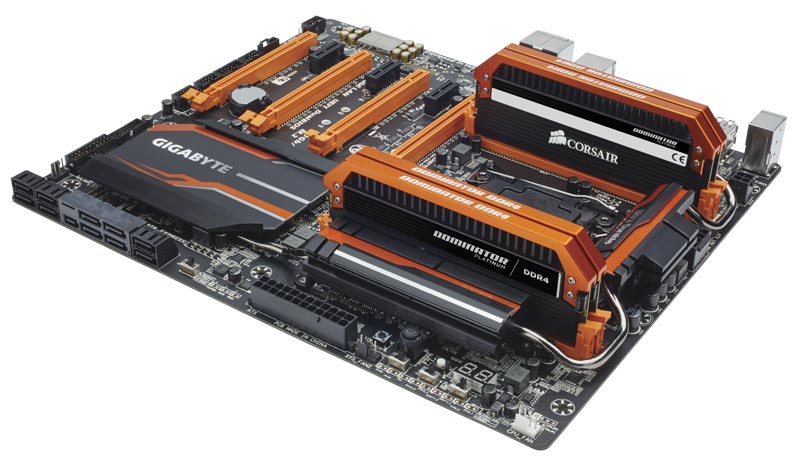 Corsair Dominator 3400MHz DDR4 memory and Gigabyte X99-SOC Champion motherboard set world record for fastest DDR4 memory frequency
Fremont, CA— March 23, 2015 — Corsair®, a worldwide leader in high-performance PC components, today announced the availability of the Dominator Platinum® Series DDR4 3400MHz 16GB memory kits which debuted at CES in January. The new kits are performance tuned to run air-cooled at an incredible 3400MHz and beyond on the Gigabyte X99-SOC Champion motherboard. The memory and motherboard duo together create one of the highest performance enthusiast PC platforms currently available.
Dominator Platinum Series 16GB (4 x 4GB) 3400MHz DDR4 Memory
The fastest DDR4 memory available from Corsair, the Dominator Platinum 3400MHz 16GB (4x4GB, 16-18-18-36) memory kits have a striking industrial with an orange anodized heat spreader that matches the color scheme on Gigabyte SOC motherboards. Like all Dominator Platinum memory modules, the new kits have patented DHX technology for cooler operation, user-swappable colored "light pipes" for customizable downwash lighting, and Corsair Link compatibility for real-time temperature monitoring. Dominator Platinum memory is built with hand-screened ICs, undergoes rigorous performance testing, and incorporates state-of-the-art cooling for reliable performance in demanding environments.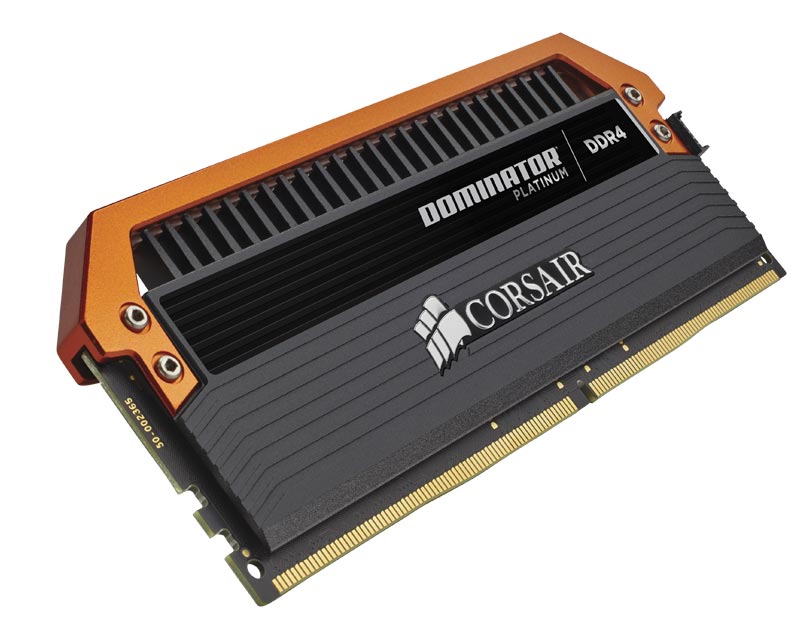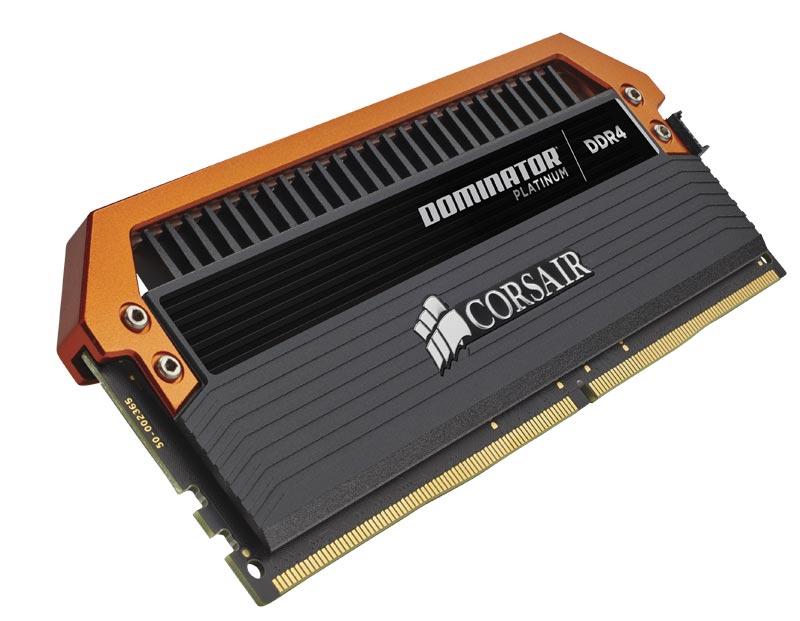 "Each Dominator Platinum 3400MHz DDR4 memory module is built with hand-picked ICs and tuned timing parameters to achieve blistering performance on Gigabyte's X99-SOC Champion extreme overclocking motherboard," said Thi La, Chief Operating Officer at Corsair. "Achieving insanely fast memory clock speeds is just the beginning. We can't wait to see the incredible high-performance machines that PC enthusiasts create with them."
"Our Gigabyte X99-SOC Champion is engineered with highly optimized trace paths between the processor and DIMM sockets to enable incredible memory clock speeds," said Colin Brix, Director of Marketing of Gigabyte's Motherboard Business Unit. "We worked with Corsair to tune an exceptional edition of Dominator Platinum DDR4 that can help overclockers push the X99-SOC Champion to reach unprecedented memory speeds."
World Record for Fastest DDR4 Memory Frequency
On March 20, professional overclocker Hicookie set the world record for fastest DDR4 memory frequency using the Corsair Dominator 3400MHz DDR4 memory and Gigabyte X99-SOC Champion motherboard. Using liquid nitrogen, Hicookie established a record-breaking speed of 4365.6MHz.
The record is documented on hwbot.org: http://hwbot.org/submission/2799019_hicookie_memory_clock_ddr4_sdram_2182.8_mhz
Availability and Warranty
The Dominator Platinum DDR4 3400MHz 16GB memory kits have an MSRP of $999.99 and are available now on www.corsair.com. The memory kits are backed by a lifetime warranty.
About Corsair
Founded in 1994, Corsair supplies high performance products purchased primarily by PC gaming enthusiasts who build their own PCs or buy pre-assembled customized systems. The company's award-winning products include memory upgrades, USB flash drives, power supply units, solid-state drives, PC speakers, gaming headsets, gaming keyboards, laser gaming mice, system monitoring and control devices, PC cooling products, and computer cases.
Copyright © 2015 Corsair Components, Inc. All rights reserved. Corsair, the sails logo, and Flash Voyager are registered trademarks of Corsair in the United States and/or other countries. All other company and/or product names may be trade names, trademarks, and/or registered trademarks of the respective owners with which they are associated. Features, pricing, availability, and specifications are subject to change without notice.
1. As recorded on Hwbot.org on March 20, 2015: http://hwbot.org/submission/2799019_hicookie_memory_clock_ddr4_sdram_2182.8_mhz