« Page 3
The next step is exporting the file. All this work is for not if you go ahead and export it as a jpeg or bitmap. You need to select the artwork and export it as an .EPS or AI.EPS File, this will ensure the file maintains the vector format. When you export it as an .EPS it will give you several options, the most important being that you export it as postscript 1. This is the simplest and easiest vector format, and usually the most compatible. To make sure that your file exported correctly try and import it back into your graphic application, if you are able to manually manipulate every vector and see it as lines you have done it correctly. Below you can see that when I import it back into Corel I can still manipulate each individual Character.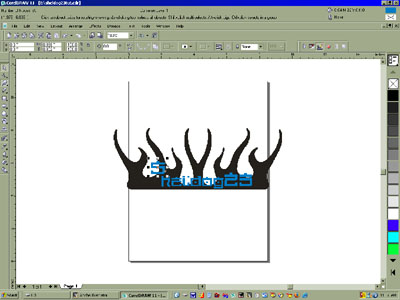 The Final step is giving the file to the graphics designer and getting the file cut. You should have your file scaled to the correct size before exporting, but just to make sure you should always tell the Graphics company what the Exact size you want is.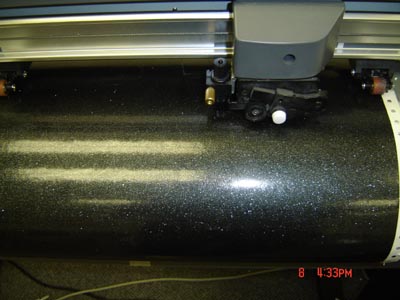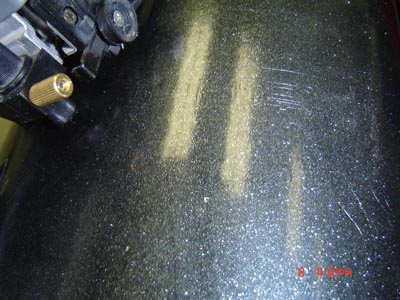 Here is a Vinyl Plotter cutting out a Charcoal Sparkle decal of the design. If you look closely you can see the cut lines, these lines are the exact lines that you created in your artwork. Once it is completely cut out the excess vinyl is weeded away from the design Leaving only what you created.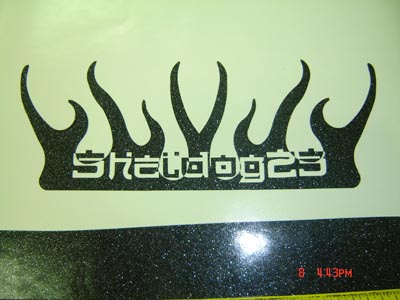 You can see the Method to the overlapping madness now. Once you understand how the vinyl works you can create much more dynamic designs and give your Case window that custom look everyone will covet.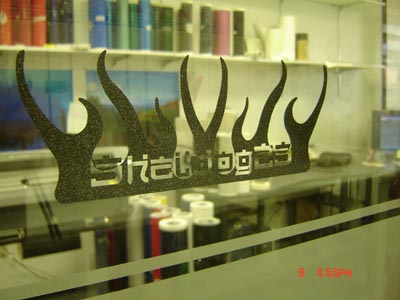 Here is the final product. I didn't have a case window to put it on so I applied it to the glass outside the Graphics dept. All it takes is a little imagination and you can see this on a Case Window backlit with some cathodes. The Creation of your own custom designs can be much more rewarding than buying pre-made mod products, after all if you are going to take the time to modify your PC to make it unique why not take the extra time to make sure all aspects of the case are unique?
This How To was supplied by Sheldog23
---
Disclaimer
This guide is for informative purposes only! We (Modders-Inc.) will not be held responsible for any damages caused to or resulting from anything that you have decide to do to your case or hardware. We (Modders-Inc.) will not be held responsible for injury to your person or others as a result of you or others attempting any of the things that are shown on this site. You are responsible for your own actions, whether your actions are based on information gathered from Modder-Inc or its affiliates. Always use the proper tools for a job. Always wear the necessary Safety Equipment.