The Func MS-3 gaming mouse uses an Avago 9500 laser sensor with variable DPI adjustment ranging from 90 to 5670. The Func MS-3 is ergonomically designed to comfortably fit right handed use with a generous resting area for the ring and pinky fingers. There are four extra buttons around the thumb area of the Func MS-3 mouse which are strategically placed so accidental button presses are avoided. Through the Func-MS3 software
, buttons can be reassigned and features can be enabled or disabled. Macros can also be recorded and stored either as a *.map file or onboard the 512KB memory. Combined with the Func Surface 1030XL dual-surface mousepad, users have flexible options and control how responsive their gameplay experience can be. Both the Surface 1030XL and MS-3 gaming mouse are made from high-quality materials covered with a 2-year warranty.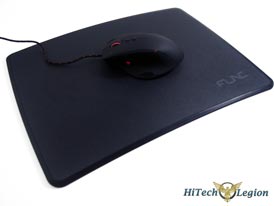 Func MS-3 Mouse and Surface 1030XL Mousepad Review.