GELID Icy Vision Rev. 2 VGA Cooler Review
The GELID Icy Vision is a 5-heat pipe VGA cooler compatible with both AMD Radeon and NVIDIA GeForce video cards. Revision 2 of the GELID Icy Vision VGA cooler extends compatibility to include Radeon HD7850 and HD7870 video cards, as well as GeForce GTX 680, Quadro 4000 and GeForce TITAN video cards. A pair of 92mm GELID UV Blue fans actively cools the Icy Vision Rev 2 and is designed to deliver superior cooling performance with minimal noise. The GELID Icy Vision comes with several aluminum heatsink pieces with dual-sided adhesive thermal pads to accommodate various video card designs. GELID also provides a tube of GC-2 thermal compound for the GPU core, so the Icy Vision VGA kit is ready to be used right out of the box. Displaying full confidence behind the Icy Vision Rev. 2 VGA cooler, GELID backs it up with a 5-year warranty, enough to last through more than one video card upgrade cycle.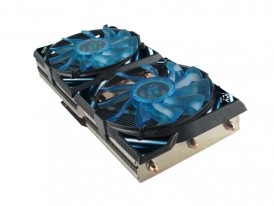 Posted at HiTechLegion GELID Icy Vision Rev. 2 VGA Cooler Review.