Keyboards
Genius Imperator Pro Illuminated Keyboard Review
Article Index: >>
Page 2 »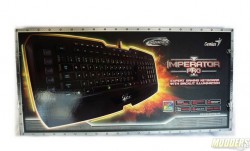 A flurry of gaming products has been introduced recently by Genius from Gaming Headsets, Mice, Pads, Speakers to Keyboards. At the top of the Keyboard line is the IMPERATOR PRO MMO/RTS Professional GX Gaming Series Keyboard. This PRO model includes 2 notable high end features, 2 USB ports and 16 million color backlighting. We will dig in and break down all the features and functions of this keyboard here.
Review Sample Provided by: Genius GX Gaming, KYE Systems Corp.
Product Name/Link to Website: IMPERATOR PRO Expert gaming Keyboard with Illumination
Product was given in exchange for work done to produce this review.
Specifications:
 USB 2.0 interface
 On board memory enabled
 Polling rate up to 1,000Hz
 Travel distance: 3.8 ± 0.2 mm
 Key switch life: 10,000,000 cycles
 104/105/106/107key enhanced Windows layout
 3u gold-plated 1.8m braided USB cableM
 16M RGB backlight system brightness switch: 33%/66%/100%/Pause-break/OFF
 6 programmable macro key: assign up to 18 macro keys
Article Index: >>
Page 2 »