« Overclocking Performance
Conclusion and Final Thoughts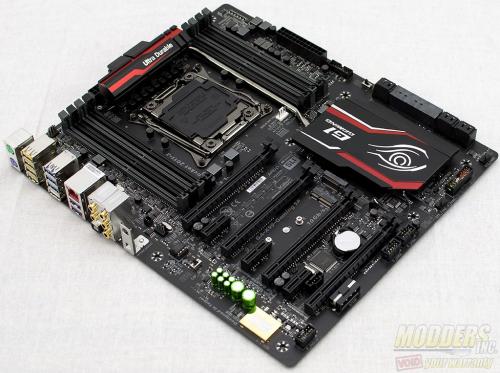 Overall, I am extremely impressed with the Gigabyte X99 Gaming 5P motherboard. This is the second series in their X99 line up and shows off what Gigabyte can do. Typically when I review a motherboard, I use it as my daily driver for a few weeks to really get a feel for the motherboard. I don't feel that a few hours of benchmarking really a board the run it was designed for. I run the CPU in the overclocked state on a daily basis, hence the reason I tend to lean for a milder overclock with the emphasis on stability. Currently we are working on increasing the "stable" overclock. In today's market, most motherboards are within a certain percent of each other so what differentiates one board from the next is pricing and features.
Performance of the Gaming 5P is right on par with the other two X99 motherboards that we have recently reviewed. Stock and overclocked performance leads the X99M board by a pretty decent margin in most cases and falls right inline with EVGA's offering. I had no issues during the time I used this board.
Feature wise, the board packs on Creative's CA0132 Core3Di quad core audio processor. It is clear that Gigabyte has spent a lot of time with their motherboards in an attempt to get the audio perfect. Gigabyte's boards also feature a replaceable OP-AMP chip that allows you to tune the audio of the board with optional amplifiers. The OPA2134PA that this board comes with sounds great to me. Listening through a pair of Sennheiser HD 380 pro headset, the audio was clear and crisp. I couldn't hear any distortion.
In the past, I was not really a fan of Killer's networking chipset after Qualcomm bought them. To me, at least, the software tricks seemed like a smoke screen. Now however, the drivers and the chipset have matured a bit and I am much more comfortable with their product. Testing shows good throughput and the ability to transfer large files and maintain network speeds. With network testing, ideally, you will want to get results that show a consistent transfer speed.
Overclocking on this board went just as well as other Gigabyte boards in the past. I just changed the CPU multiplier and tweaked voltage settings and I was easily able to reach 4.4 GHz and passed the 24 hour stability test with flying colors.
A solid showing of hardware and software from Gigabyte gives this motherboard the lead in the X99 arena. Gigabyte continues to include some useful utilities with their boards through their App Center application. A lot of these I do find useful and do tend to use them on occasion. The smart switch for example, turns the Window 8.1 start menu into a Windows 7esk start menu. It's great for people like me, that want to use the latest OS but dislike the interface, best of all, it's free. The little things that Gigabyte does tend to impress me. Simple things such as sleeved SATA cables show that Gigabyte is looking to make it into more mods. Sleeved cables look better than just plain ol' cables. LED lighting on the audio paths, PCH heatsink edge, and rear I/O shield tells me Gigabyte wants to be seen and not heard. There are a couple of things that I would have liked on this board. One, power and reset buttons on board. They were not included here. I tend to use them quiet a bit now. x4 M.2 slot. As we see more and more x4 drives come out, the ability to take full advantage of them on board would be nice. Those are really the only two negatives that I have about this board. Gigabyte is constantly working to improve their products and this board shows it. At 309, this motherboard is a little on the high side, but includes some really nice features. If you're up for an X99 system with lots of bells and whistles, give the Gigabyte X99 Gaming 5P some consideration.
[sc:must_have_award ] [sc:sponsor sponsor="Gigabyte" product_link="http://www.gigabyte.us/products/product-page.aspx?pid=5281#ov" product_name="Gigabyte X99 Gaming 5P" product_price_link="http://www.amazon.com/gp/product/B00UOYPZXO" product_price="309.99″ ]