A Closer Look at the MSI B250M Mortar Motherboard »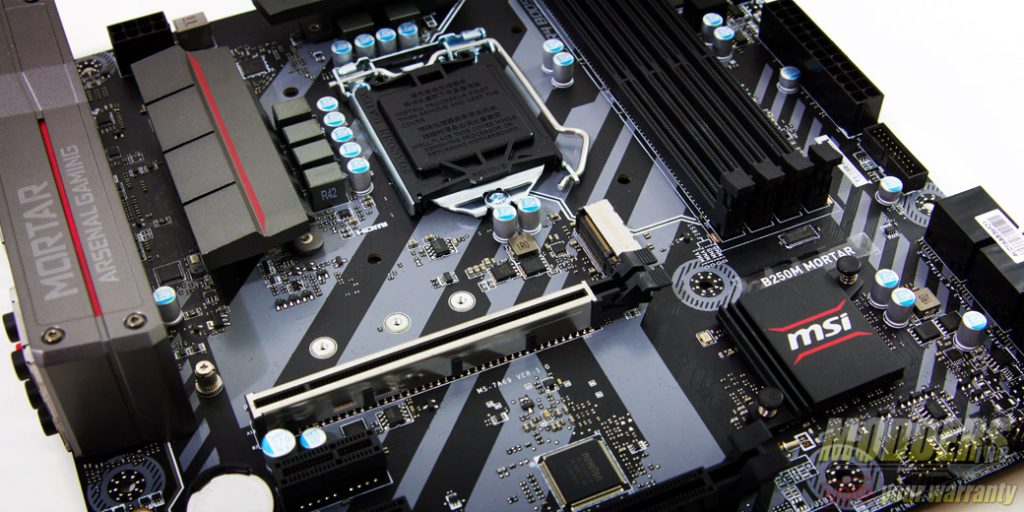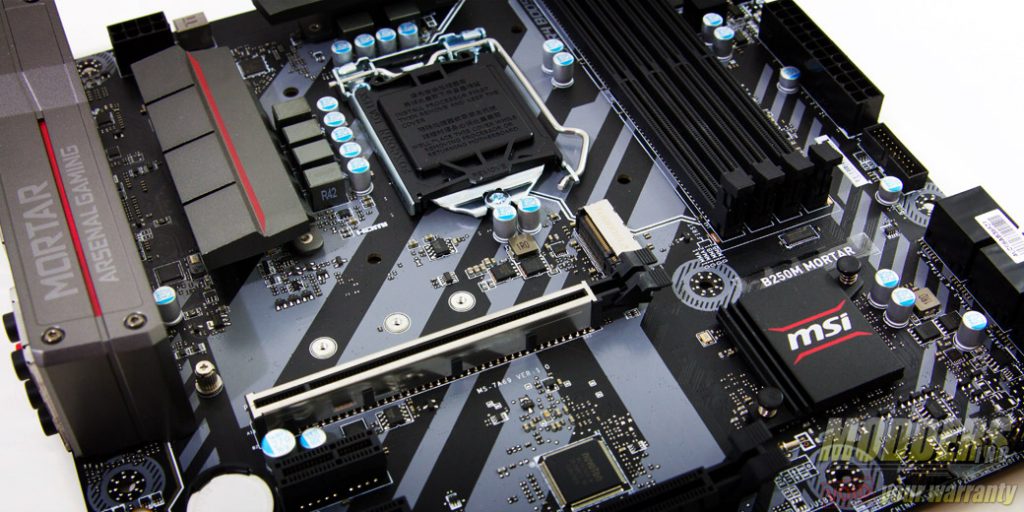 The B250 chipset represents the base level of Intel's 200-series mainstream desktop platform. That does not mean that it offers significantly less in terms of features however, in fact it is an ideal solution for a value mini-ITX or micro-ATX system paired with a non-K processor considering unlike the Z270 chipset, it cannot use all those extra PCIe lanes on a smaller form factor.
Intel has also significantly upgraded the B250 chipset in comparison to previous generation B150 and B85 equivalents, now having PCIe M.2 support like its other Union point chipset peers as well as natively having six SATA 6g, six USB 3.0 and one SATA-Express support. The base DDR4 support has also been increased to 2400MHz from 2133 JEDEC default so there is a bit more headroom in terms of memory performance.
[sc:sponsor sponsor="MSI" product_link="https://www.msi.com/Motherboard/B250M-MORTAR.html#productFeature-section" product_name="B250M Mortar" product_price_link="https://www.bhphotovideo.com/c/product/1306967-REG/msi_b250m_mortar_gaming_computer.html" product_price="$89.99″ ]
MSI has taken advantage of Intel's B chipsets to offer a great bang for buck micro-ATX solution in their B150M mortar motherboard and now has updated it with the B250 chipset to further provide a top-to-bottom gaming solution on a budget. This includes providing the latest Intel i219V Gigabit LAN with custom MSI network management software, as well as Realtek ALC892 HD audio with Nippon Chemi-con audio capacitors.
As usual, MSI outfits the B250M Mortar with a complimentary software suite designed specifically for gamers, providing simple to use performance enhancements including RAMDisk GamingApp with EyeRest, Mouse Master, Gaming Hotkey, OSD and introduces XBoost (formerly GameBoost which was formerly OCGenie). MSI has also introduced the Dragon Eye for simultaneous gaming and video streaming on the same monitor and DPC latency tuner for optimizing system streaming capability. Also included (which seems to be mandatory for any gaming motherboard these days) is the MSI Mystic Light extended RGB LED support via on-board header controllable with the GamingApp software.
The MSI B250M Mortar motherboard is packed in a square box with relatively plain front, reserving most of the text and graphics consisting of all the promotional material at the rear. Like most of MSI's other mainboard packaging, it flips open from the front bottom to reveal dual compartment area with the motherboard at the top and the accessories at the bottom. The motherboard is packed in an anti-static bag with foam padding underneath.
The accessory pack includes an IO shield, a user manual booklet, a DVD driver disc, quick installation guide, a product registration card and two SATA cables (one straight and one angled).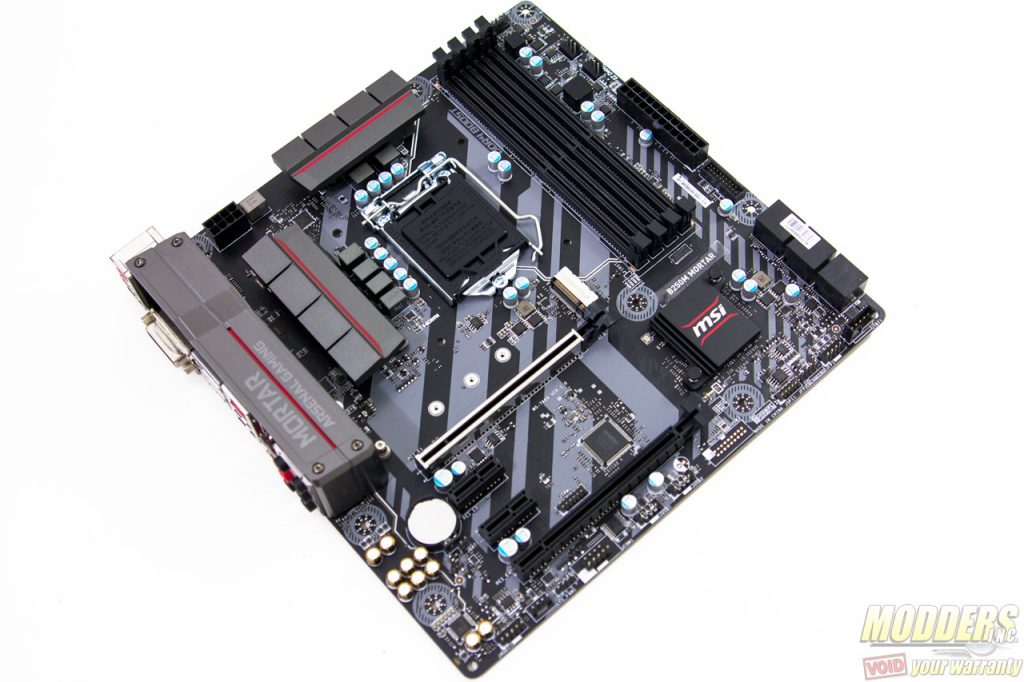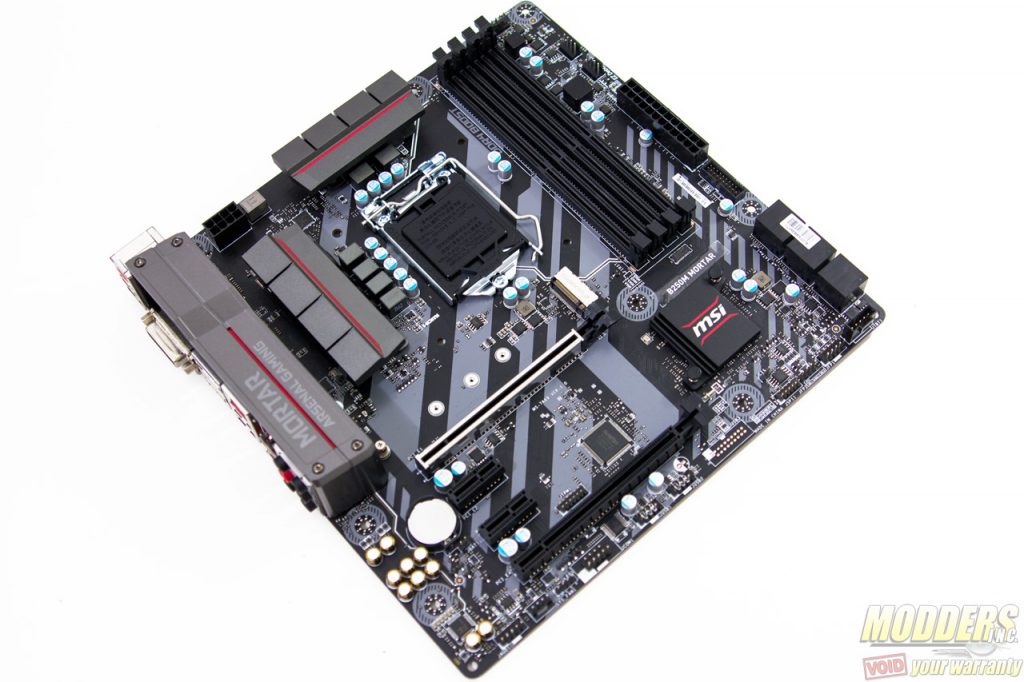 Intel 200-series motherboards are compatible with Intel Skylake as well as Intel Kaby Lake CPUs, but certain features will only be enabled if the B250 chipset is paired with a Skylake 6th generation Intel processor compared to when a Kaby Lake 7th generation Intel processor is installed. Memory support for example moves up to 2400MHz when a Kaby Lake processor is installed while a B250 chipset plus a Skylake CPU will be limited to 2133MHz, even if XMP mode with a higher frequency setting is toggled on.
There are many other similarities between a B150 Sunrise Point chipset and a B250 Union Point chipset including native 6x SATA 6G ports, 6x USB 3.0 ports and 12x USB 2.0 ports, but the B250 has the advantage of support for upcoming Intel Optane technology (aka 3D XPoint storage) and having four more PCIe 3.0 lanes so there is less conditional switching compromise whenever an M.2 or U.2 storage port is embedded. The latter is useful but the former have yet to have a definite release date.
Intel Optane SSDs use a new form of memory called 3D XPoint which claim to be 10x faster than current SSDs so the performance relief this could bring is exciting to say the least, although do not expect it to be very wallet-friendly. The first Optane products are expected to come out in 2017 with a ramp up in production in 2018 making it much more affordable and within reach for most consumers.