MSI is pleased to announce the latest additions to its next generation GAMING graphics cards lineup. The new MSI GTX 950 graphics cards are powered by NVIDIA's latest GM206 Maxwell GPU, which fully supports the new DirectX 12 that comes with Windows 10.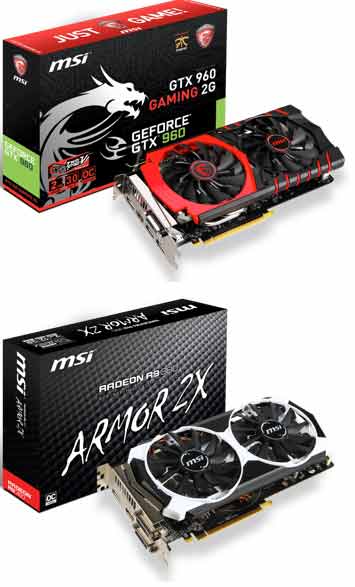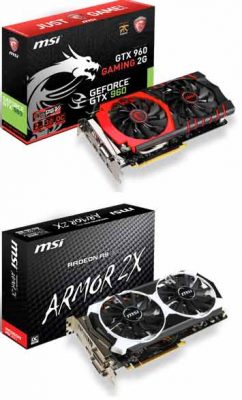 The MSI GTX 950 GAMING 2G features the famous Twin Frozr V cooler, delivering a supremely silent gaming experience with Zero Frozr technology and Torx Fan design. The MSI GTX 950 GAMING 2G is the perfect card for 1080p and MOBA games such as DOTA2 and League of Legends.
Besides the revered GAMING series, MSI also provides factory overclocked Armor2X models featuring the striking Black & White cooler to match the design of MSI's Krait series motherboards. MSI also ads in system integrator OC Edition models with higher clock speeds and reference exhaust fans, catering to the needs of a wide audience.
Twin Frozr V Thermal Design
The famous MSI Twin Frozr V Thermal Design is the pinnacle of graphics card air cooling. With a smaller than 2-slot design, the Twin Frozr V is able to surpass previous generations by a large margin. The twin 10cm Torx fans ensure huge amounts of silent airflow and visually match the bold look of the Twin Frozr V and other MSI GAMING products. The heatsink is re-organized through the SU-design which increases heat-pipe efficiency, especially when combined with Airflow Control Technology. Hybrid Frozr is a throwback to 2008 when MSI was the first to market high-end, zero noise graphics cards thanks to fans that stop spinning in low-temperature situations.
MSI GAMING APP
With the addition of the GTX 950 GAMING 2G to the next generation of MSI GAMING graphics cards, MSI is levelling-up the PC gaming experience. The MSI GAMING App allows gamers to quickly switch between OC, Gaming and Silent modes, depending on their needs. Now featuring the EyeRest tab, which offers quick access to specific monitor color profiles for games, movies and a special EyeRest mode which reduces blue light for less strain during nightly gaming sessions. Also featuring the LED control tab, allowing gamers to choose from 5 unique lighting modes to set the right ambience for their gaming moments with just one click.
Get Final Fantasy Type-0 HD for free!
For a limited time, buying a GTX 950 GAMING 2G graphics card will include a voucher for the new Final Fantasy Type-0 game.
Step into the fray as Class Zero, a group of students from an elite military academy whose country is attacked by an aggressive neighboring Empire. In the brutal and harrowing struggle that follows, defeat the Empire and uncover the secrets behind the war using a range of powerful magical and combat abilities and an exciting new battle system. This promotion runs till September 30th 2015 or while supplies last.
Technical specifications  
Name
GTX 950 GAMING 2G
GTX 950 2GD5T OC
GTX 950 2GD5 OC
GPU
GM 206 – 250
Core Clock (Boost/Base) MHz
1317 / 1127
1253 / 1076
1127 / 1178
Memory Speed
6650 MHz
6610 MHz
Memory Size / Type
2048 MB / GDDR5
Cooling
Twin Frozr V
Armor 2X
Reference
Connectivity
DL-DVI-I / HDMI / DisplayPort x3
DL-DVI-D / DL-DVI-I / HDMI / DisplayPort
Dimensions
270x137x37mm
254x116x36mm
170x111x37mm