MSI's new Black and White motherboard line is finally available; the first offering is the Z97S SLI, an Intel LGA1150 motherboard sporting an ATX form factor with SATA-Express support, SLI capability and a 6-phase CPU power design.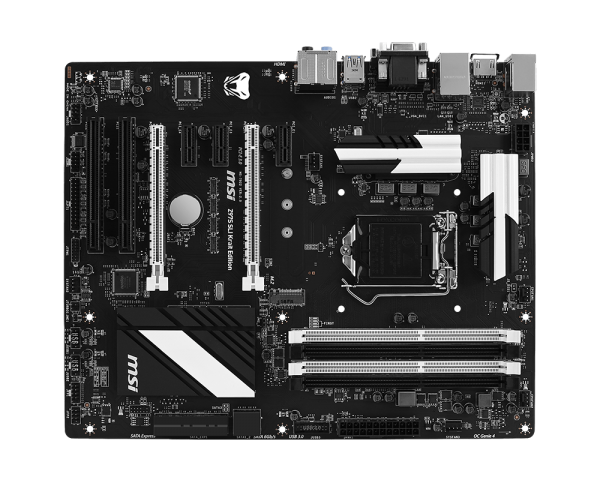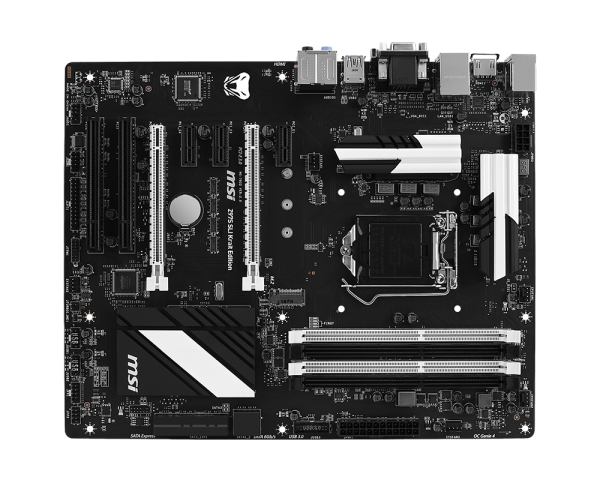 The new Krait Edition motherboard even features a custom black and white Click BIOS 4 UEFI featuring the matching Krait logo. As with the Gaming and segment series motherboards from MSI, the Krait edition Z97S SLI also features Super Ferrite chokes and low ESR Dark Capacitors as well as circuit protection for the CPU and USB ports.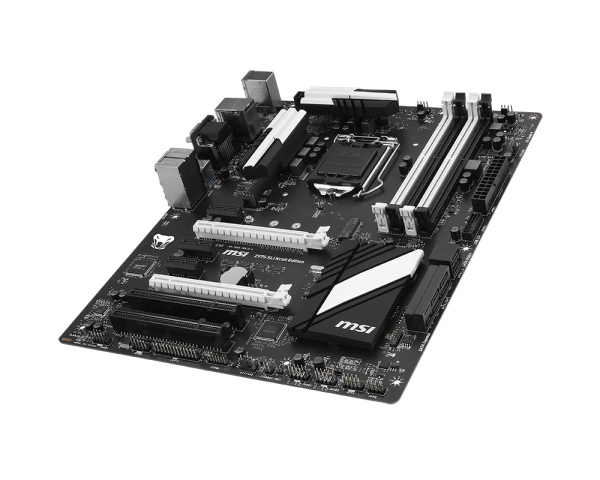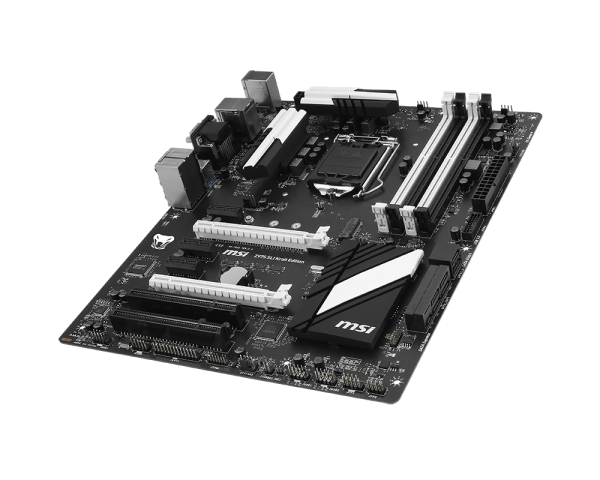 Expansion slots include a pair of PCI-E 3.0 x16 slots (in 16x or 8x/8x config) separated by two PCI-E 2.0 x1 slots in between for ideal dual-card allowance. A third PCI-E 2.0 x1 slot is also available above the first PCI-E 3.0 x16 slot and two PCI slots are available at the bottom area. Network connectivity uses a Realtek 8111G Gigabit LAN controller while a Realtek ALC892 HD codec is used for the audio.
Awesome looking mods such as this creation from Jesse Palacio using the Z97S Krait showcase the possibilities with this color scheme. Follow his creations at J.P. Modified on Facebook. https://www.facebook.com/j.p.modified/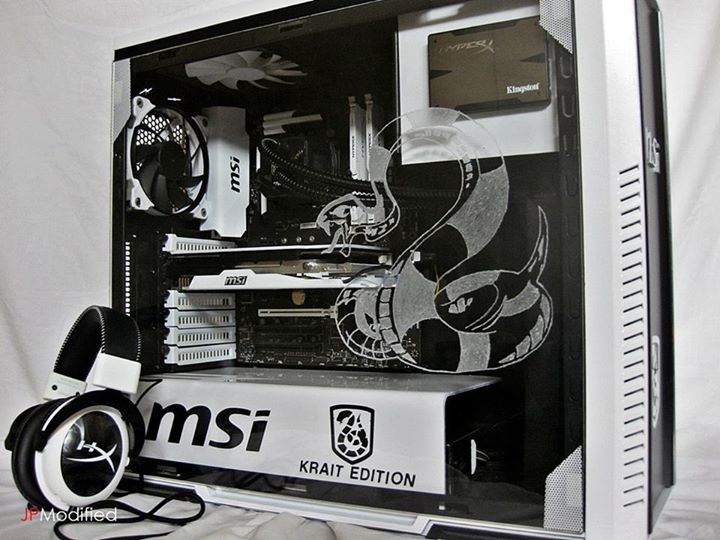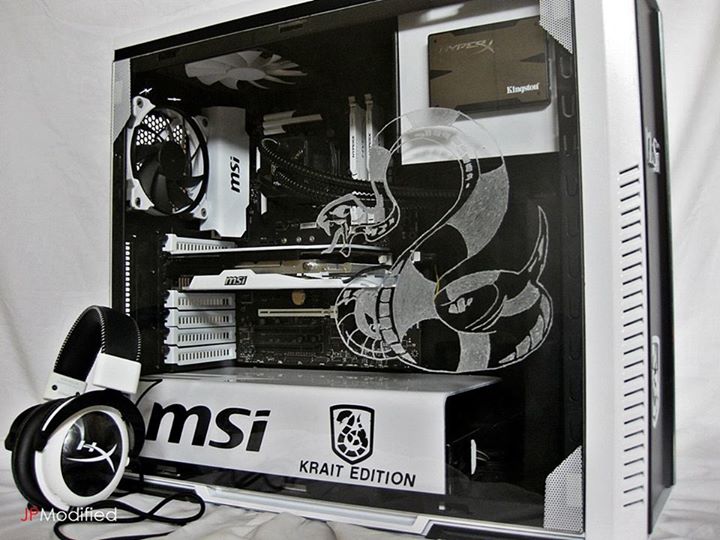 For more information on the MSI Z97S Krait, please visit the official product page: http://www.msi.com/product/mb/Z97S-SLI-Krait-Edition.html#hero-specification
Official Press release below:
September 23, 2014–MSI, world leader in motherboard technology, is proud to announce its latest motherboard, the Z97S SLI Krait Edition. Inspired by and developed in cooperation with the world's elite case modders, the new Z97S SLI Krait Edition is equipped with an arsenal of new features, improvements like NVIDIA® SLI™ certified for enthusiasts looking to pair up multiple graphics cards. On-board M.2 and SATA Express provides the latest storage technology with transfer speeds up to 10 Gb/s, with flexible solutions for using preferred devices. Military Class 4 provide all the stability you need through carefully selected and thoroughly tested components and materials. The Z97S SLI Krait Edition motherboard caters to those looking for a feature rich motherboard with a unique look & feel.
Perfect for case modding
Looking for that creative, one-off build? The new black & white design instantly adds a touch of class to a sophisticated build. The new MSI Z97S SLI Krait Edition has been purposely designed together with the most elite case modders to meet the demands of community who craved a pure black and white motherboard.
Optimized for multiple graphics cards
MSI motherboards feature one or more PCI Express 3.0 slots, perfectly aligned and with enough space for an optimal airflow when using multiple graphics cards. This enables continued maximum graphics performance while you are enjoying the best graphics jumping off from your monitor when running NVIDIA® SLI™ or AMD CrossFire™ gamers setup.
Push your SSD to the limit with M.2 & SATA Express
Enjoy a blazing fast system boot up and insanely fast loading of your operating system, applications and games with MSI Z97 motherboards, offering the next generation of high speed storage support through M.2 and SATA Express. M.2 and SATA Express transfer data through a PCI-Express 2.0 x2 interface with speeds up to 10 Gb/s, making it 67% faster than SATA 3.0 solutions.
Stable and highly efficient with Military Class 4
Striving to provide consumers with the highest quality and most stable products, MSI utilizes its new Military Class 4 components for the all new MSI Z97 series. These key components have all been certified to seven MIL-810G tests to ensure stable operation under the harshest conditions.
The most advanced BIOS including OC Genie 4
In addition, MSI motherboards are also equipped with many exclusive new technologies, including the one-second overclocking OC Genie 4, the world's first graphical controlled interface Click BIOS 4 and the Command Center software that combines features such as monitoring, tuning and controlling of your hardware. The unprecedented level of flexibility and control offered in MSI's unique hard- and software design puts you in the driving seat of your motherboards configuration.