In a move that is sure to please or at least catch the attention of modders, ASRock has announced their latest Z170M-PIO2 motherboard featuring a unique 90-degree angled PCI-E x16 slot so that the video card can be mounted parallel to the motherboard's PCB. Many modders have resorted to using extender cables to create this layout in scratch-built cases before, but now extra cables are not required.  Because of this layout change however, the PCI-E x16 socket is mounted at the top so that the video card's fans are facing upward similar to a downward blowing heatsink cooler on the CPU.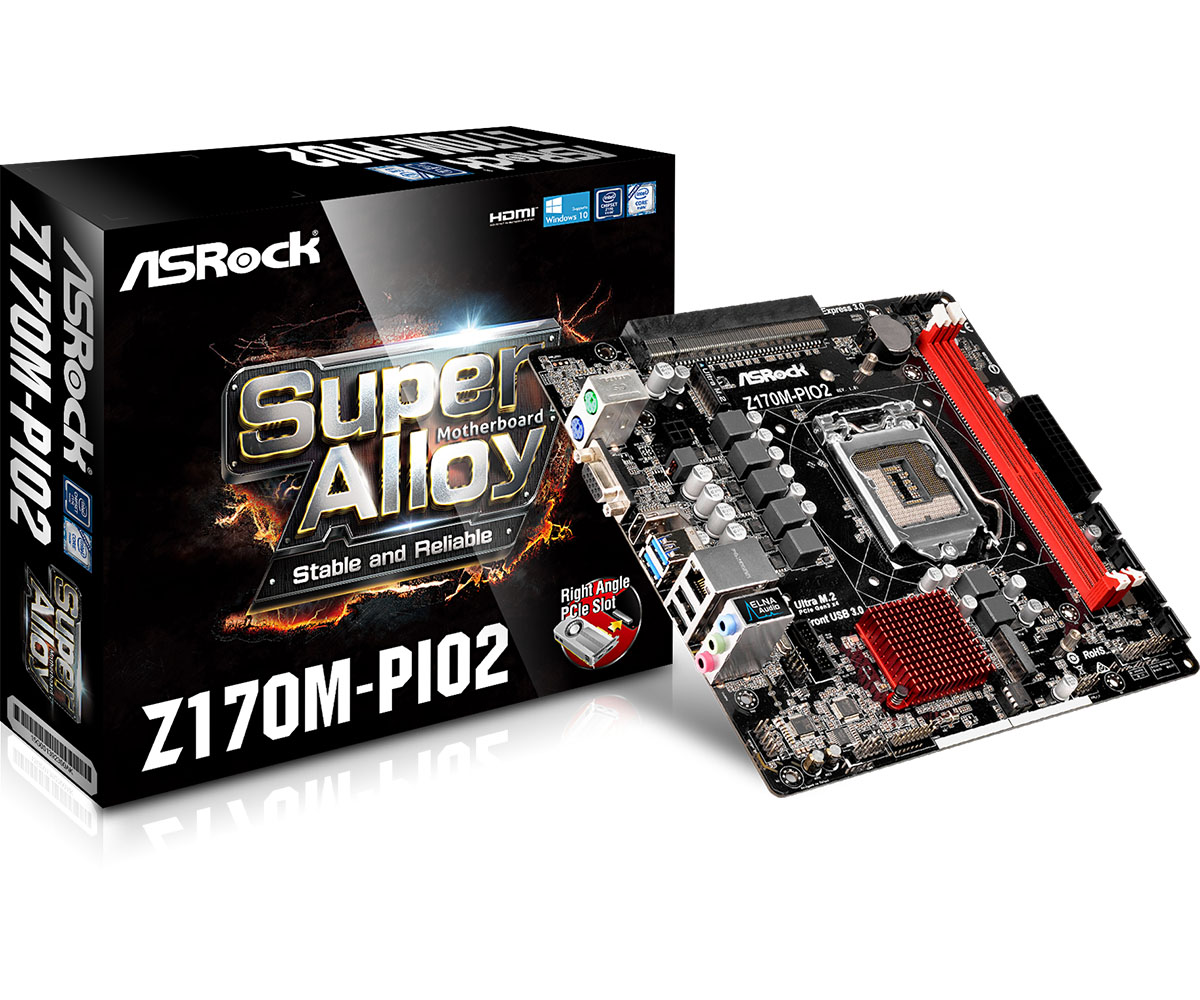 PIO stands for "Parts-in-One" because that is specifically what this motherboard is for such as a system mounted inside a monitor. It is technically a micro-DTX form factor being used measuring 203 x 211mm, rather than a standard micro-ATX which measures 244 x 244mm.
Audio is handled by a Realtek ALC887 HD audio codec with ELNA audio capacitors and three re-taskable analog jacks in the rear IO. A Realtek RTL8111GR is used for the Gigabit LAN. Storage connectivity support includes four SATA3 ports, an M.2 port for PCI-E x4 Gen.3 drives in 2260 or 2280 form factors, six USB 2.0 in total (four via onboard headers), and four USB 3.0 in total (two via onboard header).
All 6th Generation Intel processors up to 95W TDP are supported with a 5-phase VRM total for the CPU+GT. The PWM controller might be an Intersil ISL95856, the photo is not clear enough to discern but it is most likely since the second output can be configured for up to three phases.  Two DDR4 DIMM slots are available.
For those on stricter budgets, a B150M-PIO is also available with identical specs (besides the chipset swap of course). Unlike the Z170 chipset, overclocking the CPU and adjusting the RAM beyond the 2133MHz DDR4 JEDEC stock floor is not possible on the B150 chipset.
For more information, visit the official product pages on ASRock's website: