QNAP introduced a couple of new NAS devices at CES 2017. The first is the TS-453B Mini. This NAS is geared towards home or SOHO users and is a top load style meaning that four drives sit in caddies that drop in from the top with a top cover that finishes off the look. The QNAP TS-453B Mini features an Intel Celeron CPU running at 1.5 GHz and included 4 GB of DDR3L and can be upgraded to 8 GB of RAM. The NAS features HDMI that supports 4k/30Hz.
Next up and still focused on the home/SOHO users is the QNAP TVS-473 and is the latest in their line that features an AMD APU (CPU + Radeon R7 GPU). The AMD R series APU runs at 2.1 GHz with burst up to 3.4 GHz. The TVS-473 can support up to a maximum of 64 GB of ram and has a 1/2 height PCIe slot that supports 10 Gbe or wireless network adapters. Four 1 Gbe ports are included as well as dual HDMI ports that support 4K.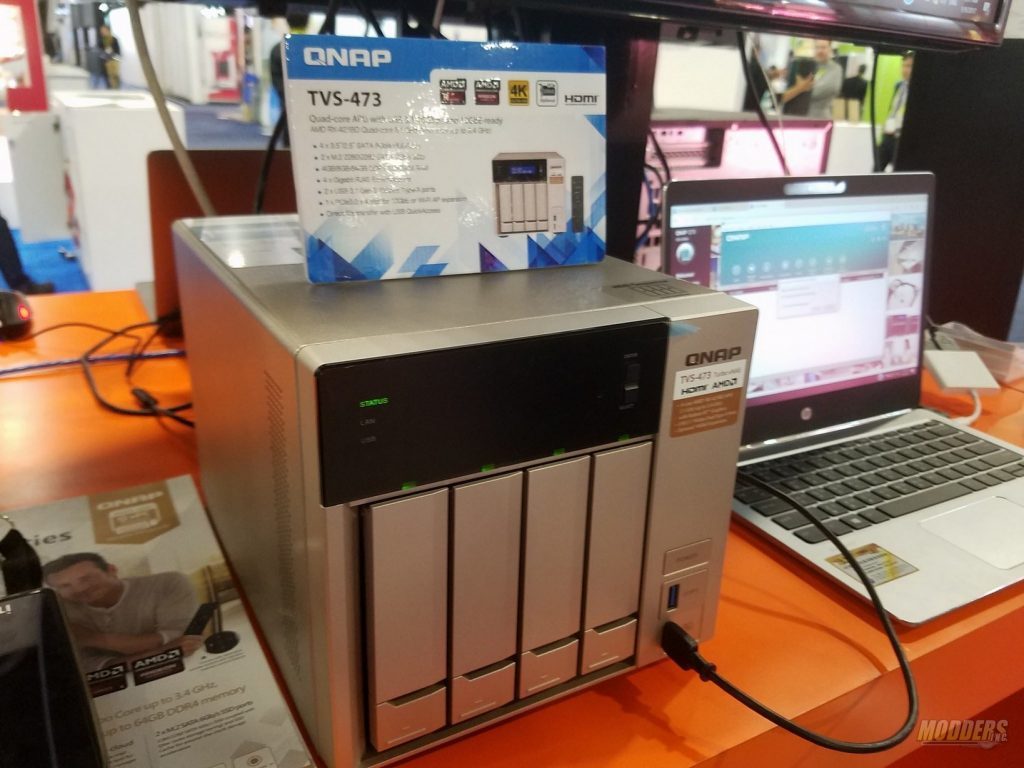 Marketed towards content creators and high end users is the QNAP TVS-1282T3. The TVS-1282T3 is a 12 bay NAS with support for eight 3.5″ drives and four 2.5″ drives. The 2.5″ drives can do support SSDs. This NAS can be ordered with either an Intel i7 7700 3.6 GHz or an Intel i5-7500 3.4 GHz CPU with support for a maximum of 64 GB DDR4 RAM. Speed wise, the TVS-1282T3 comes with two ports for Thunderbolt 3, two ports for Thunderbolt 2, and dual 10Gbe all of which are provided via the 1/2 height PCIe slots. On the chassis, the NAS features four 1 Gbe ports, three HDMI ports, and four USB 3.0 ports.