Affiliate News
Razer DeathAdder 2013 (4G) Gaming Mouse Review | Custom PC Review
Fast forward to today and we now get the Razer DeathAdder 2013 aka Razer DeathAdder 4G, whichever you prefer. The DeathAdder 2013 is now the 3rd generation of the Razer DeathAdder succeeding the Razer DeathAdder 3.5G with a number of small improvements, but still keeping the same design that has made the original DeathAdder the iconic mouse that it is today.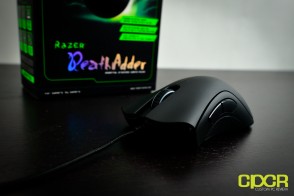 Among the improvements, we get Razer's all new, never before seen 4G optical sensor which features 6400 DPI sensitivity, 200 IPS and 50G of acceleration. Additionally, we also get several small improvements such as an all matte styled body as well as rubber side grips that have been carried over from some of Razer's latest and greatest.
Posted at Razer DeathAdder 2013 (4G) Gaming Mouse Review | Custom PC Review.