PC Case Fan
Reeven Four Eyes Touch (RFC-03) Fan Controller Review: Look, and DO Touch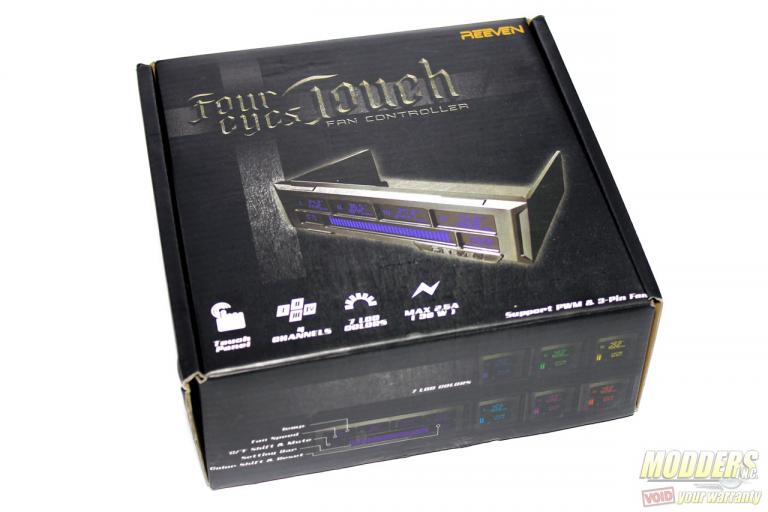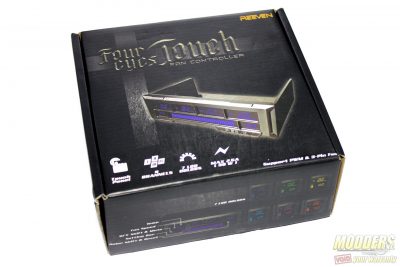 With the optical drive phased out in most modern PCs, the 5.25″ external drive bay is feeling a bit of an "empty nest" syndrome. This space however, can be put to good use by adopting a fan controller that serves to provide thermal management much better than any built-in chassis fan controller could. As a company specializing in cooling components,  Reeven offers their Four Eyes fan controller that provides touch-control function of up to four fans with additional thermal monitoring functions. Each Four Eyes Touch controller fits into any 5.25″ external drive bay (half-length) with no external protruding knobs or buttons to contend with.
[sc:sponsor sponsor="Reeven" product_link="http://www.reeven.com/four-eyes-touch/" product_name="Four Eyes Touch" product_price_link="http://www.performance-pcs.com/reeven-four-eyes-touch-fan-controller-black.html" product_price="$49.95″ ]
Each Four Eyes Touch package comes padded on all sides including top and bottom with the contents separated in two partitions. Although a fairly small product, the Four Eyes Touch has plenty of functionality so luckily the fold-out users' guide is easy to follow with complete diagrams demonstrating what does what. Two sets of braided cables are included: one set contains four 72cm 4-pin compatible fan extensions and another set includes four braided cables of the same length for the two-pin thermal sensor headers. Mounting screws and stickers for the thermal probes are also included.
Specifications:
| | |
| --- | --- |
| Model Number | RFC-03 |
| Dimensions | (W)148 x (H)42 x (D)100mm |
| DC Input | DC5V & DC12V |
| DC Output | 3.7V ~ 12V(±10%) |
| Output Ampere | 2.5A per Channel |
| Temperature Range | 0~99oC |
| Fan Speed Range | 0~9990rpm |
| Weight | 200g |
Since the Four Eyes Touch is a touch-screen unit, all functions are triggered on the actual display. Seven separate areas on the display serve a specific function and to trigger or toggle between each function, simply press directly on the screen. It is very self-explanatory, even without the easy to follow manual included.
Power is fed via a single SATA connector that is positioned with the notch upwards, which actually helps a lot with cable management if the fan controller will sit at the top-most part of the case. Each channel has a Fairchild Semiconductor FQP series 50N06 N-channel TO-220 MOSFET with four chokes and 330v ChengX electrolytic capacitors. The 8-pin header set to the right of the SATA connector is where the thermal probe sensor cables plug in vertically per channel and a jumpered header toggles beeping notifications coming from the built-in speaker right above it. THere are two PCBs mounted on the casing, one for the front display and one for the power, each with a chip on board controller handling the main functions. The bottom of the unit is bare except for the product sticker, although this sample in particular has a printing error with the name (although the product code is correct).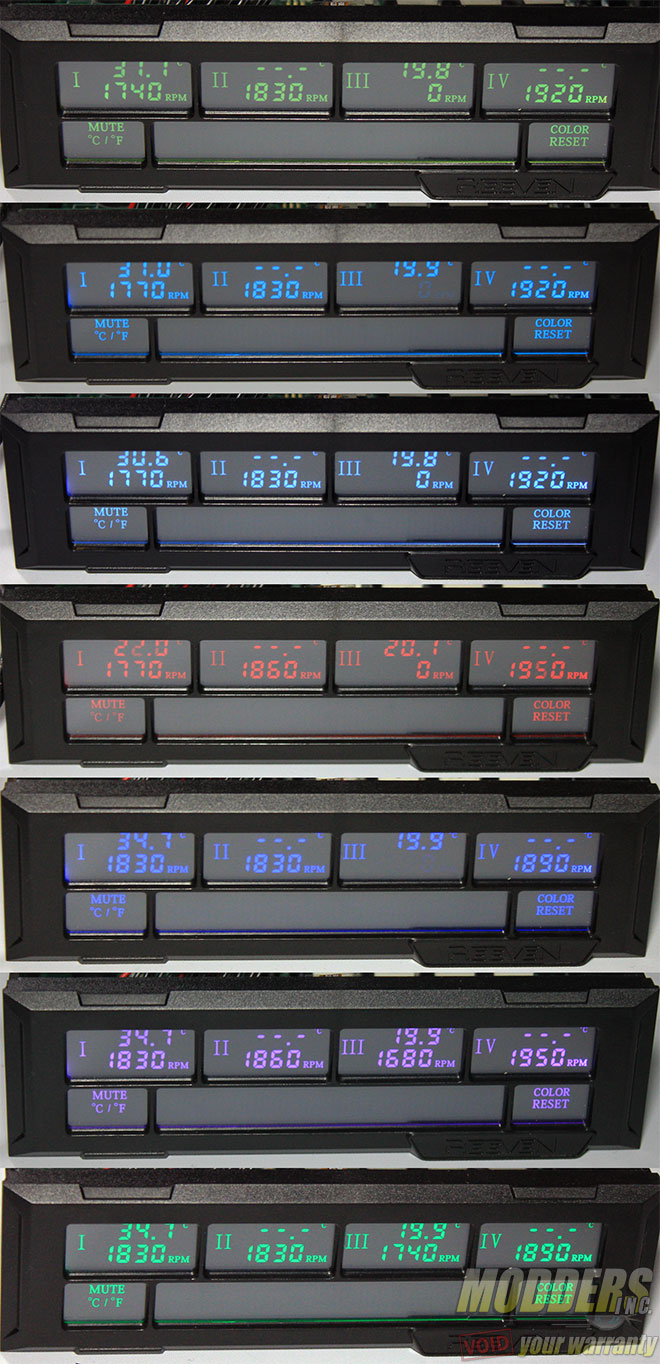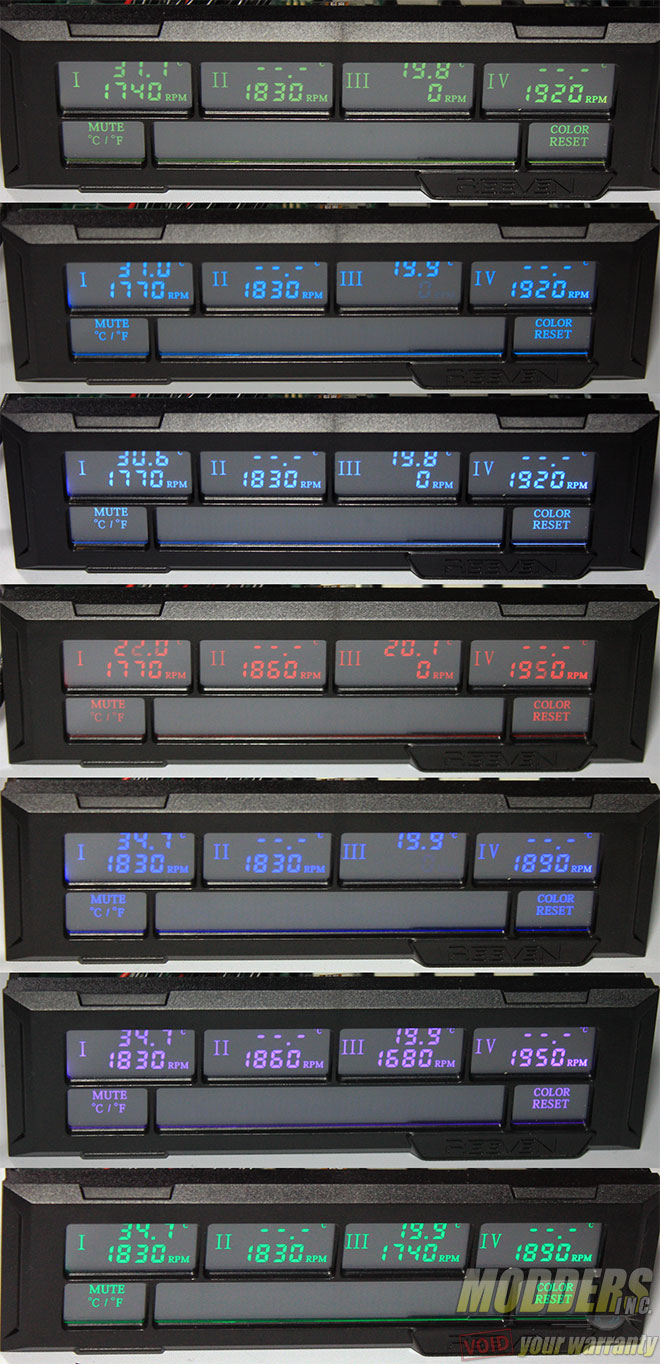 Plugged in and powered on, users have a choice of seven colors: green, blue, light blue, dark blue, purple, red, and light green. The base color is blue, green and red, but the other colors are derived from the combination of each hue. Users also have the option of disabling the LED display, in case a dark room is preferred. Channels with temperature probes plugged in will display the temperature above the RPM reading and users can toggle between Celcius or Fahrenheit. Holding down the same button to toggle the mute function without removing the jumper in the rear, which is useful for when accessing the rear PCB is difficult inside a fully assembled system. For the actual fan speed control, users will have to hold down on one of the channels until it blinks, then a meter will appear on the largest window at the bottom displaying a 0 to 100% range that users can slide their fingers across to ramp up or ramp down fan speed.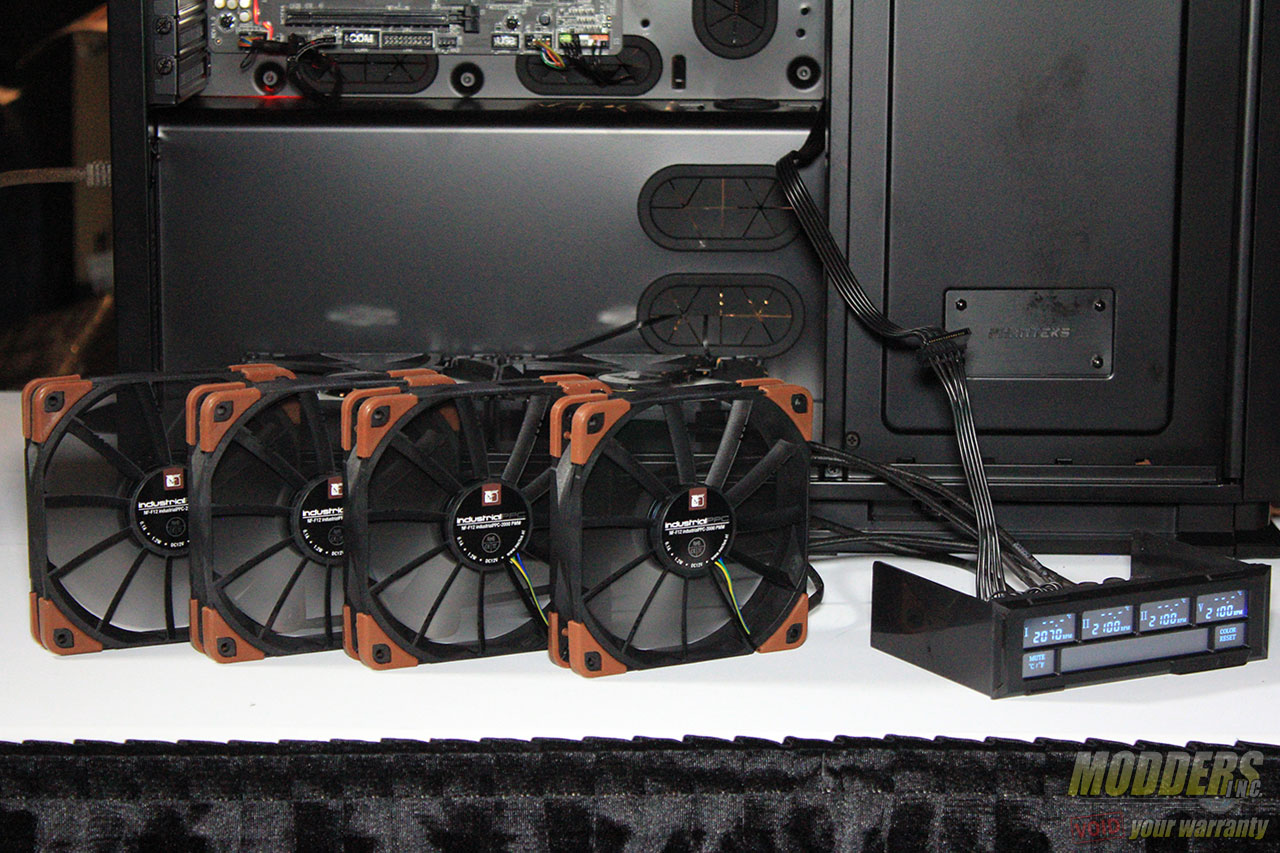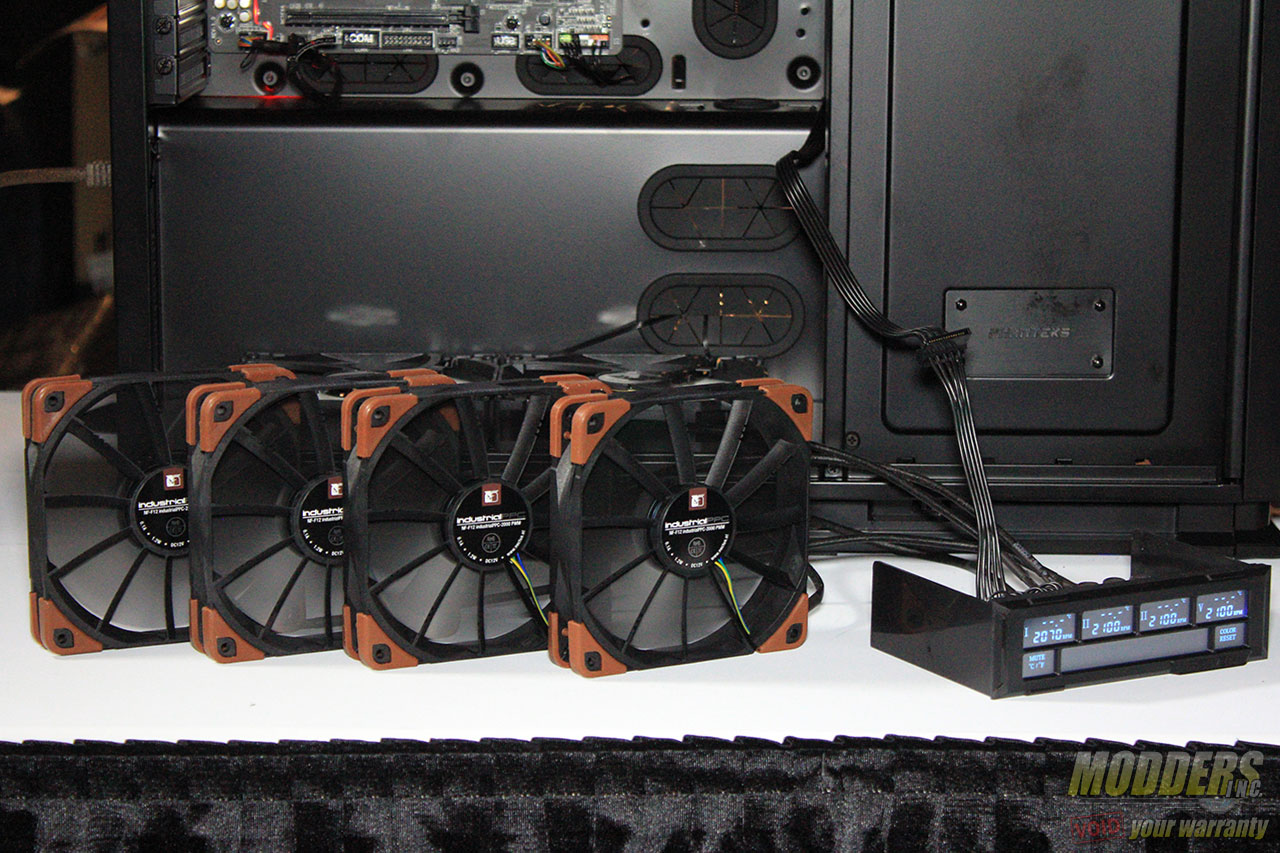 Here is the Reeven Four Eyes Touch running four Noctua 2000-rpm NF-F12 Industrial PPC fans in our booth display at QuakeCon recently and the fan controller obviously has no problems running it full-tilt. The MOSFETs do run hot to the touch, after running for hours all day but the FQP50N06 MOSFETs have a max junction operating temperature of 175C so it can handle the load without faltering. Since the Noctua Industrial PPC fans can take a beating, I decided to test out if the Four Eyes Touch can detect stopped or interrupted fans properly and surely it did and started beeping loudly when one channel fan was obstructed from operating. The beeping function which notifies for over temperature, fan failure and key press is quite loud that even inside a large busy convention hall, it is impossible to ignore. This could be an issue for some people at home but thankfully, there is a one-touch mute function available.
Overall the Reeven Four Eyes makes thermal management fairly simple and stress free with long extension and thermal probe cables that will reach fans even inside full-tower cases. The only concern I have is the SATA connector not having space at the bottom in case users have a SATA power cable with a stiff wiring. The housing completely blocks the bottom area hence Reeven placed the connector facing upward but I believe a better solution would be to have a small cut-out directly below the SATA connector for cables. Most power supplies will not have a cable management issue with the SATA power connector sitting close to the housing like that but there are some that will. The multiple LED color option also opens up color matching possibilities for modders who want their Reeven Four Eyes to go with their customized case. It is simple, straightforward and responsive despite the lack of true tactile buttons, making it a good match for users who want more precise fan control than the voltage presets the built-in controllers on their chassis provides.
[sc:must_have_award ]