A Closer Look at the Cooler Master MasterKeys Lite L Keyboard »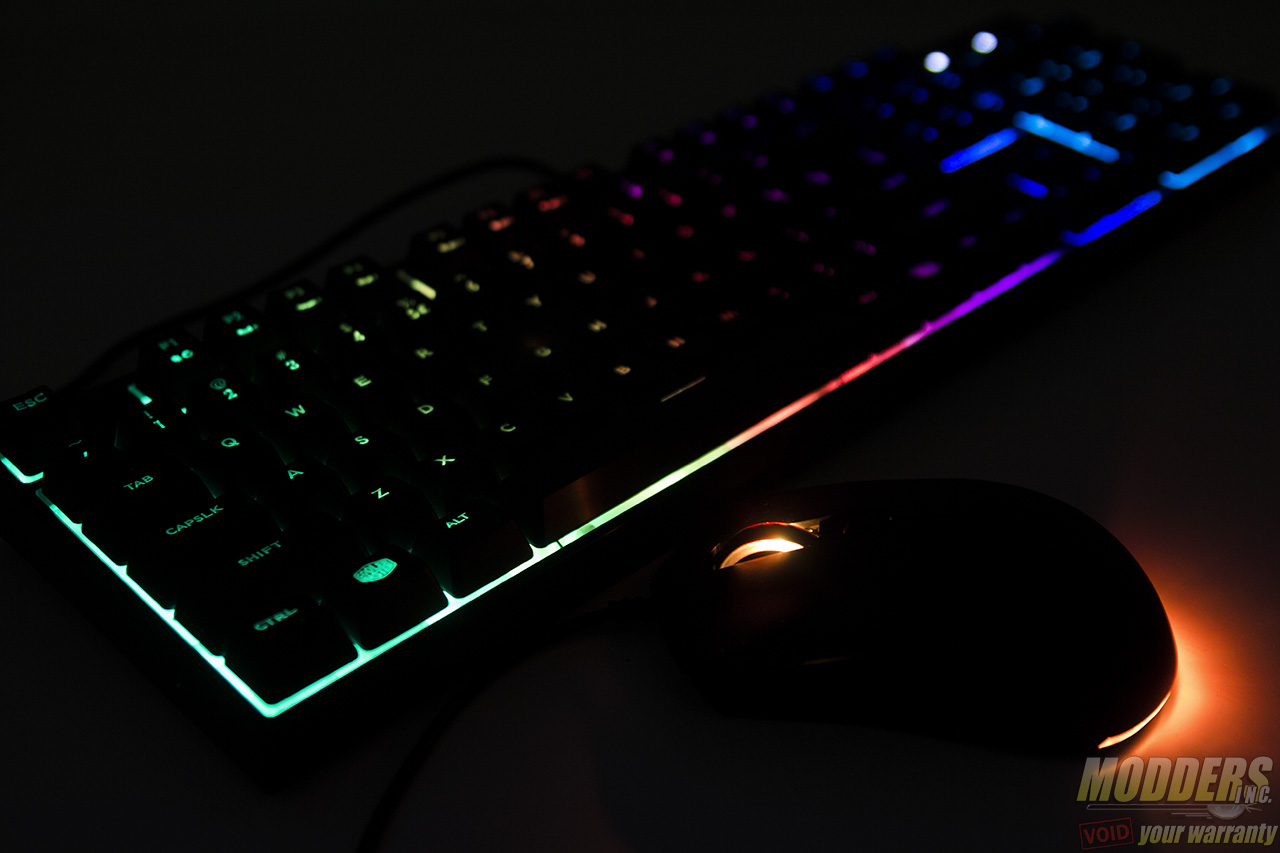 The MasterKeys Lite L is Cooler Master's mid-range gaming input device combo offering priced at only $59.99, delivering RGB LED options at an affordable level. Utilizing the same "Mem-chanical" design used on the budget Devastator II keyboard, the MasterKeys Lite L's keyboard improves upon its more affordable sibling's gaming features by adding anti-ghosting clusters and more extensive color options on a minimalist layout. The MasterKeys Lite L's bundled mouse is also equipped with greater color options, but also boasts Omron main switches compared to the Devastator II's TTC switches and utilizes an Avago 3050 optical LED sensor for tracking.
The MasterKeys Lite L packaging is very similar to the MasterKeys Pro L with the exception of having a much longer physical body because of the mouse bundled. The front of the packaging has a full view of the MasterKeys Lite L keyboard layout as well as a top view of the mouse included.
Inside, the keyboard is encased in a plastic pouch while its cable is housed on a cardboard partition above it. The mouse is surrounded by a form-fitting foam block and the cables for the input device is also stored in the same cardboard partition as the keyboard cable. The only other accessory included is a fold-out user guide underneath the keyboard.
Specifications:
Keyboard
| | |
| --- | --- |
| Model Number | SGB-3040-KKMF1-US |
| Switch Type | Cooler Master Mem-chanical |
| Color | Black |
| LED Color | RGB |
| Repeat Rate | Normal 1x / Turbo 8x |
| On-the-fly system | Lighting / Multimedia / Win LK / Full Keys LK |
| Cable | Non-Detachable Rubber Cable |
| Connector Cable | USB 2.0 |
| Cable Length | 1.8 Meters |
| Dimensions | 439 x 129 x 41mm |
| Product Weight (without cable) | 967 g |
| Warranty | 2 years |
Mouse
| | |
| --- | --- |
| Sensor | Optical AVAGO 3050 |
| Switch Type | Omron 10M |
| Color | Black |
| LED Color | RGB |
| On-the-fly system | Lighting / DPI |
| Cable | Non-Detachable Rubber Cable |
| Connector Cable | USB 2.0 |
| Cable Length | 1.8 Meters |
| Dimensions | 114 x 64 x 39mm |
| Product Weight (without cable) | 91 g |
| Warranty | 2 years |