Closer Look at the SilverStone PM01 »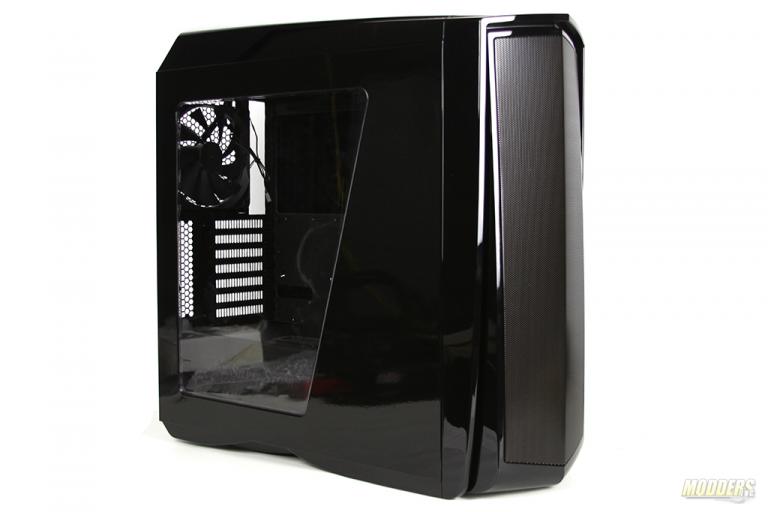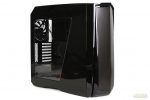 Primera Series is the latest series by SilverStone which is oriented towards custom rig builders and modders.  The word Primera means "First class" in Spanish so any computer cases that are released under this line up should be taken as unique and feature rich products.  PM01 is the first case in Primera line up.  This case is rich of features that really do turn heads, such as car like paint finish and great air cooling right out of the box.
Primera PM 01 is a mid-tower case with a steel construction that offers great flexibility when choosing the internal cooling.  PM01 comes in three paint jobs, white, matte black and gloss black.  All of these models come with color LED strips that give rich accent to the case.  This case is very much oriented towards liquid cooling as it has ability to host up to two 360 mm radiators and ability to mount water reservoir with in convenient spacing.
Review Sample Provided by: SilverStone
Product Name: PM 01
Price at time of review: $ 110.99 USD
Product was given in exchange for work done to produce this review.
The Packaging of the box is very colorful and has a lot of information about the case on it.  The SilverStone PM01 comes in three combinations; black with red LED + window, matte black with red LED + window and white with blue LED + window. The model we are taking a look at is SST-PM01BR-W (black with red LED + window).
Features and Specifications are listed on t both sides of the packaging. Since SilverStone is a multi-national company, description of the case is written in many languages including Russian and Italian. There are couple of images of the actual case on the packaging box that show just enough to get the potential customer interested in the product.
Internal packaging of the case is very similar to other cases I have reviewed. The case is embed in the foam brackets that keep it in place while in shipping. The actual case is wrapped in a plastic bad to keep it from any accidental scratches.
There aren't many accessories that came with the case. There is two fan male/female connectors, a bag of screws and a manual inside of the case. I like to look at the manuals before attempting to work with the case. You never know what surprise feature you might find.
Technical Specifications
Model No.
SST-PM01BR-W (black with red LED + window)
SST-PM01CR-W (matte black with red LED + window)
SST-PM01WA-W (white with blue LED + window)
—
Material
Plastic outer shell, steel body
Motherboard
ATX (up to 12″ x 10.7″), Micro-ATX
Drive Bay
External
None
—
Internal
2.5″ or 3.5″ x 4, 2.5″ x 5
Cooling System
Front
3 x 120mm / 140mm fan slot (includes 3 x 140mm LED fan)
Rear
1 x 120mm / 140mm fan slot (includes 1 x 140mm fan)
Side
—
Top
3 x 120mm fan slot or 2 x 140mm fan slot
Bottom
—
Internal
—
Radiator Support
Front
120mm / 240mm / 280mm / 360mm x 1
Rear
120mm / 140mm x 1
Top
120mm / 240mm / 280mm / 360mm x 1
Bottom
N/A
Expansion Slot
7
Front I/O Port
USB 2.0 x 2
USB 3.0 x 2
Audio x 1
MIC x 1
Power Supply
Standard PS2(ATX)
Expansion Card
Support graphics card up to 16.5″, width restriction – 6.88″
Limitation of CPU cooler
180mm
Limitation of PSU
240mm
Net Weight
9kg
Dimension
220mm (W) x 571mm (H) x 560mm (D), 70.3 Liters
Remark
* Four modes: full brightness, half brightness, breathing pattern, and off.