Bus-powered, thumb drive sized 120GB and 240GB models starting at $109.99 MSRP rival internal SSD performance; can be used as bootable Windows drive on PCs and Macs for an "office-on-the-go" solution
VisionTek Products announced the new VisionTek USB Pocket SSD line of thumb drive-sized Solid State Drives for creative professionals, IT power users, and performance enthusiasts seeking ultra-fast media and large file transfers. Offering speed, reliability, and storage capacity that rivals factory installed and aftermarket internal SSDs, the VisionTek Flash Drive can be used with nearly any Windows®, Mac® OS X®, and Linux® based system with a USB 3.0/2.0 interface.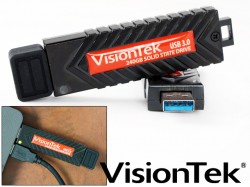 More Than an Ordinary Thumb Drive
While it's sized like an ordinary thumb drive sporting a USB 3.0 connector, the VisionTek USB Pocket SSD's aircraft-grade aluminum housing contains a fully functional Solid State Drive featuring a high-performance LSI SandForce® controller that delivers up to 455MB/s reads and up to 440MB/s writes….nearly double the speed of other flash drives. Plus, by installing Windows 8/8.1 on it, the VisionTek USB Pocket SSD can provide a bootable, fully functional Windows environment for an "office-on-the-go" solution.
Uses the Common USB Port
Millions of computers have been put into use since the USB 3.0 interface was introduced in 2008. That means the VisionTek USB Pocket SSD can be plugged into a computer nearly anywhere in the world and use the computer's USB bus power to save or share work files, movies, images, music libraries, and more.
Nearly 4x More Storage Capacity for Tablets
With today's most popular tablet computers offering a maximum of 64GB of internal storage, the VisionTek USB Pocket SSD can be used as a high-capacity external storage upgrade to increase storage capabilities by up to nearly 4x more.
Run Windows On A Mac
Whether you're a fan of PC games, want to run a specialty Windows only app, or are a web designer needing to confirm your work looks correct, the VisionTek USB Pocket SSD offers the best of both operating system worlds. Just by downloading and installing Boot Camp®drivers along with a legal copy of Windows 8 or higher, the VisionTek USB Pocket SSD can boot a full Windows environment without having to partition your internal drive. Jump from an iMac to a Mac mini to a Mac Pro without having to copy settings, files, or configurations.
Multiple Uses for Multiple Users
The VisionTek USB Pocket SSD offers the flexibility to be used for specific needs:
– Create a custom user environment with approved videos, games, etc. for young children.
– High-speed backup.
– Download and save uncompressed HD content.
– Backup drive for photographers/videographers. Shoot on SD card, transfer to computer for editing, save on VisionTek USB Pocket SSD for accessibility anywhere.
– Bootable drive to run the Windows desktop and apps on other PCs and Macs.
Pricing & Availability
Both the 120GB ($109.99 MSRP) and 240GB ($174.99 MSRP) models are designed and built in the US and are available immediately directly from VisionTek, select e-tailers such as Newegg, Tiger Direct, and Dell; and national distributors such as Ingram Micro and D&H. For more information on the new line of portable SSDs from VisionTek, as well as their existing line of 2.5″ and PCIe SSDs and accessories, visit:https://www.visiontek.com/solid-state-drives.html
"With our success in mSATA, notebook/ultrabook, and PCIe form factor SSDs, it made sense to explore innovative applications of flash memory storage performance," said Mark Bilson, Executive Vice President of VisionTek. "This new line of ultra-portable drives delivers among the highest levels of reliability and performance in an SSD, but adds an incomparable level of convenience. Imagine…over 400MB/s of reliable storage speed that can attach to key ring and can provide a full Windows environment wherever you require it."