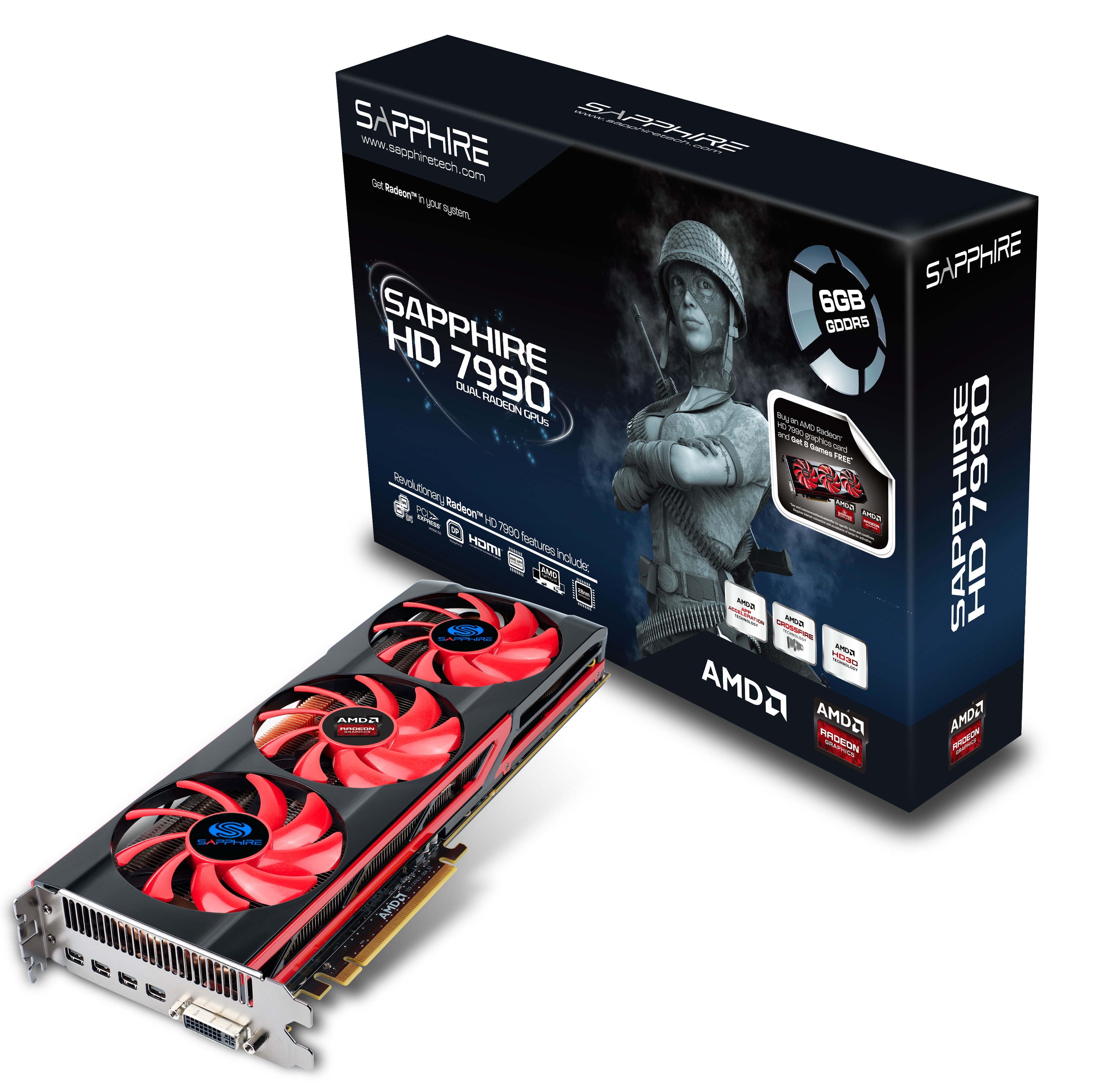 The SAPPHIRE HD 7990 has a dual GPU architecture with a total of 4096 Stream processors and core clock speeds of 1GHz (with Boost enabled), delivering up to 8.2 TeraFlops of compute power. It is equipped with 6GB of the latest DDR5 memory, and its output configuration of Dual-Link DVI plus four DisplayPorts supports up to 5 simultaneous displays in AMD Eyefinity. A large heatpipe assembly cooled by three axial fans ensures that the card runs quietly even under load.
AMD's GCN architecture and driver suite is optimized to display the greatest image quality in gaming and this latest card delivers the highest performance yet – and the fastest frame rates in even the most demanding games. It also provides enhanced performance in a wide range of applications using the stream processing capabilities and specific hardware features of this graphics architecture. Typical examples include Video encoding and decoding, compression and multiplexing for media distribution, and video conferencing as well as accelerating specific supported applications
           Features:
Graphics Core Next(GCN) architecture based on 28 nm process
DirectX® 11.1-capable graphics
9th generation programmable hardware tessellation units
Shader Model 5.0
DirectCompute 11
Accelerated multi-threading
HDR texture compression
Order-independent transparency
Up to 6 displays supported with DisplayPort 1.2 Multi-Stream Transport
Independent resolutions, refresh rates, color controls, and video overlays
Display grouping -Combine multiple displays to behave like a single large display
OpenCL 1.2 Support
Microsoft C++ AMP
DirectCompute 11
Double Precision Floating Point
AMD HD Media Accelerator
Universal Video Decoder (UVD)

H.264
VC-1
MPEG-2 (SD & HD)
MVC (Blu-ray 3D)
MPEG-4 Part 2 (DivX/Xvid)
Adobe Flash
DXVA 1.0 & 2.0 support
Enhanced Video Quality features
Advanced post-processing and scaling

Deblocking
Denoising
Automatic deinterlacing
Mosquito noise reduction
Edge enhancement
3:2 pulldown detection

Up to 24x multi-sample and super-sample anti-aliasing modes
Adaptive anti-aliasing
Morphological Anti-Aliasing (MLAA) 2.0
DirectX® 9/10/11 Super-Sample Anti-Aliasing (SSAA)
16x angle independent anisotropic texture filtering
128-bit floating point HDR rendering
DisplayPort 1.2
Max resolution: 4096×2160 per display
Multi-Stream Transport
21.6 Gbps bandwidth
High bit-rate audio
Quad HD/4k/UHDTV video support

3GHz HDMI 1.4a with Stereoscopic 3D Frame Packing Format, Deep Color, xvYCC wide gamut support, and high bit-rate audio
Max resolution: 4096×2160
2560x1600p60 Stereoscopic 3D
Quad HD/4k video support

Dual-link DVI with HDCP

Max resolution: 2560×1600

Automatic power management with low power idle states

Ultra-low idle power when system's display is off
Efficient low power mode for desktop work
Secondary GPU in CrossFire technology configuration power down unneeded.
Open GL 4.2 Support
AMD Power Tune Technology with Boost: intelligent TDP management and dynamic clockspeed /performance boost for gaming. 
AMD HD3D Technology
AMD CrossFire™ multi-GPU for dual, triple and quad-GPU scaling
AMD Catalyst™ graphics and HD video configuration software
AMD Eyefinity 2 Technology
AMD App Acceleration
Image quality enhancement technology
Cutting-edge integrated display support
AMD PowerPlay™ power management technology
 AMD ZeroCore Power Technology
Integrated HD audio controller supports AC-3, AAC, Dolby® TrueHD and DTS HD Master Audio™.
           15. Software support for Windows Vista, Windows 7 and Windows 8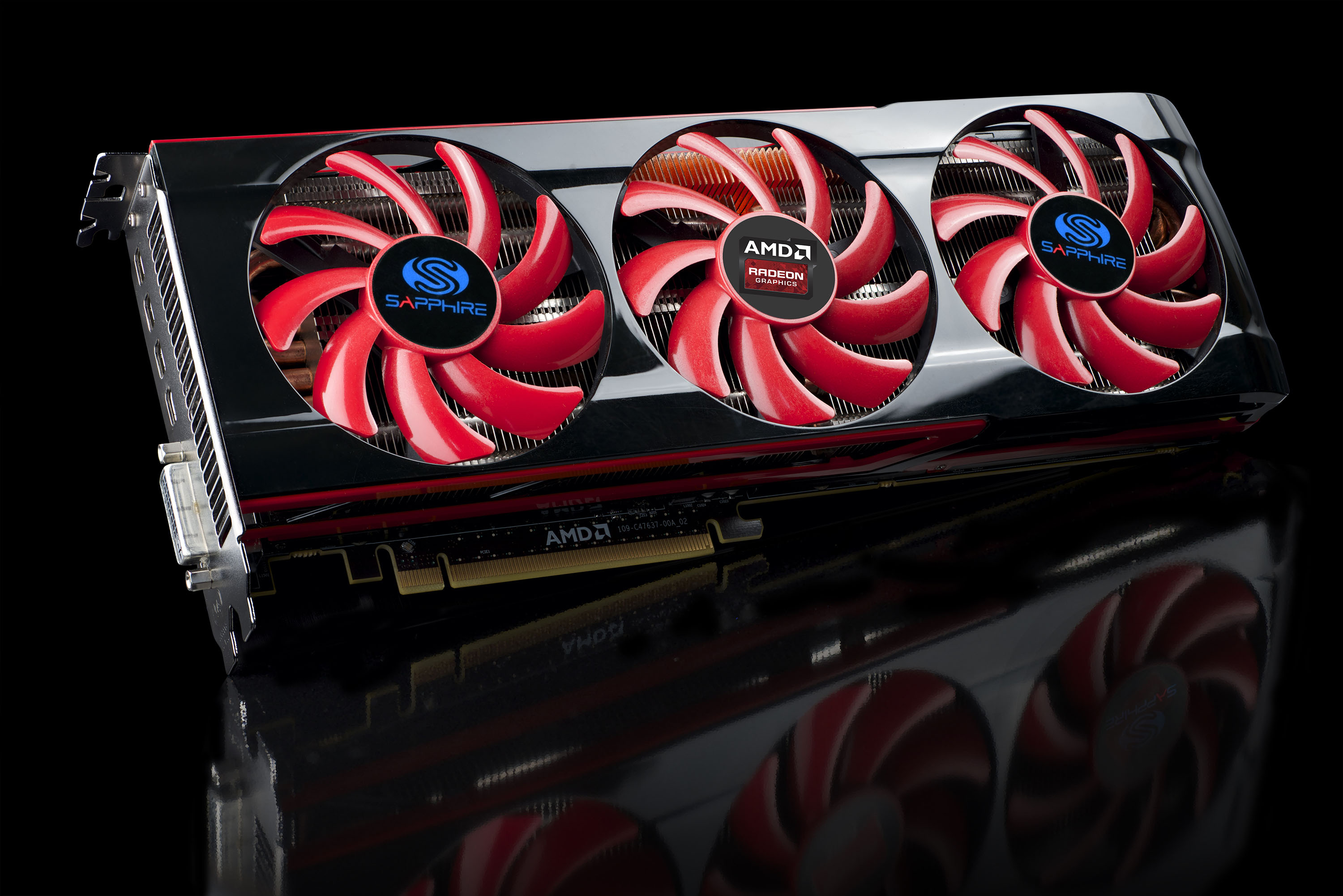 SKU Specification:
SKU

21207-00

GPU

AMD Radeon™ HD 7990

Bus Interface

PCI-E 3.0 x16

Memory

6144 MB / 768-Bit (384-Bit X2) GDDR5

Clock Speed

Default: 950 MHz Eclk / Effective 6000 MHz Mclk

Boost: 1000 MHz Eclk/ Effective 6000 MHz Mclk

Cooling System

2 Slot triple fan

Bracket

Full Height

Dimension

305(L)x100(W)x37(H)mm

Display Support

DL-DVI-I

Mini DisplayPort X4

VGA (Via included adaptor)

HDCP

Yes

Crossfire Support

Native Hardware Crossfire

External Power

PCIe Graphic External 2 x 8 pin

Accessories

Crossfire Interconnect Cable x 1

Mini DisplayPort to DVI Cable x1

Mini DisplayPort to DisplayPort Cable X1

DVI to HDMI Cable x1

Software

Driver CD