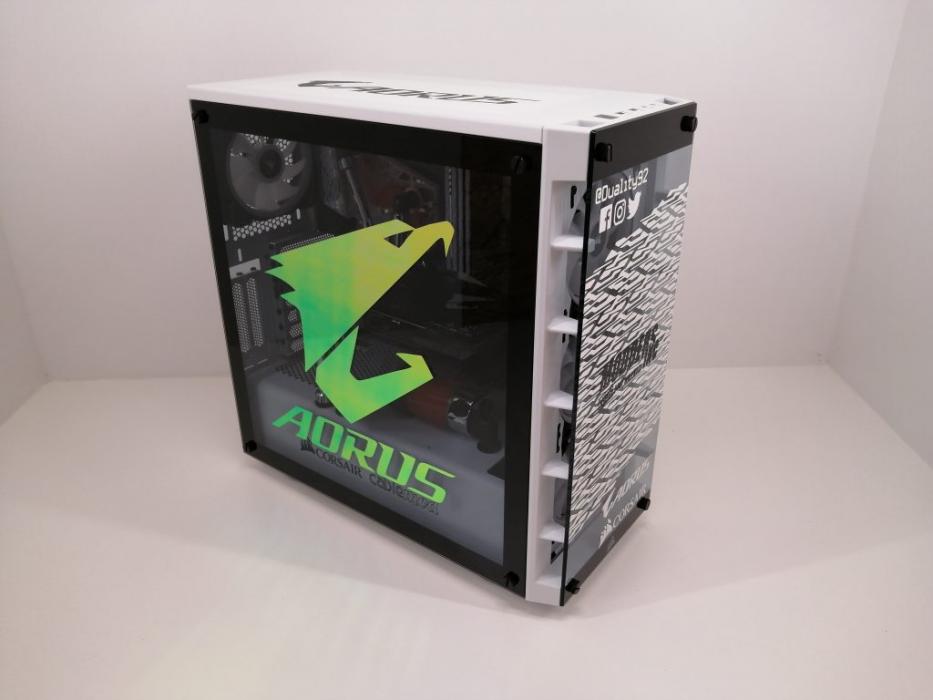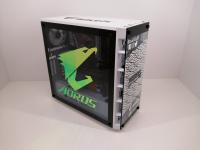 Welcome to the build log of my Corsair 465X iCue RGB build featuring sponsored parts from Aorus, CableMod, and ModMyMods.
In my modding career, I've thrived at doing mods that I didn't have experience yet. I've recently acquired a vinyl cutter and to gain experience using one and seeing the extent of the use I can make out of it, I went ahead and used it unsparingly (without going overboard) for this build. I wanted to use it as is, I wanted to see overlapped decals, as well as using it as a stencil. These three techniques were used on this build and came out wonderfully.
Now, this build is less of what would be considered a "mod" by many, I don't consider it a mod myself, but for the sake of this log, I'll be referring to it as a mod.
Aiming to build mods that seem mostly unmodded is my specialty like they came like that from the factory, this one isn't any different. Let's start off by detailing the specifications of this monster case mod.
Specifications
| | |
| --- | --- |
| CPU | Intel Core i9-9900K |
| Motherboard | Aorus Z390 Xtreme Waterforce |
| RAM | Aorus RGB 3200 MHz C16 kit with demo sticks |
| GPU | Aorus RTX 2080 Super Xtreme Waterforce WB |
| SSD | Gigabyte 1TB SATA 2.5″ SSD |
| Case | Corsair 465X iCue RGB in white with CableMod orange anodized aluminum thumb screws |
| Power Supply | Corsair SF750 with CableMod custom ModMesh Pro cables in orange and white with Orange aluminum combs |
| Fans | Corsair LL120 |
| LEDs | Darkside 12″ Orange and Alphacool 50mm reservoir LED ring in white |
Water cooling components
| | |
| --- | --- |
| Pump, Reservoir, Tubing, Plugs, and Compression fittings | Alphacool |
| Radiator | Darkside LP240 mounted with CableMod orange anodized aluminum finish washers and 6-32 Phillips countersunk screws |
| Coolant | Mayhem Pastel Orange |
| Angled fittings and passthrough | EKWB |
Some people questioned my use of an SFX PSU, but I wanted to keep as much free space as possible in the main chamber of this case, so I wanted to put the pump and majority of the plumbing under the shroud, having an SFX PSU enabled me to have tons of room for doing exactly this. An ATX PSU wouldn't have left me with enough room, especially where the pass-through leading to the GPUs are. With a total of four pass-through, pump, radiator and drain port under the shroud, it was bound to be very busy.
Full list of mods
Stenciled top dust filter with Aorus logo and name, then painted black
Removed front filter, drive cages, vertical expansion cover hold-down bracket, rear SSD caddies
Drilled four pass-throughs
Painted expansion slot covers white
Vinyl over the front and side glass and shroud
The top Aorus logo was done by cutting a vinyl decal of the black portion, but only keeping the outer portion to create a negative (stencil). I applied it to the top fan filter, then masked all the rest of the filter that didn't have vinyl over it to prevent any overspray. Three light coats of black on this part was enough to attain the wanted black depth. Light coats were necessary as lines went over holes and I wanted the least bleed possible so that it wouldn't seep through adjacent holes if too much paint was applied.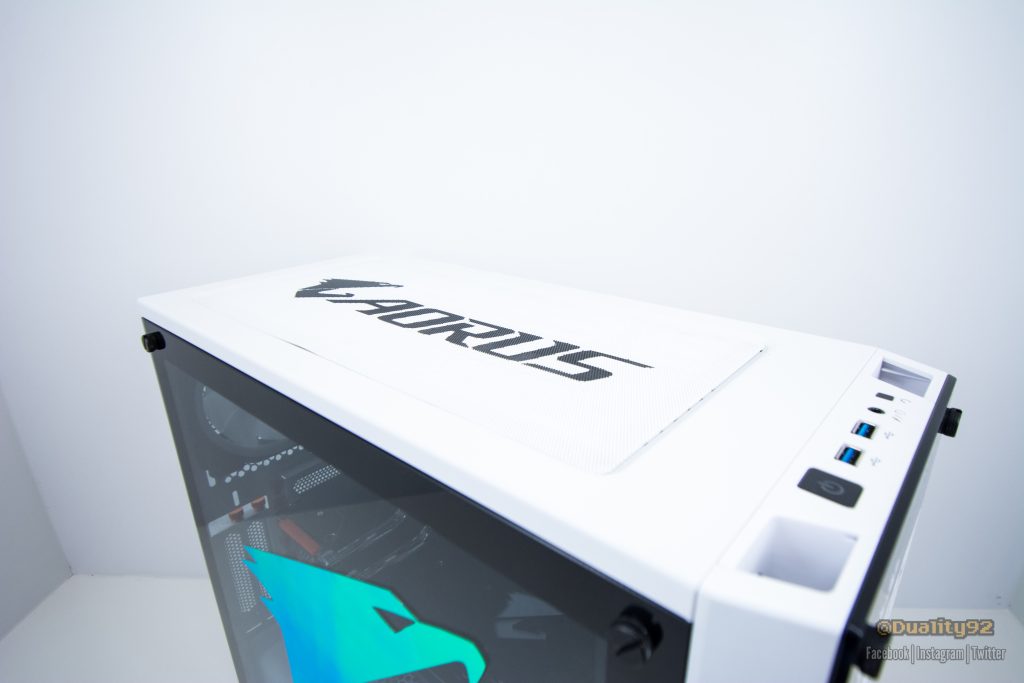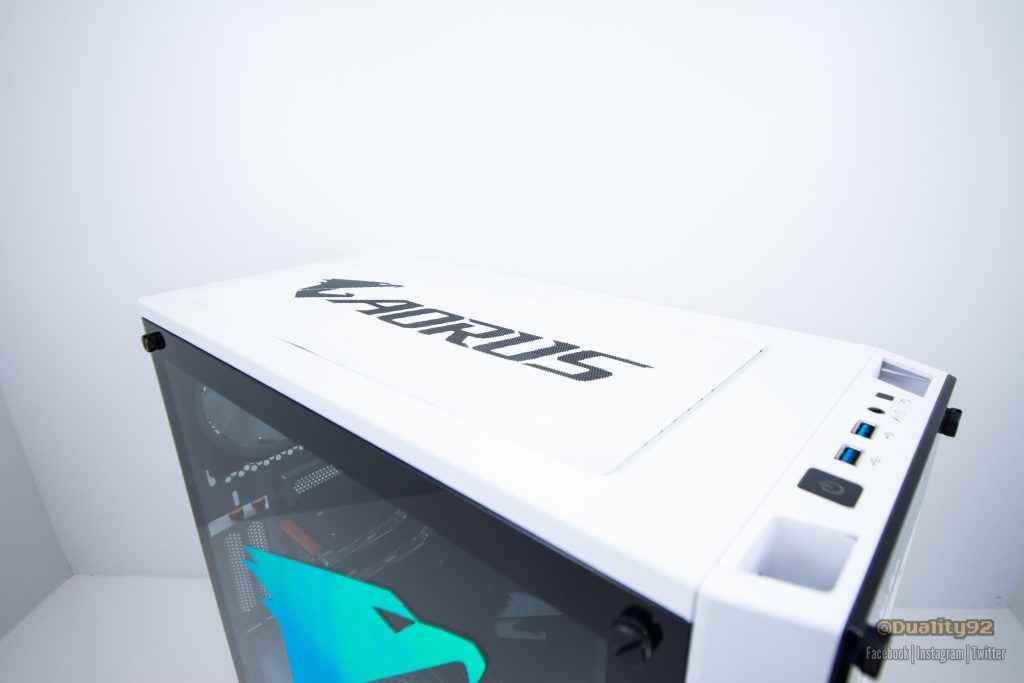 As far as modding goes, removing case parts isn't modding a case, but I'll explain why I removed these so that you understand how this mod was done. The front filter is made in a way to create a pattern for the front fans, but I wanted to apply the Aorus pattern over the front, so having two patterns would've clashed and acted against each other, so I decided to remove this. The drive cage and SSD caddies were removed because they were unneeded and I wanted to have as much room as possible back there for routing cables and tubing on the bottom (like the SFX PSU choice). The vertical expansion cover hold-down bracket was removed because I couldn't put the orange thumbscrews if I left it there, it's that simple.
As far as pass-through goes, I wanted to do a parallel loop with chromed tubing to reflect the orange and white lights of the build. I also wanted to see the least tubing possible to keep the focus on the hardware components from Aorus, so a pass-through for each line was the best solution. Initially, I had planned for a different routing but ended up going with this for its aesthetics and it gives the GPU really, really good support (sag proof ftw). The reservoir, with the angled fittings, male-male fittings and pass-through ended up being flush with the case and gave viewers a view of the coolant other than through the motherboard itself, which enables them to see it moving.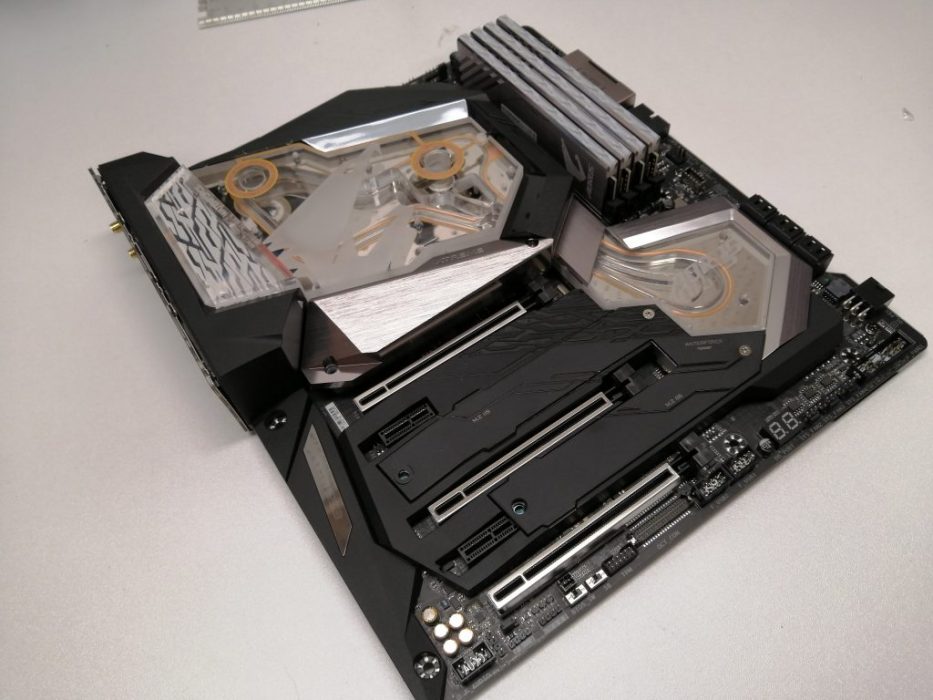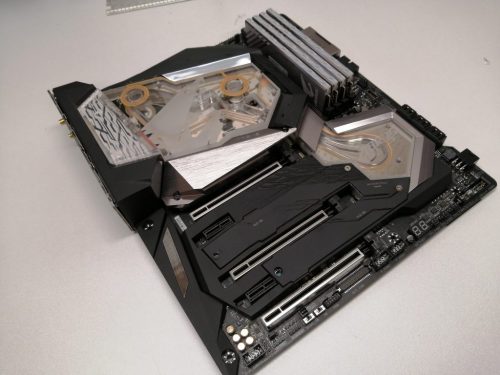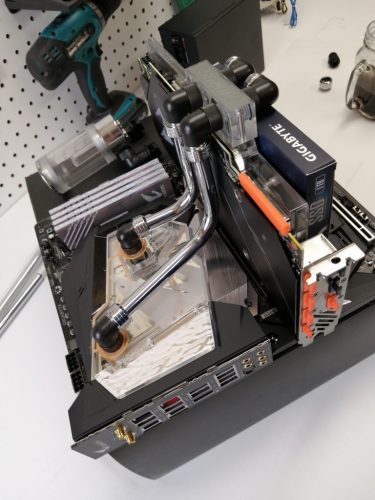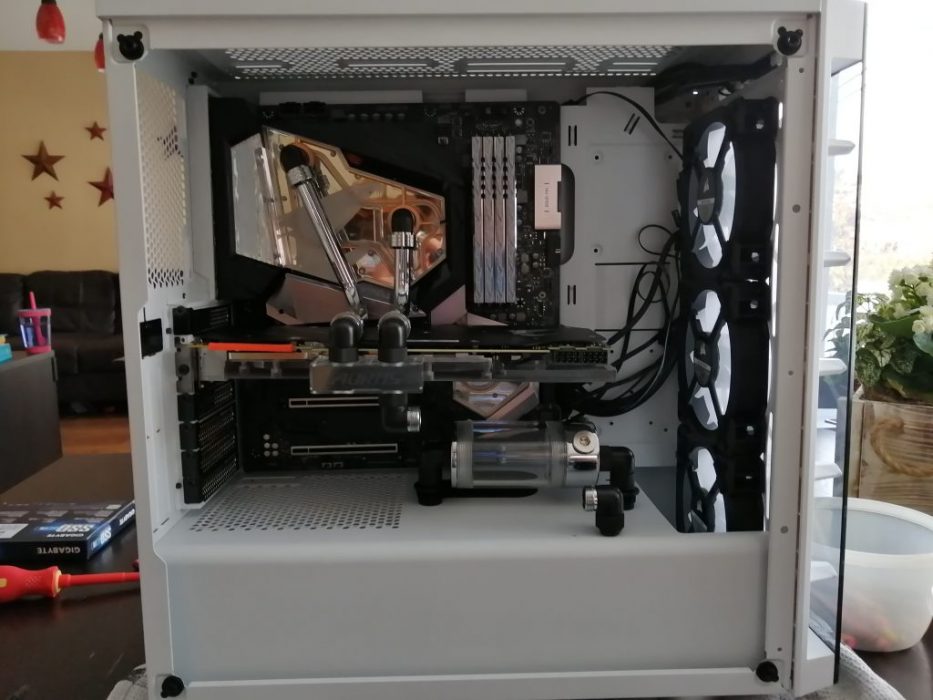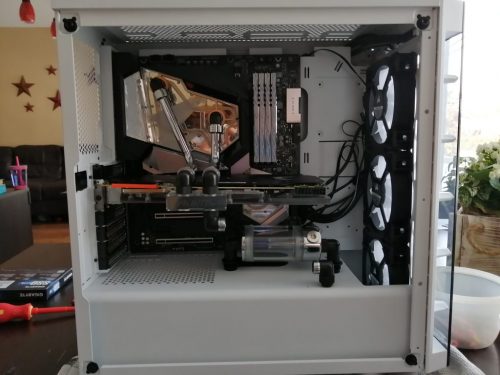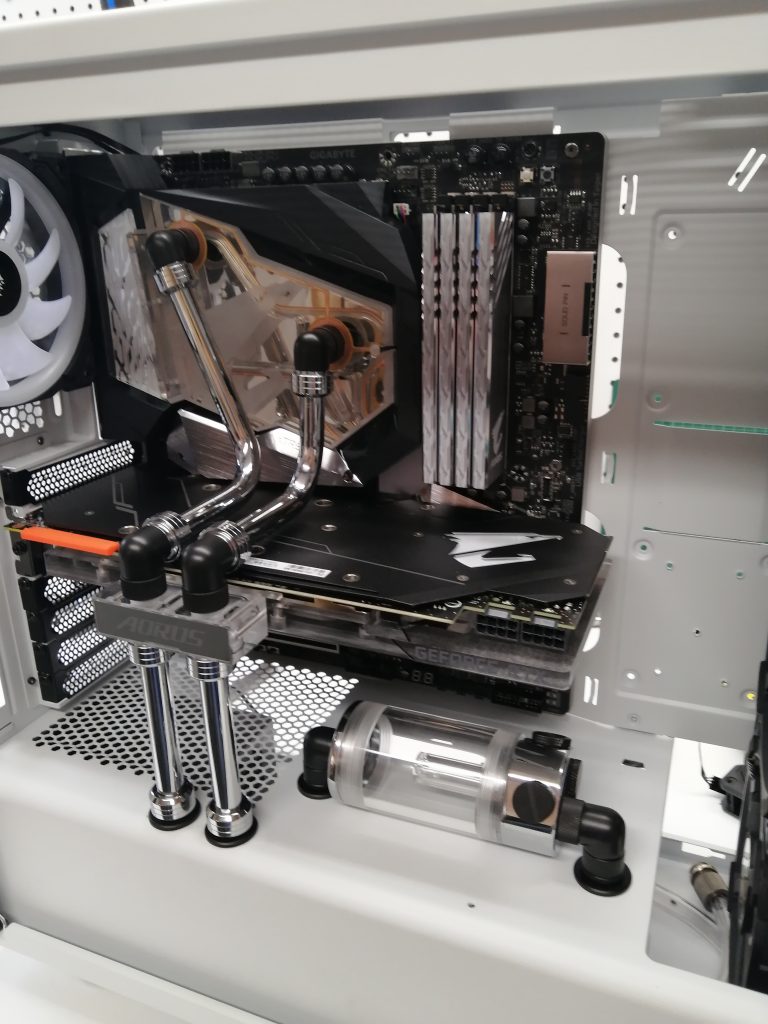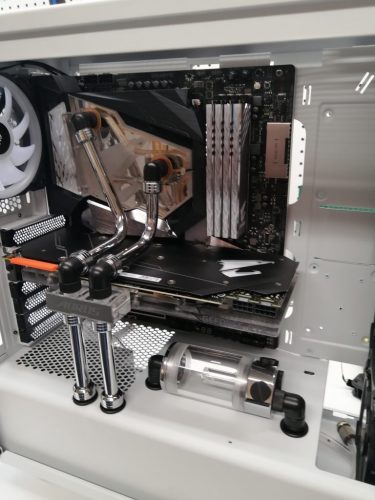 Painting the back expansion slot covers white was necessary to keep the white these throughout, I felt black stuck out like a sore thumb (take a look at the photos above these!) I ended up finding a white that matches the case and a clear that really mimics the cases powder coat finish to give them a real OEM look and added durability of a clear final coat.
As far as vinyl goes, I used matte white for the front to keep as close to the same finish as the case as possible, then added our logo in gloss black over in the middle, which ended up being even more visible with lights on that I had anticipated! Corsair, Aorus (and Intel later) were added to the front bottom then my shameless social plugs on the top, both in matte white too. I felt with the LED fans, the Aorus pattern along with other decals would really give a nice effect.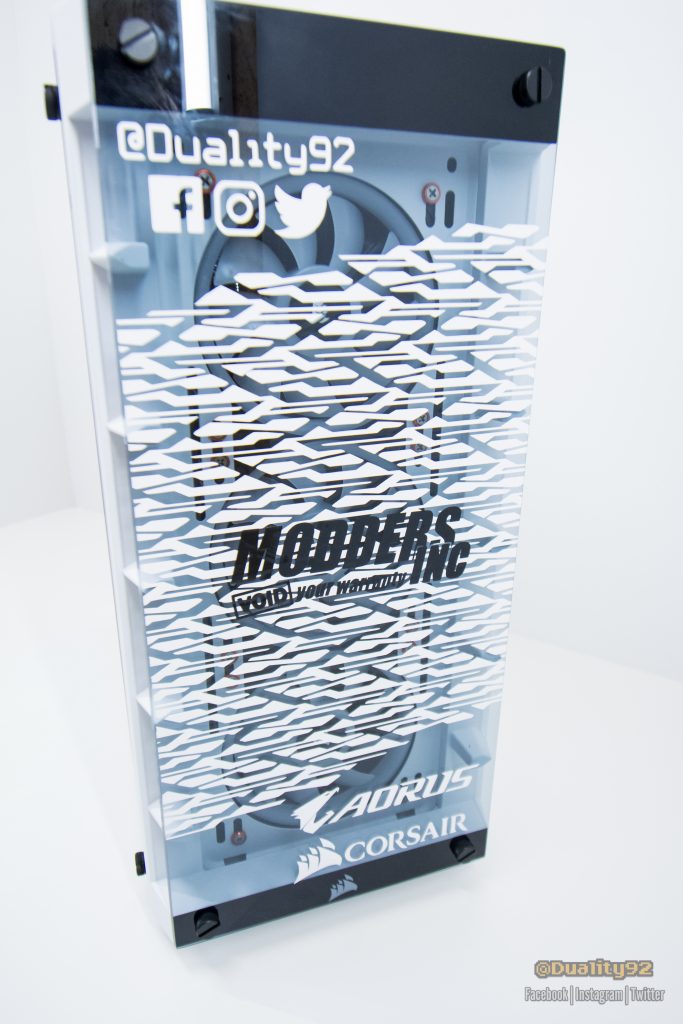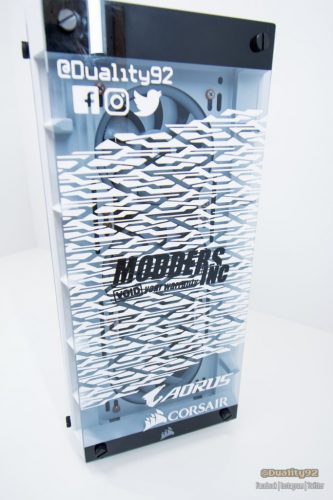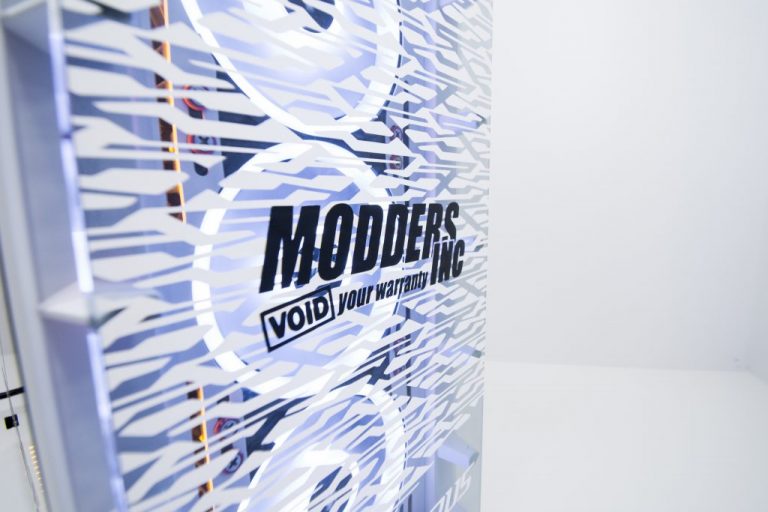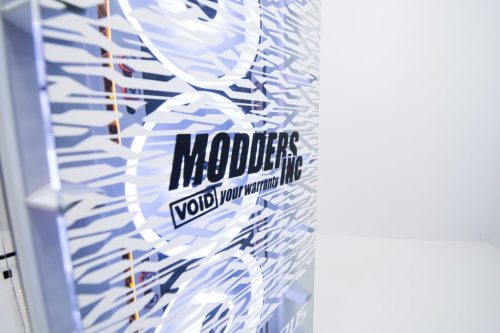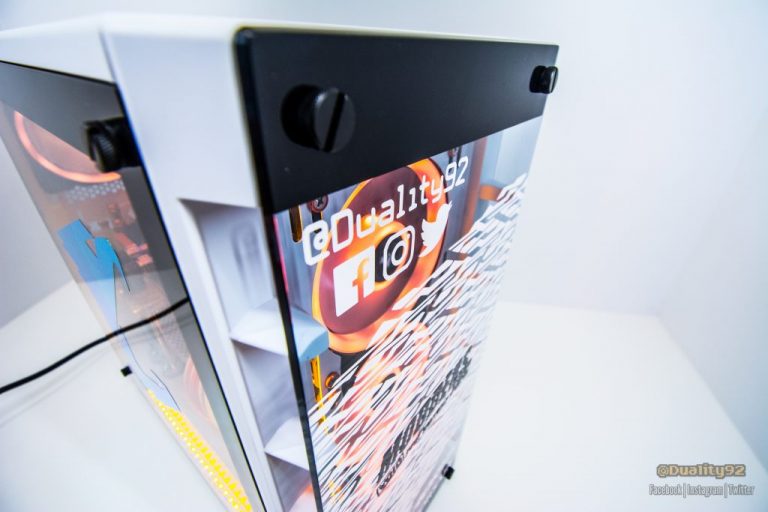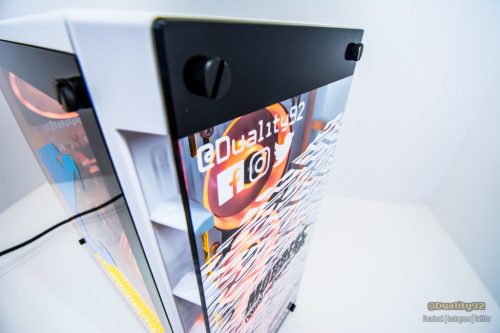 The inside of the case, on the shroud, I put Corsair and CableMod decals in gloss black. With the added bottom orange LED, I wanted them to have a sort of shadow to increase their effect, which wasn't as visible as I had hoped, but if you look closely you can see what I mean. I also had to position these to be able to keep them visible when the huge Aorus logo was shown on the side panel tempered glass.
Now, the main feature of this build, something I had seen already (not on a PC though) and wanted to integrate, but didn't know exactly where, ended up being on the front stage. This holographic vinyl film changes color from orange to green depending on the viewing angle. I only had two chances at making this decal but managed to get it a perfect first shot (minus one bubble and I used a pin to pierce).
All in all, this build helped me gain experience doing vinyl work, which IMO is a must to have if you're doing case mods. My main challenge with this mod was routing the 24-pin and GPU cables. It may look simple, but the motherboard being EATX covered the cable pass-through. To add to that, this motherboard has a plexi addition to its backplate to add a sort of under glow, which made these holes inaccessible. Conveniently, the motherboard SATA connectors have a sort of recessed cut-out on the PCB, which ended up lining up with the bottom cable pass-through hole and was very flush inside to fit the cables through here. (see below)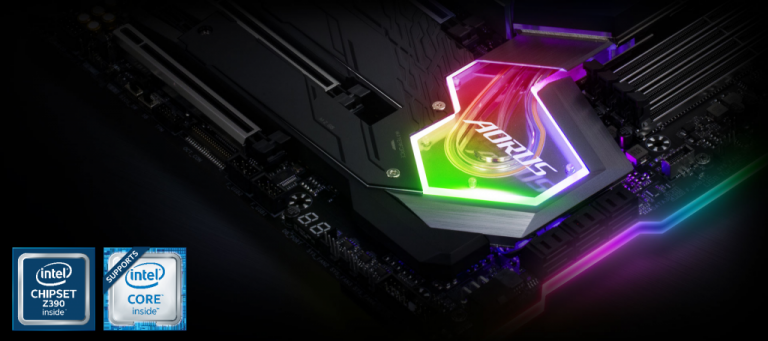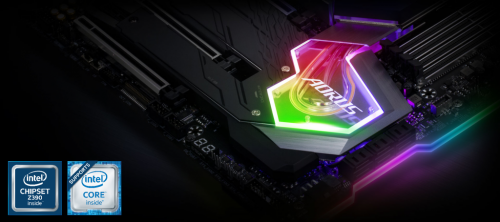 How do you like this mod? Would you have done anything differently? If you have any comments or questions, leave a comment! Thanks for reading through this log and hope you'll follow my others too!
I want to give a massive thanks to Aorus, Corsair, CableMod, and ModMyMods for the opportunity to build this and being some of the best in the industry.
So when we put all of this together, this is what we get! Enjoy!