Apacer launches SATA 3.0 slim SSDs to meet the need for industrial mobility devices
With the trend in terminal products toward mobility, the built-in storage devices have turned to compact design in specification and size, and stronger durability are required for the products. Aiming at industrial computers driven by the trend, Apacer launches two ultra slim SSDs: JEDEC MO-297-compliant SFD 18S6 and MO-300-compliant mSATA A1. The small size equipped with SATA 3.0 high-speed transmission interface, along with the products' features of low power consumption, durability and high performance, will become the necessary storage solution for the rise of the new mobility devices. It can be specially applied to medical tablet PCs, bedside healthcare, mobile on-board unit and data communication system devices.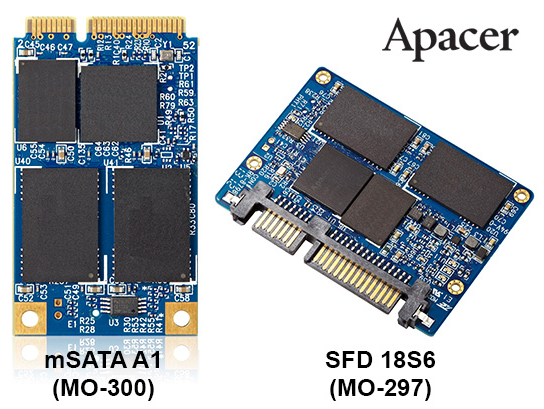 Adopting SATA 3.0 high-speed transmission interface and equipped with 1x nm Toggle DDR 2.0 NAND Flash chips, Apacer SFD 18S6 and mSATA A1 SSDs boast the maximum sequential read/write speed of 470/470 MB/sec and IOPs up to 70K, with excellent booting performance and highly-reliable SLC solution. They are surely capable of supporting the operation in stringent environment, like industry-level wide-temp (-40°C~85°C) operation. To balance performance with cost, the cost-effective MLC solution is another option for application, with a maximum sequential read/write speed of 475/430 MB/sec and IOPs up to 65K, both of which are available in capacity up to 256GB, along with large capacity and high speed, providing best overall performance.
As to power consumption, "Industrial mobility devices shall deliver strong endurance, to satisfy the portability requirement. As a result, the product design shall be based on the power saving of all components," suggested Jeff Lin, the Senior Embedded Business Unit Director of Apacer. These two products adopt solutions with new process technology, so the power consumption during idle mode is significantly reduced by more than 50%, compared with their predecessor. Supporting DEVSLP (Device Sleep) signaling protocol, they can enter the low power state while in standby, effectively saving power.
Besides, as to data safety, the products launched this time both feature the 40 bit ECC (Error Correcting Code) function and support Apacer SSDWidget real-time SSD monitoring software, and Apacer's exclusive CoreSecurity Technology, all of which help boost the product reliability and stability. In addition, the products can be customized to meet the coating need for IP57 certified water-proof and dust-proof, qualified as the best storage options with stable performances.
With more than 15 years of experience in the SSD market, Apacer is one of the few Taiwanese manufacturers with software, hardware and firmware R&D capacity and can launch pioneering products ahead of its industrial peers. It also enjoys robust manufacturing quality, excellent customizability and real-time technical supports. Once recognized and validated by the client, its firmware and main components can be fixed immediately and supplied to the client in a stable and highly reliable manner, hence reducing the risks of undersupply and incompatibility. Therefore, Apacer products has been certified by topnotch U.S. and Japanese clients and become one of the world's top 10 PC SSD suppliers. Samples of Apacer's SFD 18S6 and mSATA A1 SSDs are available to all customers for evaluations and testing now. For more details, please feel free to contact local Apacer sales representatives.
About Apacer
Apacer Technology Inc. offers a wide range of industrial SSD, digital consumer products and memory modules. Together with its broad R&D, design, manufacturing, and marketing strengths, it has become a leading global manufacturer in the industry. Since its establishment, Apacer has always followed its promise, "Access the best," to produce reliable, innovative products and services. Apacer supplies customers with high performance, reliable, high value memory modules and flash memory via a marketing network that stretches across worldwide distributors, product manufacturing facilities, and retail consumers. Apacer provides innovative, state-of-the-art digital storage products to store, record, and share the digital information crucial to their work and essential to their daily lives.