News and Articles
ASRock and ASUS 100-series Motherboards Next-Gen Ready via BIOS Update
ASRock's current line 100-series of mainboards including entry level H110 and B150 as well as H170 and Z170 models have a new BIOS update that renders them compatible with Intel's next generation desktop CPUs. These upcoming CPUs use the same LGA1151 socket so they are pin-compatible with 100-series motherboards. Due to non-disclosure agreements of course, specifics about what new features or how much better performing are these new processors going to be cannot be revealed until the embargo date lifts.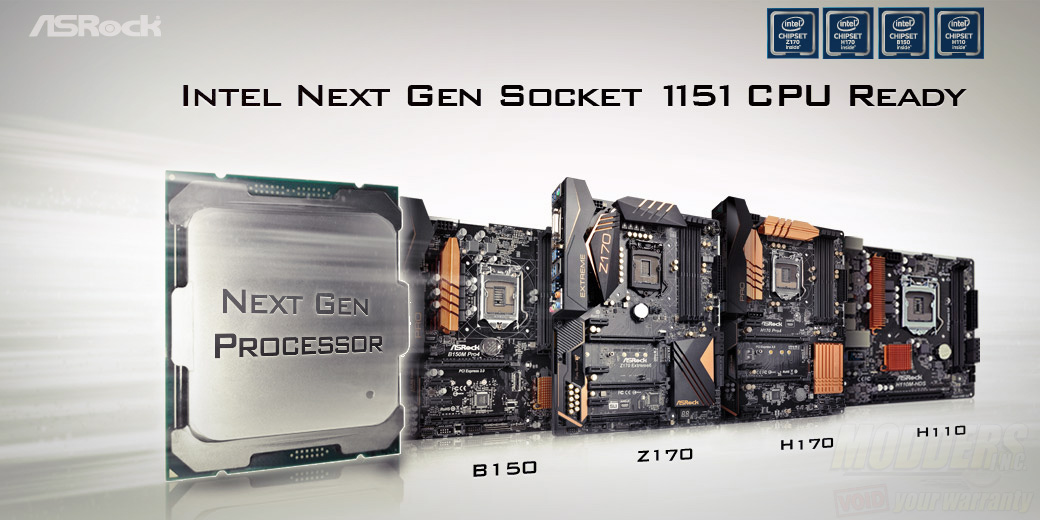 The following ASRock motherboards support this next-gen support update (links open in new window):
Not to be outdone by ASRock, ASUS has also announced that their motherboards will be compatible as well after a firmware update. ASUS' selection is quite a bit larger however with over 87 motherboards and it even includes C232 chipset models. ASUS has validated that their update is fully compatible and their offerings will be ready much earlier than the launch date. These can be updated either via their EZ Flash 3 feature or via the USB Flashback feature, the latter allows users to update the BIOS with the standby power of the system and without the system actually running with components.
The following ASUS motherboards are supported with the corresponding BIOS version update:
| Intel Chipset | Intel Chipset | BIOS Version |
| --- | --- | --- |
| Z170 | MAXIMUS VIII EXTREME | 2202 |
| Z170 | MAXIMUS VIII FORMULA | 2202 |
| Z170 | MAXIMUS VIII HERO ALPHA | 2202 |
| Z170 | MAXIMUS VIII HERO | 2202 |
| Z170 | MAXIMUS VIII GENE | 2202 |
| Z170 | MAXIMUS VIII RANGER | 2202 |
| Z170 | MAXIMUS VIII IMPACT | 2202 |
| Z170 | Z170 PRO GAMING/AURA | 2003 |
| Z170 | Z170 PRO GAMING | 2003 |
| Z170 | Z170I PRO GAMING | 2003 |
| Z170 | Z170-PREMIUM | 2202 |
| Z170 | Z170-DELUXE | 2202 |
| Z170 | Z170-PRO | 2202 |
| Z170 | Z170-A | 2202 |
| Z170 | Z170-AR | 2202 |
| Z170 | Z170-E | 2202 |
| Z170 | Z170-K | 2003 |
| Z170 | Z170-P D3 | 2002 |
| Z170 | Z170-P | 2003 |
| Z170 | Z170M-PLUS | 2002 |
| Z170 | Z170M-E D3 | 2001 |
| Z170 | SABERTOOTH Z170 S | 2202 |
| Z170 | SABERTOOTH Z170 MARK 1 | 2202 |
| Q170 | Q170T | 2002 |
| Q170 | Q170S1 | 2001 |
| Q170 | Q170M-C | 2003 |
| Q170 | Q170M2 | 2001 |
| Q170 | Q170I-PLUS | 2002 |
| H170 | H170 PRO GAMING | 2003 |
| H170 | H170-PRO/USB 3.1 | 2002 |
| H170 | H170-PRO | 2003 |
| H170 | H170-PLUS D3 | 2002 |
| H170 | H170M-PLUS | 2002 |
| H170 | H170M-E D3 | 2001 |
| H170 | H170I-PRO | 2002 |
| H170 | H170I-PLUS D3 | 2001 |
| B150 | B150 PRO GAMING/AURA | 2003 |
| B150 | B150 PRO GAMING D3 | 2001 |
| B150 | B150 PRO GAMING | 2003 |
| B150 | B150-A | 2001 |
| B150 | B150-PRO D3 | 2001 |
| B150 | B150-PRO | 2002 |
| B150 | B150-PLUS D3 | 2001 |
| B150 | B150-PLUS | 2002 |
| B150 | B150M-PLUS D3 | 2001 |
| B150 | B150M-PLUS | 2003 |
| B150 | B150M-A/M.2 | 2003 |
| B150 | B150M-A | 2001 |
| B150 | B150M-C D3 | 2001 |
| B150 | B150M-C | 2003 |
| B150 | B150M-D D3 | 2001 |
| B150 | B150M-D | 2002 |
| B150 | B150M-V PLUS | 2002 |
| B150 | B150M-K D3 | 2001 |
| B150 | B150M-K | 2003 |
| B150 | B150M-F PLUS | 2002 |
| B150 | B150M-ET M2 | 2002 |
| B150 | B150M-ET D3 | 2001 |
| B150 | B150M-ET | 2001 |
| B150 | PIO-B150M | 2002 |
| B150 | EX-B150M-V5 D3 | 2001 |
| B150 | EX-B150M-V5 | 2002 |
| B150 | EX-B150M-V3 | 2003 |
| H110 | H110-PLUS | 2002 |
| H110 | H110M-R | 2002 |
| H110 | H110M-PLUS D3 | 2001 |
| H110 | H110M-PLUS | 2002 |
| H110 | H110M-A/M.2 | 2003 |
| H110 | H110M-A/DP | 2002 |
| H110 | H110M-A D3 | 2001 |
| H110 | H110M-A | 2001 |
| H110 | H110M-C D3 | 2001 |
| H110 | H110M-D D3 | 2001 |
| H110 | H110M-D | 2002 |
| H110 | H110M-ET | 2001 |
| H110 | H110M-E/M.2 | 2002 |
| H110 | H110M-E D3 | 2001 |
| H110 | H110M-E | 2002 |
| H110 | H110M-K D3 | 2001 |
| H110 | H110M-K | 2003 |
| H110 | H110I-PLUS | 2002 |
| H110 | H110T | 2002 |
| H110 | H110S1 | 2002 |
| C232 | E3-PRO V5 | 2002 |
| C232 | E3M-PLUS V5 | 2003 |
| C232 | E3M-ET V5 | 2001 |
| C232 | E3M-ET V5 | 2002 |
To download the update, users just need to visit their corresponding product's download page and download the matching UEFI update number. For more information, visit: http://edgeup.asus.com/2016/10/05/asus-announces-support-next-generation-lga-1151-socket-processors/