The Beebox is ASRock's take on the Intel NUC mini-PC sporting a compact 0.6L size but packed with plenty of features for all manner of uses. This mini-PC now has an upgraded version powered by an Intel N3150 SoC, 32GB eMMC SSD and bundled with 64-bit Windows 10 Home edition. Whether for home PC use, office desktop, gaming or digital signage, the ASRock Beebox is able to be used through two HDMI or one DisplayPort output simultaneously (triple display support). It also happens to be the world's first mini-PC sporting a Type-C USB port for maximum compatibility with the latest and upcoming USB devices.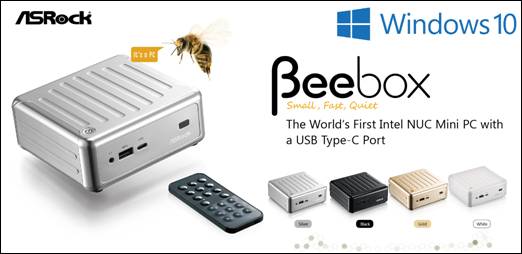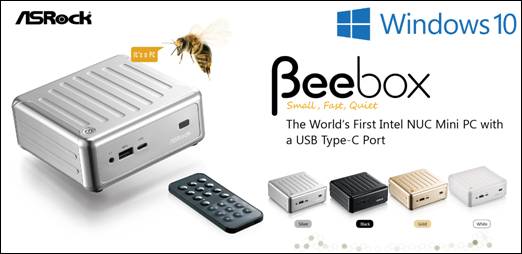 ASRock Beebox N3150/N3050 with Windows 10 Are Available with Advanced Upgrade Capabilities and an Aggressive Price
TAIPEI, Taiwan, October 21, 2015 – Whether you're looking for a home theater PC system, office desktop, or an industrial PC for digital signage, ASRock Beebox is a nifty 0.6L NUC mini PC that suits all kinds of needs. Now there's even an upgraded version powered by a quad core Intel N3150 SoC, 32GB eMMC SSD, plus a free bundled 64-bit Windows® 10 Home Edition operating system. Furthermore, despite the compact size ASRock Beebox is still largely upgradable, users may install up to 16GB DDR3 memory and a 2TB hard disk drive to maximize the performance. In addition to the previous black, white and gold Beebox, there will also be a new silver model to choose from.
Beebox is the world's first mini PC with a Type-C USB port. It's also the only one to support triple monitor, H.265 decoding and 4K video playback through two HDMI ports and one DisplayPort, which is made possible because of the exclusive dual channel memory design. The whole system has low power consumption and is extremely quiet while powered on. In fact, it's nearly silent in Eco mode for torrent downloading or other light activities, so users may even use it as a bedroom PC.
If you'd like to know how we toy around with this bad boy in the office, here's a clip of us ditching work and hooking ASRock Beebox to an Xbox One, a gigantic 88 inch flat screen TV, and some serious amplifiers plus speaker systems.
Take a look at our insane gaming set on YouTube:
Or go to our Beebox website here:
http://www.asrock.com.tw/microsite/Beebox/index.html