A Closer Look at ASRock Z590 PG Velocita »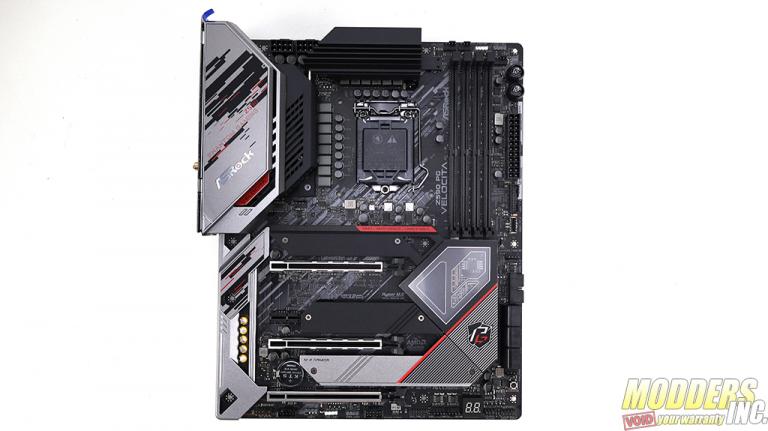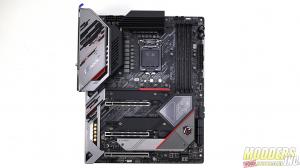 Perhaps the most important component in your pc is the motherboard. Without it, you would not be able to have a working PC. What I seek in a motherboard are performance and stability. ASRock Z590 PG Velocita is one of the newest motherboards by ASRock and offers exactly that. Velocita, which is Italian for 'Speed' is the newest member of the Phantom Gaming line by ASRock. This board promises extreme stability, performance, and to be future-ready to support Intel Gen 10 and 11 processors and their features. Velocita supports DDR4 Memory modules (up to 4800MHz OC) and PCI 4.0 x16 boards. This ATX motherboard is comfortably equipped with numerous SATA3 connectors and three M.2 slots for NVME drives(Gen 3 and 4 PCIe). In addition to high-speed connectivity, Velocita is equipped with a Z590 chipset alongside 14 phase design and dual-port Ethernet adapters for single and multi-gig connectivity and WiFi connectivity.
Packaging
The motherboard comes in a large shipping box that has stunning imagery on it alongside all of the information about features you might want to know. ASRock did not skip on the presentation of this board and it really shows how well-designed packaging should be.
The internal packaging of Velocita consists of two compartments. The top section of the box is dedicated to the motherboard itself and the bottom portion of the box is dedicated to user guide, installation guide, drivers cd, and accessories that come in handy.
Included are cables for SATA connectivity to the motherboard, GPU support bracket, a VRM cooling fan with adapter, WiFi antennae, and additional M.2 standoff screws. There is no separate I/O shield included with the board as it comes already attached to it.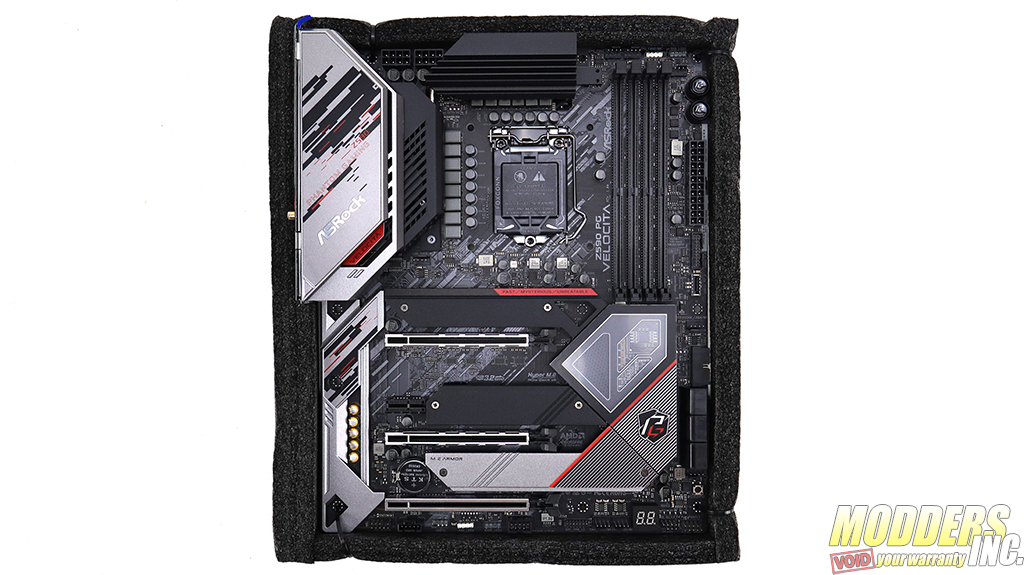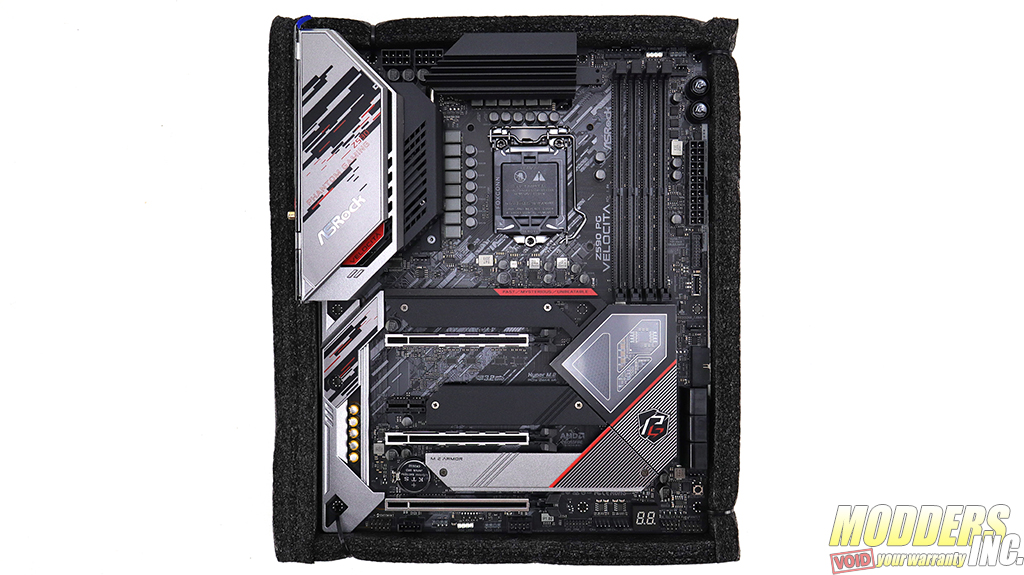 The board itself comes wrapped in the static bag and secured to the black foam with zip ties. This is not the first time we see board being shipped this way however it still surprises me every time I see a similar design in packaging.
Unique Feature
ASRock USB 3.2 Gen2
– ASRock Front Panel Type-C USB 3.2 Gen2x2 Header (20 Gb/s)
– ASRock USB 3.2 Gen2 Type-A Port (10 Gb/s)
– ASRock USB 3.2 Gen2 Type-C Port (10 Gb/s)
ASRock Super Alloy
– XXL Aluminum Alloy Heatsink
– Premium 60A Power Choke
– 50A Dr.MOS
– Nichicon 12K Black Caps (100% Japan-made high-quality conductive polymer capacitors)
– I/O Armor
– Matte Black PCB
– High-Density Glass Fabric PCB
– 2oz Copper PCB
Killer 2.5G LAN
Killer 802.11ax Wi-Fi 6E
Killer DoubleShot Pro
CPU Direct Source LAN
ASRock Steel Slots ASRock Full Coverage M.2 Heatsink ASRock Hyper M.2 (PCIe Gen4x4)
ASRock Ultra USB Power
ASRock Full Spike Protection (for all USB, Audio, LAN Ports)
ASRock Live Update & APP Shop
CPU
– Supports 10th Gen Intel® Core™ Processors and 11th Gen Intel® Core™ Processors (LGA1200)
– Digi Power design
– 14 Power Phase design
– Supports Intel® Turbo Boost Max 3.0 Technology
– Supports Intel® K-Series unlocked CPUs
Chipset
– Intel® Z590
Memory
– Dual-Channel DDR4 Memory Technology
– 4 x DDR4 DIMM Slots
– 11th Gen Intel® Core™ Processors support DDR4 non-ECC, un-buffered memory up to 4800+(OC)

*


– 10th Gen Intel® Core™ Processors support DDR4 non-ECC, un-buffered memory up to 4666+(OC)

*


– Supports ECC UDIMM memory modules (operate in non-ECC mode)
– Max. capacity of system memory: 128GB

*

*


– Supports Intel® Extreme Memory Profile (XMP) 2.0
– 15μ Gold Contact in DIMM Slots

*

11th Gen Intel

®

 Core™ (i9/i7/i5) support DDR4 up to 3200; Core™ (i3), Pentium

®

 and Celeron

®

 support DDR4 up to 2666 natively.

10th Gen Intel

®

 Core™ (i9/i7) support DDR4 up to 2933; Core™ (i5/i3), Pentium

®

 and Celeron

®

 support DDR4 up to 2666 natively.

*

*

Due to the operating system limitation, the actual memory size may be less than 4GB for the reservation for system usage under Windows

®

 32-bit OS. For Windows

®

 64-bit OS with 64-bit CPU, there is no such limitation.

BIOS
– 128Mb AMI UEFI Legal BIOS with multilingual GUI support
– ACPI 6.0 Compliant wake up events
– SMBIOS 2.7 Support
– CPU Core/Cache, CPU GT, VCCSA, DRAM, VCCIO, VCCIO 1 2, VPPM, VCCIN AUX, VCCST, VCC PLL, CPU PLL, VTTDDR Voltage Multi-adjustment
Graphics
– 11th Gen Intel® Core™ Processors support Intel® Xe Graphics Architecture (Gen 12). 10th Gen Intel® Core™ Processors support Gen 9 Graphics
– Dual graphics output: support HDMI and DisplayPort 1.4 ports by independent display controllers
– Supports HDMI 2.0 with max. resolution up to 4K x 2K (4096×2160) @ 60Hz

*

*


– Supports DisplayPort 1.4 with max. resolution up to 4K x 2K (4096×2304) @ 60Hz
– Supports Auto Lip Sync, Deep Color (12bpc), xvYCC and HBR (High Bit Rate Audio) with HDMI 2.0 Port (Compliant HDMI monitor is required)
– Supports HDCP 2.3 with HDMI 2.0 and DisplayPort 1.4 Ports

*Intel® UHD Graphics Built-in Visuals and the VGA outputs can be supported only with processors which are GPU integrated.

**11th Gen Intel® Core™ Processors support HDMI 2.0. 10th Gen Intel® Core™ Processors support HDMI 1.4.

Audio
– 7.1 CH HD Audio with Content Protection (Realtek ALC1220 Audio Codec)
– Premium Blu-ray Audio support
– Supports Surge Protection
– Pure Power-In
– Direct Drive Technology
– PCB Isolate Shielding
– Impedance Sensing on Rear Out port
– Individual PCB Layers for R/L Audio Channel
– Gold Audio Jacks
– 15μ Gold Audio Connector
– Nahimic Audio
LAN
1 x 2.5 Gigabit LAN 10/100/1000/2500 Mb/s (Killer E3100G)
– Supports Killer LAN Software
– Supports Killer DoubleShotTM Pro
– Supports Wake-On-LAN
– Supports Lightning/ESD Protection
– Supports Energy Efficient Ethernet 802.3az
– Supports PXE
1 x Gigabit LAN 10/100/1000 Mb/s (Intel® I219V)
– Supports Wake-On-LAN
– Supports Lightning/ESD Protection
– Supports Energy Efficient Ethernet 802.3az
– Supports PXE
Wireless LAN
– Killer AX1675x 802.11ax Wi-Fi 6E Module
– Supports IEEE 802.11a/b/g/n/ax
– Supports Dual-Band 2×2 160MHz with extended 6GHz band support

*


– 2 antennas to support 2 (Transmit) x 2 (Receive) diversity technology
– Supports Bluetooth 5.2 + High speed class II
– Supports MU-MIMO
– Supports Killer LAN Software
– Supports Killer DoubleShot™ Pro

*

Wi-Fi 6E (6GHz band) is not currently enabled by default due to the different regulation status of each country. It will be activated (for supported countries) through Windows

®

 Update and software update once available. The update is expected to be in the middle of 2021.

Slots
CPU Direct Source LAN Off (Default Setting):
11th Gen Intel® Core™ Processors
– 3 x PCI Express x16 Slots (PCIE1/PCIE3/PCIE4: single at Gen4x16 (PCIE1); dual at Gen4x8 (PCIE1) / Gen4x8 (PCIE3); triple at Gen4x8 (PCIE1) / Gen4x8 (PCIE3) / Gen3x4 (PCIE4))

*


10th Gen Intel® Core™ Processors
– 3 x PCI Express x16 Slots (PCIE1/PCIE3/PCIE4: single at Gen3x16 (PCIE1); dual at Gen3x8 (PCIE1) / Gen3x8 (PCIE3); triple at Gen3x8 (PCIE1) / Gen3x8 (PCIE3) / Gen3x4 (PCIE4))

*


CPU Direct Source LAN On:
11th Gen Intel® Core™ Processors
– 3 x PCI Express x16 Slots (PCIE1/PCIE3/PCIE4: single at Gen4x8 (PCIE1); dual at Gen4x8 (PCIE1) / Gen4x4 (PCIE3); triple at Gen4x8 (PCIE1) / Gen4x4 (PCIE3) / Gen3x4 (PCIE4))

*


10th Gen Intel® Core™ Processors
– 3 x PCI Express x16 Slots (PCIE1/PCIE3/PCIE4: single at Gen3x8 (PCIE1); dual at Gen3x8 (PCIE1) / Gen3x4 (PCIE3); triple at Gen3x8 (PCIE1) / Gen3x4 (PCIE3) / Gen3x4 (PCIE4))

*

– 1 x PCI Express 3.0 x1 Slot
– Supports AMD Quad CrossFireX™, 3-Way CrossFireX™ and CrossFireX™
– 1 x Vertical M.2 Socket (Key E) with the bundled WiFi-802.11ax module (on the rear I/O)
– 15μ Gold Contact in VGA PCIe Slot (PCIE1)

*

Supports NVMe SSD as boot disks

Storage
– 6 x SATA3 6.0 Gb/s Connectors

*


– 1 x Hyper M.2 Socket (M2_1), supports M Key type 2260/2280 M.2 PCI Express module up to Gen4x4 (64 Gb/s) (Socket M2_1 works with 11th Gen Intel® Core™ processors only)

*

*


– 1 x Ultra M.2 Socket (M2_2), supports M Key type 2260/2280 M.2 SATA3 6.0 Gb/s module and M.2 PCI Express module up to Gen3 x4 (32 Gb/s)

*

*


– 1 x Ultra M.2 Socket (M2_3), supports M Key type 2260/2280/22110 M.2 SATA3 6.0 Gb/s module and M.2 PCI Express module up to Gen3 x4 (32 Gb/s)

*

*

*If M2_2 is occupied, SATA3_0 and SATA3_1 will be disabled.* If M2_3 is occupied by a SATA-type M.2 device, SATA3_3 will be disabled.

**Supports Intel® Optane™ Technology (M2_2 and M2_3 only)
Supports NVMe SSD as boot disks
Supports ASRock U.2 Kit

RAID
– Supports RAID 0, RAID 1, RAID 5 and RAID 10 for SATA storage devices
– Supports RAID 0 and RAID 1 for M.2 NVMe storage devices

*

*

RAID function for PCIe mode SSD in M2_1 is only available with Intel

®

 SSD installed.

Connector
– 1 x SPI TPM Header
– 1 x Power LED and Speaker Header
– 2 x RGB LED Headers

*


– 2 x Addressable LED Headers

*

*


– 1 x CPU Fan Connector (4-pin)

*

*

*


– 1 x CPU/Water Pump Fan Connector (4-pin) (Smart Fan Speed Control)

*

*

*

*


– 5 x Chassis/Water Pump Fan Connectors (4-pin) (Smart Fan Speed Control)

*

*

*

*

*


– 1 x VRM Fan Connector (4-pin)

*

*

*

*

*

*


– 1 x 24 pin ATX Power Connector (Hi-Density Power Connector)
– 2 x 8 pin 12V Power Connectors (Hi-Density Power Connector)
– 1 x Front Panel Audio Connector (15μ Gold Audio Connector)
– 1 x Thunderbolt™ AIC Connector (5-pin) (Supports ASRock Thunderbolt™ 4 AIC Card)
– 1 x USB 2.0 Header (Supports 2 USB 2.0 ports) (Supports ESD Protection)
– 2 x USB 3.2 Gen1 Headers (Support 4 USB 3.2 Gen1 ports) (ASMedia ASM1074 hub) (Supports ESD Protection)
– 1 x Front Panel Type C USB 3.2 Gen2x2 Header (20 Gb/s) (Supports ESD Protection)
– 1 x Clear CMOS Button
– 1 x Dr. Debug with LED
– 1 x Power Button with LED
– 1 x Reset Button with LED

*Support in total up to 12V/3A, 36W LED Strip

**Support in total up to 5V/3A, 15W LED Strip

***The CPU Fan Connector supports the CPU fan of maximum 1A (12W) fan power.

****The CPU/Water Pump Fan supports the water cooler fan of maximum 2A (24W) fan power.

*****The Chassis/Water Pump Fan supports the water cooler fan of maximum 2A (24W) fan power.

******The VRM Fan Connector supports the VRM fan of maximum 1A (12W) fan power.
CPU_FAN2/WP, CHA_FAN1/WP, CHA_FAN2/WP, CHA_FAN3/WP, CHA_FAN4/WP and CHA_FAN5/WP can auto detect if 3-pin or 4-pin fan is in use.

Rear Panel I/O
– 2 x Antenna Ports
– 1 x HDMI Port
– 1 x DisplayPort 1.4
– 1 x Optical SPDIF Out Port
– 1 x USB 3.2 Gen2 Type-A Port (10 Gb/s) (ReDriver) (Supports ESD Protection)
– 1 x USB 3.2 Gen2 Type-C Port (10 Gb/s) (ReDriver) (Supports ESD Protection)
– 2 x USB 3.2 Gen1 Type-A Ports (ASMedia ASM1042A) (Supports ESD Protection)
– 4 x USB 3.2 Gen1 Type-A Ports (Intel® Z590) (Supports ESD Protection)

*


– 2 x USB 2.0 Ports (Supports ESD Protection)
– 2 x RJ-45 LAN Ports with LED (ACT/LINK LED and SPEED LED)
– HD Audio Jacks: Rear Speaker / Central / Bass / Line in / Front Speaker / Microphone (Gold Audio Jacks)

*

Ultra USB Power is supported on USB3_12 ports.

ACPI wake-up function is not supported on USB3_12 ports.

Software and UEFI
Software
– ASRock Motherboard Utility (Phantom Gaming Tuning)
– Killer Control Center
– ASRock Polychrome SYNC

*


UEFI
– ASRock EZ Mode
– ASRock Full HD UEFI
– ASRock My Favorites in UEFI
– ASRock Instant Flash
– ASRock Internet Flash
– ASRock Easy RAID Installer

*

These utilities can be downloaded from ASRock Live Update & APP Shop.

Support CD
– Drivers, Utilities, AntiVirus Software (Trial Version), Google Chrome Browser and Toolbar
Accessories
– Quick Installation Guide, Support CD
– 4 x SATA Data Cables
– 1 x Graphics Card Holder
– 1 x Wireless Dongle USB Bracket
– 1 x 3010 Cooling Fan with Bracket and Screw Package
– 1 x 4010 Cooling Fan Bracket and Screw Package
– 2 x ASRock WiFi 2.4/5/6 GHz Antennas
– 3 x Screws for M.2 Sockets
– 3 x Standoffs for M.2 Sockets
Hardware Monitor
– Fan Tachometer: CPU, CPU/Water Pump, Chassis/Water Pump, VRM, MOS Fans
– Quiet Fan (Auto adjust chassis fan speed by CPU temperature): CPU, CPU/Water Pump, Chassis/Water Pump, MOS Fans
– Fan Multi-Speed Control: CPU, CPU/Water Pump, Chassis/Water Pump, VRM, MOS Fans
– Voltage monitoring: CPU Vcore, VCCIN AUX, DRAM, VCCIO, VCCIO 1 2, VPPM, VCCSA, CPU PLL, VCC PLL, CPU Standby 1, +12V, +5V, +3.3V
Form Factor
– ATX Form Factor: 12.0-in x 9.6-in, 30.5 cm x 24.4 cm
– 2oz Copper PCB
OS
– Microsoft® Windows® 10 64-bit
Certifications
– FCC, CE
– ErP/EuP ready (ErP/EuP ready power supply is required)