Motherboard Overview »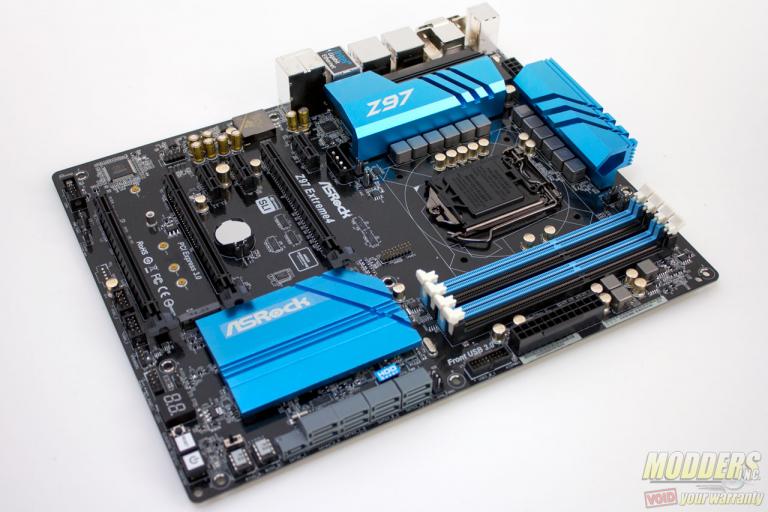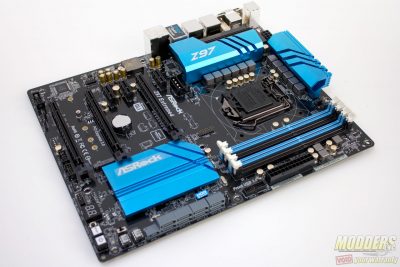 Often times when one makes the effort to provide everything to everybody, the end result is a lot less fulfilling than just simply going for a niche. Unfortunately for motherboard manufacturers, attempting to provide everything to everybody is a must when it comes to designing a mainstream motherboard offering. The bulk of mainboards buyers want to get as much as they can for the price and different manufacturers have different approaches to this. Some provide higher quality components with a lower feature count while some provide the opposite and provide extra functionality paired with more generic parts. For mainboard manufacturer ASRock, the goal seems to be to provide both while still keeping within the mainstream price range, as evident in their ASRock Z97 Extreme 4 motherboard. A daring move that has a big payday if it is pulled-off but surely there must be a compromise somewhere to get that low price?
The ASRock Z97 Extreme 4 is a standard ATX form-factor mainboard that supports LGA1150 CPUs including the latest Intel "Broadwell" CPUs (as of UEFI update P2.00). As with most Z97 mainboards, the Extreme 4 has M.2 support as well as SATA Express functionality shared with the SATA ports via Intel's Flex IO. The Gigabit ethernet controller is also Intel's using a PHY i218v controller while a Realtek ALC1150 HD audio codec lies at the heart of the "Purity Sound 2″ audio subsystem. Japanese Nichicon capacitors are used entirely on the board with Nichicon Fine Gold audio capacitors for the audio and Nichicon FP Gold 12K capacitors for the rest of the board. For those using the CPU integrated graphics, four display outputs are provided including a displayport, HDMI, DVI-D and D-sub connectors.
[sc:sponsor sponsor="Asrock" product_link="http://amzn.to/1GSQ39x" product_name="Z97 Extreme 4″ product_price_link="http://amzn.to/1GSQ39x" product_price="$149.99″ ]
This particular review sample did not come in retail packaging but the only difference is the graphics on the box so here it is if you are curious. Besides, one should not focus on how the box looks, this is not a YouTube review. It is what is inside that counts.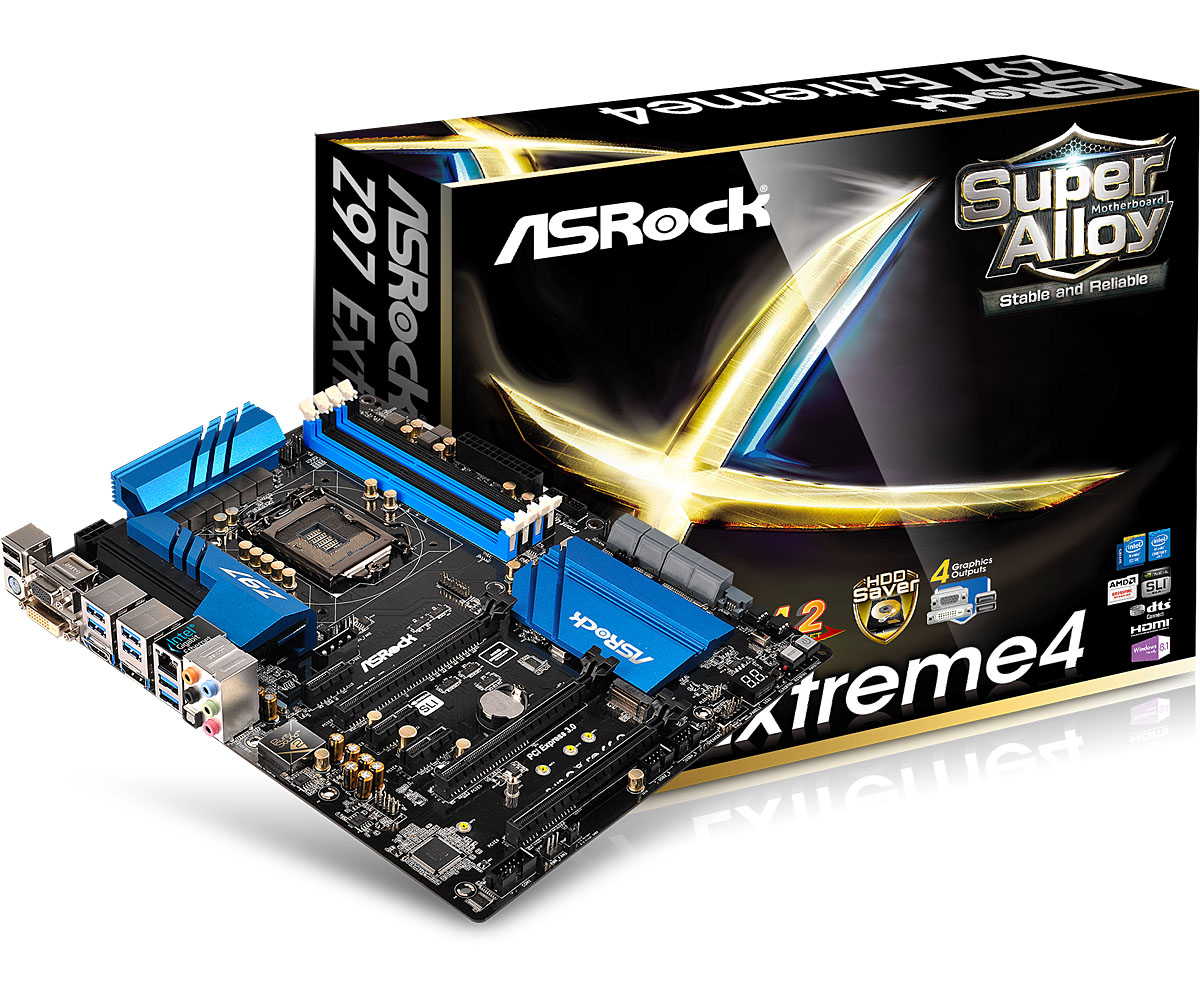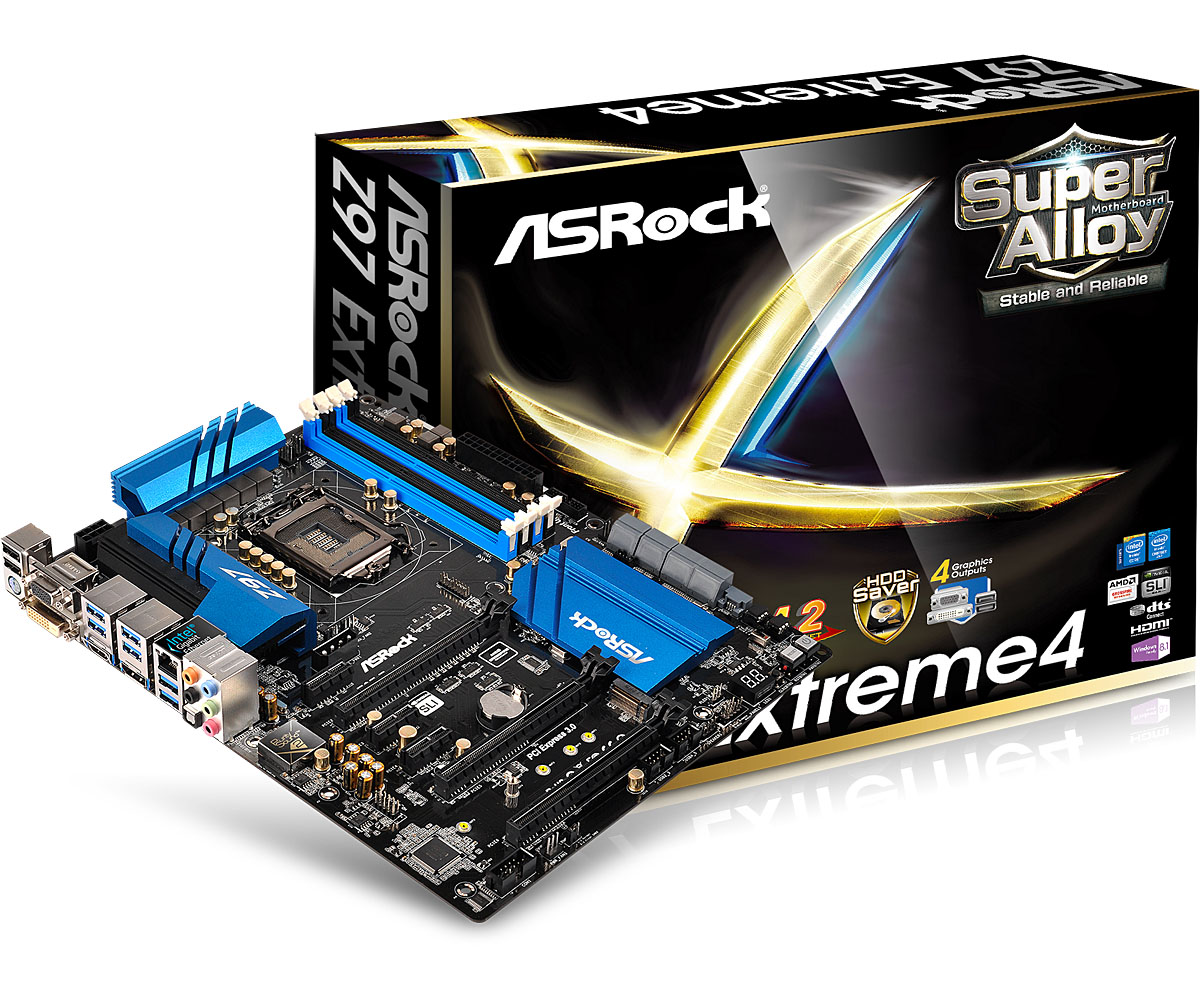 Otherwise, the contents inside are packed in two compartments with the ASRock Z97 Extreme 4 housed in an anti-static bag but unique to ASRock and something I do not often see in motherboards is the thick padding underneath. The motherboard comes zip-tied on the mounting holes to the padding as well so it does not move around. Documentation booklets include a software setup guide and a quick installation guide. Additional accessories include a screw for the M.2 drive, I/O shield, SATA power cable for the HDD saver port, SATA cables, dual-SLI bridge, and a disc drive.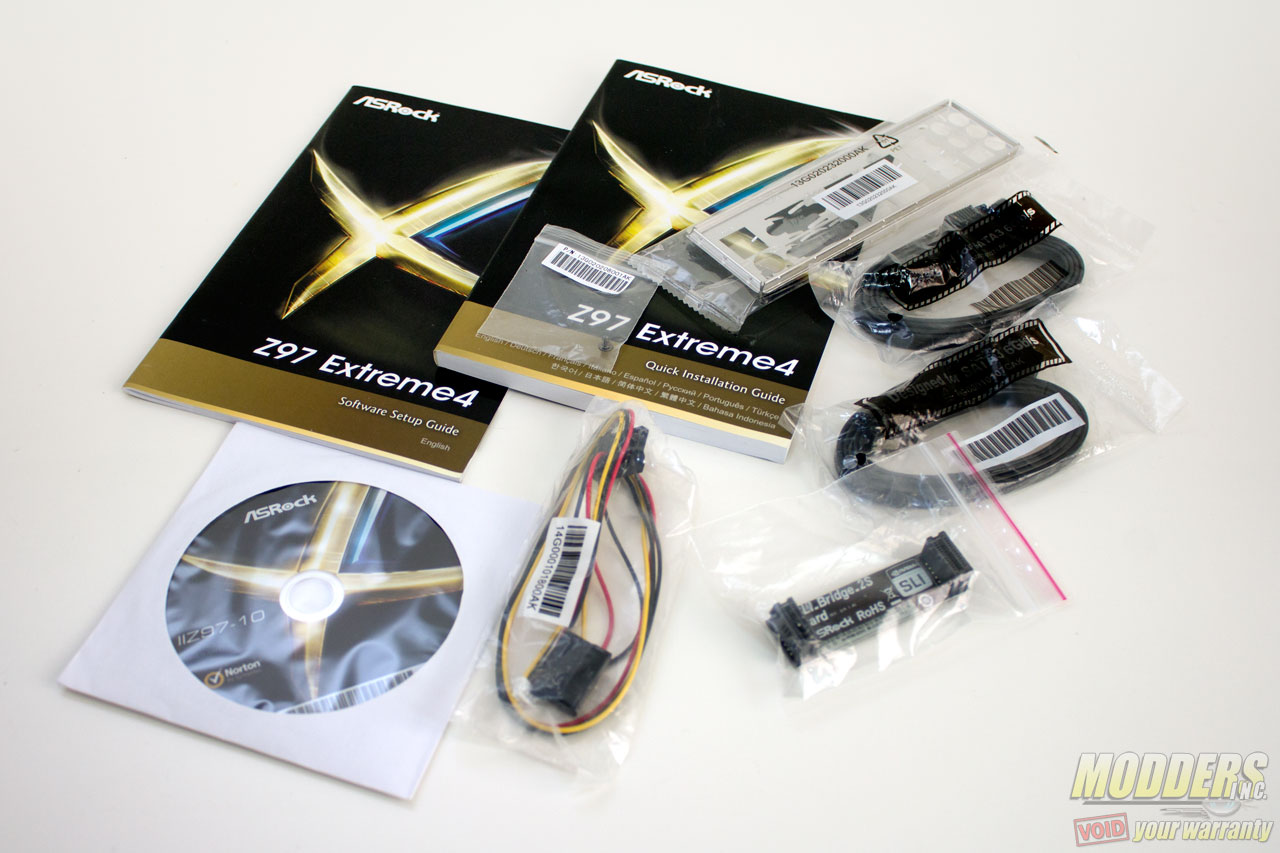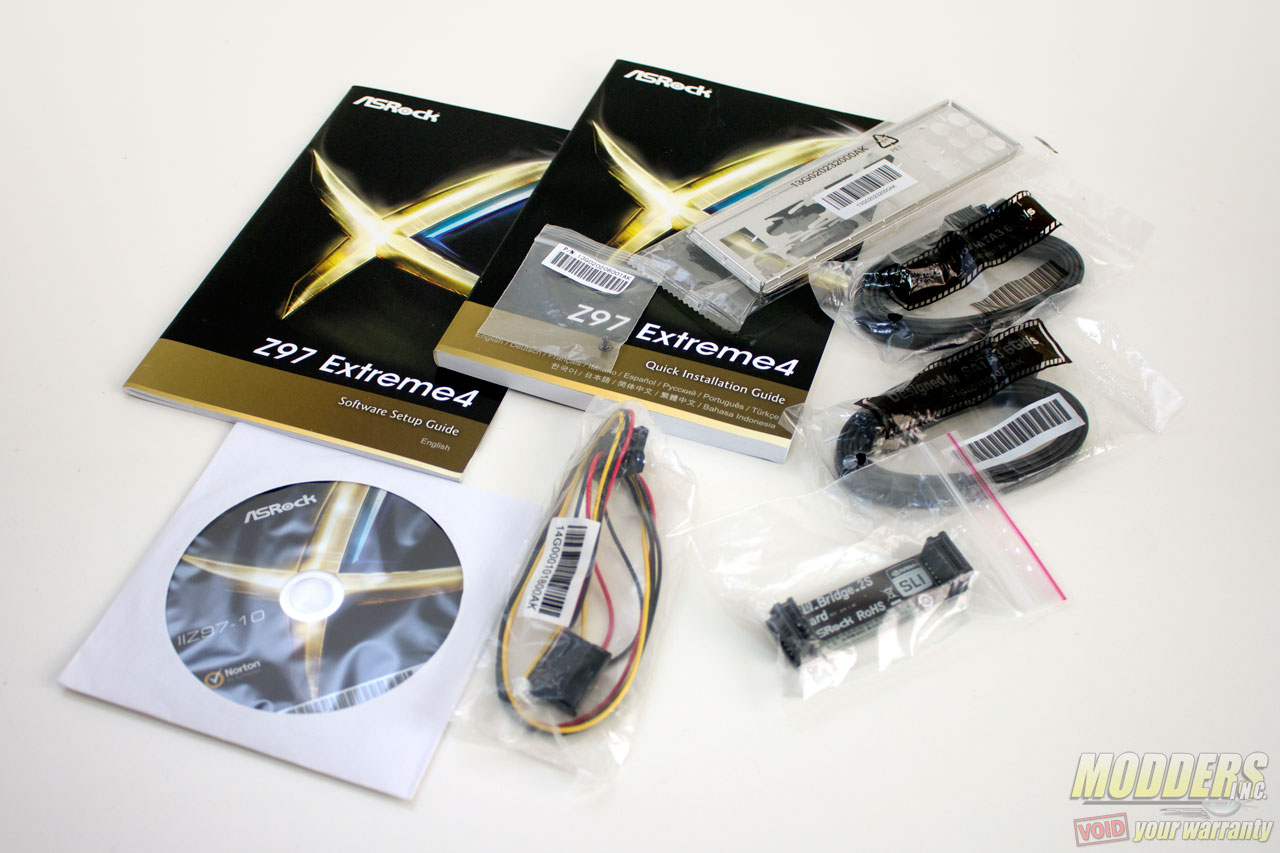 The full official specifications table can be seen below.
CPU
– Supports 5th Generation Intel® Core™ i7/i5/i3/Pentium®/Celeron® Processors (Socket 1150)
– Supports New 4th and 4th Generation Intel® Xeon®/Core™ i7/i5/i3/Pentium®/Celeron® Processors (Socket 1150)
Chipset
– Intel® Z97
Memory
– Supports DDR3/DDR3L 3200+(OC)/2933(OC)/2800(OC)/2400(OC)/2133(OC)/1866(OC)/1600/1333/1066 non-ECC, un-buffered memory
– Max. capacity of system memory: 32GB*
BIOS
– 2 x 64Mb AMI UEFI Legal BIOS with multilingual GUI support (1 x Main BIOS and 1 x Backup BIOS)
Graphics
– Supports HDMI with max. resolution up to 4K x 2K (4096×2304) @ 24Hz
– Supports DVI-D with max. resolution up to 1920×1200 @ 60Hz
– Supports D-Sub with max. resolution up to 1920×1200 @ 60Hz
– Supports DisplayPort 1.2 with max. resolution up to 4K x 2K (4096×2304) @ 24Hz or 4K x 2K (3840×2160) @ 60Hz
Audio
– 7.1 CH HD Audio with Content Protection (Realtek ALC1150 Audio Codec)
LAN
– Giga PHY Intel® I218V
Slots
– 3 x PCI Express 3.0 x16 Slots (PCIE2/PCIE5/PCIE6: single at x16 (PCIE2); dual at x8 (PCIE2) / x8 (PCIE5); triple at x8 (PCIE2) / x4 (PCIE5) / x4 (PCIE6)
– 3 x PCI Express 2.0 x1 Slots
– Supports AMD Quad CrossFireX™, 3-Way CrossFireX™ and CrossFireX™
– Supports NVIDIA® Quad SLI™ and SLI™
Storage
– 6 x SATA3 6.0 Gb/s Connectors by Intel® Z97, support RAID (RAID 0, RAID 1, RAID 5, RAID 10)
– 2 x SATA3 6.0 Gb/s Connectors by ASMedia ASM1061, support NCQ, AHCI, Hot Plug and ASRock HDD Saver Technology
– 1 x SATA Express 10 Gb/s Connector (shared with SATA3_4, SATA3_5 and M.2 Socket)

*


– 1 x M.2_SSD (NGFF) Socket 3, supports M.2 SATA3 6.0 Gb/s module and M.2 PCI Express module up to Gen2 x2 (10 Gb/s)

*

Support to be announced.

*

*

The M.2 Socket, SATA3_4, SATA3_5 and SATA Express share lanes. If either one of them is in use, the others will be disabled.
Support CD
– Drivers, Utilities, AntiVirus Software (Trial Version), Google Chrome Browser and Toolbar, Start8 (30 days trial), Orbweb.ME Professional (Win 8.1)
Form Factor
ATX Form Factor
OS
– Microsoft® Windows® 8.1 32-bit / 8.1 64-bit / 8 32-bit / 8 64-bit / 7 32-bit / 7 64-bit