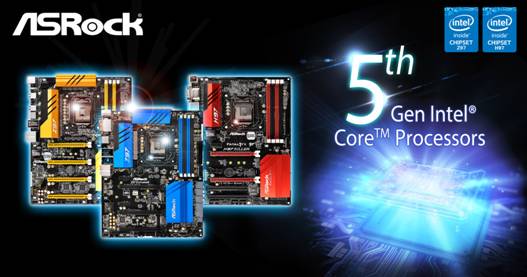 ASRock wants users to know that if they already own an ASRock Z97 or H97 chipset motherboard, their system supports the latest 5th generation Intel Core processors by way of a simple BIOS update. For those who are not up to date on Intel's product line, the 5th generation Intel core processors are the new Broadwell CPUs which are a 14nm die shrink of the 22nm Haswell "TOCK" architeture. This makes the Broadwell processors much more efficient than their predecessors, although desktop Broadwell-K processors are not available yet in retail stores at this time. At least you'd be ready by then.
ASRock's Z97 and H97 Chipset Motherboards Are Ready to Support 5th Gen Intel® Core™ Processors
TAIPEI, Taiwan, March, 2015 – Tired of that same old boring computing rig that has been sitting lifelessly on the desk? Well, a system upgrade might not be a bad idea right now, especially when Intel is releasing their latest 5th Gen Intel® Core™ Processors. Besides, if you already own an ASRock Z97 or H97 chipset motherboard by any chance, then they're actually ready to support these new processors by a fast and painless BIOS upgrade through the ASRock APP Shop software.
The most noticeable differences between the 4th and 5th generation is that the 5th generation Intel® Core™ processors provide superior performance with Intel® Turbo Boost Technology 2.0 and Intel® Hyper-Threading Technology. Moreover, these new processors offer enhanced integrated Intel® HD Graphics for stunning visuals and significantly better 3D performance. No matter whether your plan is to play 4K Ultra HD videos or simply just to run the latest games, these 5th generation Intel® Core™ processors are going to bring your screen to life!
About ASRock
ASRock Inc. was established in 2002, specializing in the field of motherboards. ASRock strives to build up its own brand. With 3C design concepts, "Creativity, Consideration, Cost-effectiveness", the company explores the limits of motherboard manufacturing while paying attention to environmental issues at the same time, developing products with the consideration of being eco-friendly.
ASRock has been growing fast and has become one of the three largest motherboard brands with its headquarters in Taipei, Taiwan and branches in Europe and the USA. The young and vibrant company targets at the entry to mainstream segment of the MB business, owning reputation around the world market with its reliability and proficiency. For further information, please visit: http://www.asrock.com/