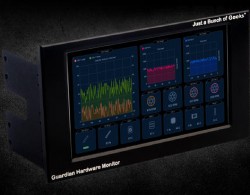 It has been a longtime since I have been this excited about a new accessory product. Many years ago the hot thing to do was to add a small digital display that would give you some information such as CPU temperature, new email alerts and etc. All this did was leave me wanting more. Finally the day has come with the new Kickstarter of the Guardian Hardware Monitor.
Guardian Hardware Monitor and Spectrum fans integrate cooling control, hardware monitoring and LED lighting to deliver an unparalleled dynamic full color lighting experience to custom PC builds.
Gone are the days of boring static single color lighting. Guardian and Spectrum herald a new era of interactive custom lighting control. With Guardian and Spectrum you'll proudly display your rig where it belongs … after all, it's not called a DESKTOP for nothing!
But Guardian does much more than lights and fans. Just a Bunch of Geeks LLC built in an impressive list of features that puts this device into class of it's own. They we went totally geek and make no apologies!
Features
Data loss Prevention

Monitors and logs changes in HDD/SSD SMART info and warns on media/hardware degradation
Monitors RAIDs and warns on assembly failure, degraded state, or member loss.

9 LED channels dynamically controlled by changes in CPU/GPU temp, load, HDD access and other host cues.

Six channels for Spectrum RGB LED fans with addressableLEDs.
One channel for Spectrum RGB LED strips
One channel for UV black or other single color lighting accessories.
One channel for Spectrum addressable LED strips.

6-channel fan controller

Auto and manual modes
Sequenced fan start-up
Alarm on fan failure

Huge 5″ full color TFT LCD touch display (480×272)

Animated Graphical User Interface
Rolling history graphs for temps, RPMs and loads
SMART/system data at a touch

Web interface for remote access and configuration
Dynamic speaker for ringtone quality signals and alarms
Software upgradeable for new features
Modular design for hardware upgrades and replacements
Expansion boards for additional capabilities, LED and fan ports.
RAID rack for 8 2.5″ HDD/SSDs (optional)
Fan Lighting Demo
https://www.youtube.com/watch?v=o9Wfi8sUrZs
Check out what the lighting looks like inside of a case.
https://www.youtube.com/watch?v=nnqWiFVAkSw
https://www.youtube.com/watch?v=x8RzjYMlUas