Graphics Card Reviews
ASUS ROG Poseidon GTX 1080 Ti 11G Video Card Review
The God of the Sea's water cooling weapon
« Test System and Testing Procedures
|
Real-World Benchmarks »
Synthetic Benchmarks
For synthetic benchmarks, we use three specific programs designed to stress your GPU. These benchmarks are FurMark, 3DMARK and Unigine Heaven. FurMark is an intensive OpenGL benchmark that uses fur rendering algorithms to measure the performance of the graphics card. FurMark rendering is designed to essentially overheat the GPU, making FurMark a perfect stability and stress test tool for the graphics card." The FurMark test was run on a custom preset at 2560 x 1440p.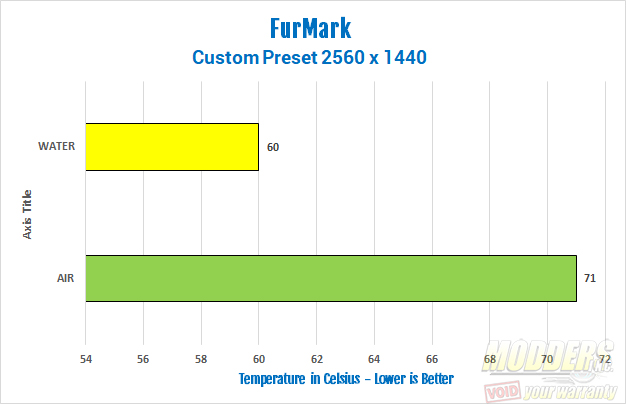 3DMark is a computer benchmarking tool used to determine the performance of a computer's 3D graphic rendering and CPU workload processing capabilities. It does this through a series of graphics and CPU tests. We used 3DMarks most popular benchmarks, Firestrike, their DX11 benchmark, as well as their newest DX12 benchmark, Time Spy to test the card.The Asus Poseidon 1080 Ti was set to OC mode in GPU Tweak II with a boost clock of 1733 MHz. The card was tested at both stock and overclocked to +75 on the core and +150 on the memory, Using the GPU Tweak utility from Asus. I ran both Firestrike and the DX12 benchmark, Time Spy. Here are the results.
The Heaven Benchmark from Unigine is a DirectX 11 benchmark designed to stress your GPU under heavy loads. The Heaven Benchmark can be used to determine the stability of a GPU under extremely stressful conditions. I ran the heaven benchmark with the ASUS Strix 1080 Ti on a custom Preset, Ultra Quality, Extreme Tessellation, AA X8, in 1080p using the DX 11 API. With these settings, the Poseidon 1080 Ti received and overall score of 3835 with an average FPS of 152.2, a minimum or 37.4 and a maximum if 320.5. Since I had 2 cards, I did run a few benchmarks in SLI. Heaven being one of them. In SLI, the Poseidon 1080 Ti received and overall score of 5027 with an average FPS of 199.6, a minimum or 40.8 and a maximum if 388.7.