News and Articles
be quiet! announces the release of the Dark Rock Slim CPU Cooler!
A Compact Fit In Any Case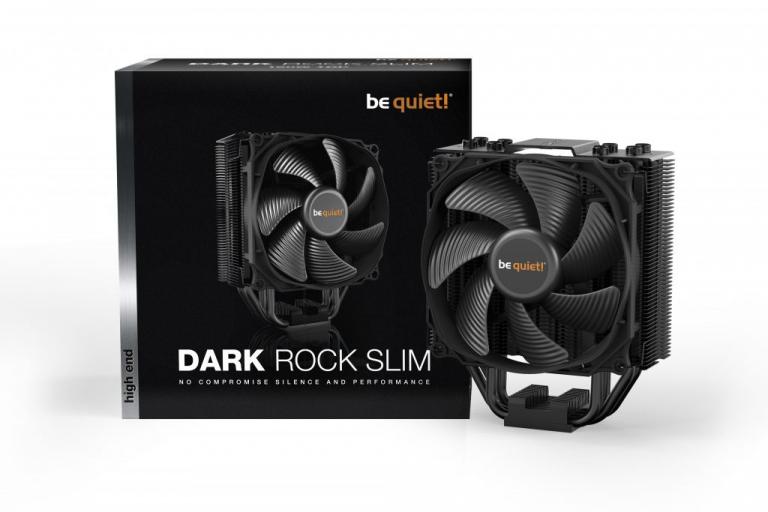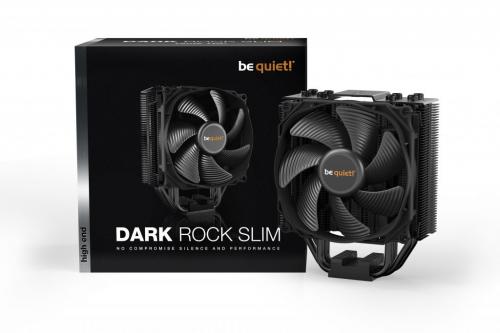 be quiet!, well known for their silent, yet efficient cases and cooling products, announces the release of their newest product in the DARK ROCK line of CPU Air Coolers, The DARK ROCK SLIM!
Have you ever gone to install that new high powered RAM only to find that your CPU Cooler is in the way of the RAM slots?  be quiet! has come up with a solution.  The new DARK ROCK SLIM CPU Cooler claims to have the highest headspace of any cooler in their line up.  The new DARK ROCK SLIM while clearing your ram still puts out up to 180 watts of cooling power at only 23.6 dB(A).  Designed with an enhanced ceramic coating for the cooler and pipes gives this cooler its black color while providing the performance of larger coolers.
The DARK ROCK SLIM CPU Cooler uses be quiet!'s Silent Wings 3 120mm PWM fan.  Dimpled fins on the cooler provides increased surface area for more efficient cooling in a small package.  If your one of those who likes the thought of two fans is better than one, an optional second fan can be added with the included mounting clips.  The fan is mounted using a decoupled design to minimize vibrations.
be quiet! guarantees that the DARK ROCK SLIM CPU cooler will be compatible with expanded LED RAM and high-performance memory heat spreaders.  The be quiet! DARK ROCK SLIM CPU Cooler will be available on May 14th, 2019 at a modest MSRP of $59.90.  Check out the full press release below!  Full specs can be found here: DARK ROCK SLIM
Dark Rock Slim: A Compact Fit In Any Case

Great cooling at low noise for high-profile RAM

be quiet! announces Dark Rock Slim, a compact high-end CPU cooler that offers high physical clearance for any memory module. With a supported TDP of up to 180 watts, Dark Rock Slim offers enough headroom for silently cooling any mainstream processor while keeping the space above occupied RAM slots clear.

Uncompromisingly compact single tower design

Dark Rock Slim is part of the Dark Rock 4 cooler family and works with all current Intel and mainstream AMD sockets. Cooling characteristics, performance, and appearance are inspired by the Dark Rock 4 series, with the new compact heat sink providing high clearance for better RAM compatibility. Its high 180-watt cooling performance is achieved with a maximum noise level of just 23.6 dB(A), which is a result of a perfect synergy between cooling fan, heat sink, and heat pipe design.

Impeccable cooling performance and virtually inaudible operation

Dark Rock Slim's cooling fins and heat pipes use a specially enhanced ceramic black coating that not only gives the heat sink an appealing all-black design but also improves the cooler's heat conduction. The heat transfers efficiently from base to heat sink through four high-performance copper heat pipes. Small dots on the fin surface increase the total cooling area, while a wave-contoured shape contributes to perfect air flow. The intake fan is bequiet!'s own Silent Wings 3 120mm PWM, using airflow-optimized blades, a reliable six-pole motor, funnel-shaped air intake and fluid-dynamic bearing (FDB). The fan mounting uses a decoupled design to minimize vibration, thus reducing noise and a second optional fan that can be mounted on the other side of the heat sink using the included clips.

Smart design and craftsmanship

With its high memory compatibility, Dark Rock Slim expands be quiet!'s top-of-the-line air cooler portfolio. The cooler offers a perfect balance between performance, build quality, utility, and appearance, while the installation is simplified thanks to an easy-to-use top-mount design. The cooler's brushed aluminum top cover features a high-grade diamond-cut finish with specially manufactured caps masking it's heat pipe ends. The slim heat sink layout guarantees high compatibility with expanded LED RAM modules and high-profile memory heat spreader designs.

Available on May 14th, 2019, Dark Rock Slim will hit retail and online stores at an MSRP of €57.90 / £54.99 / $59.90.

*Source: GfK Panel Market Germany, sales units internal computer power supplies, January 2019