be quiet! extends its Dark Rock family with a powerful new model in top-flow-format: the Dark Rock TF combines a sophisticated cooler design with the proven SilentWings® technology to successfully cool demanding systems with compact form factors.
The new Dark Rock TF consists of two nickel-plated heat sinks that are interconnected by six performant heat pipes in 6mm format. With this design, the top-flow cooler can carry two SilentWings® fans with a diameter of 135mm and manages a TDP of up to 220 watts at a maximum of 26.7dB(A). The proven fans are decoupled from the heat sinks by rubberised inserts, which suppresses vibrations. For an absolute smooth fan operation, be quiet! uses a long-lasting fluid-dynamic bearing and a silent 6-pole motor.
Due to its dual heat sink design, the Dark Rock TF can be configured so that it even fits into compact systems: the height of the be quiet! cooler can be reduced from 22mm to 108.8mm by removing the upper fan. Fully stocked, the dimensions of the cooler are 162.6 x 140 x 130.8mm (L x W x H). This way, the Dark Rock TF is suitable for various configurations and can cool sophisticated, compact systems just as smoothly as overclocked PCs.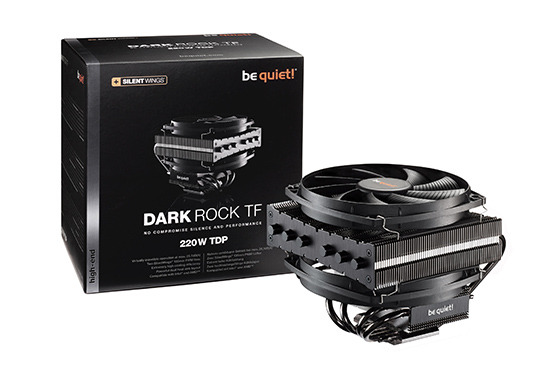 As the Dark Rock TF is part of the high-end cooler line-up of be quiet!, much emphasis is placed on build quality and appearance. The new be quiet! top-flow model is black nickel plated and has been equipped with a high-quality top cover made of brushed aluminum. In addition, the ends of the heat pipes are capped to give the cooler an attractive look. As a result, the Dark Rock TF isn't just a high performance cooler, but it also has a visual elegance that makes it a match for every system.