Biostar has been pouring in the motherboard offerings lately and their latest is the Hi-Fi H170S3H that utilizes the (you guessed it) Intel H170 chipset. As part of Biostar's Hi-Fi line, the HiFi H170S3H is designed with entertainment in mind. The compact micro-ATX form factor, ALC887 HD audio codec and dual HDMI display output with the $84 price tag makes it a compelling value offering for a Skylake-based HTPC build. To add to the value further, the H170S3H has DDR3 DIMM slots so upgrading to a DDR4 is not a requirement for use. More information is available on the press release below:
BIOSTAR Hi-Fi H170S3H, RICH WITH FEATURES FOR YOUR ENTERTAINMENT EXPERIENCE
Packed features for an exceptional experience at an excellent value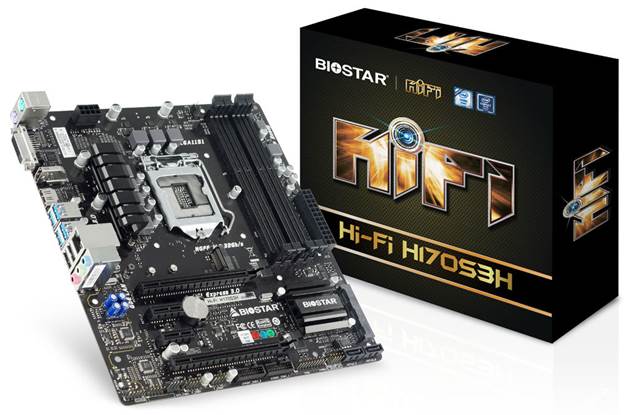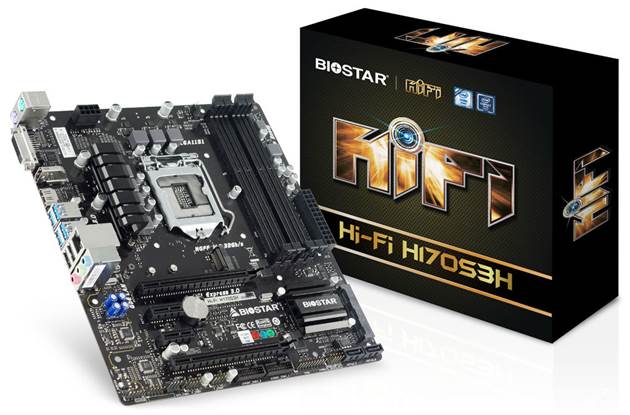 November 16th, 2015, Taipei, Taiwan – BIOSTAR announces its latest motherboard designed for Intel 6th-generation processor which offers a packed array of features perfect for gaming and entertainment. The BIOSTAR Hi-Fi H170S3H features Hi-Fi Audio, Hi-Fi Power and 3D Hi-Fi to fully maximize your listening experience. This coupled with the full barrage of BIOSTAR enhancements, gives you the ultimate value for your gaming build without breaking the bank. Native support for PCI-E M.2 allows you to arm yourself with high-speed M.2 storage and choosing H170 gets you more USB3.0 ports along with native PCI-E RAID0 and RAID1 support. The board supports DDR3 memory so no need to change DIMMs when you upgrade your PC.
The BIOSTAR Hi-FI H170S3H comes with an optimal power design with MOSFET cooling for sturdier power delivery to the CPU to enhance performance, coupled with Crossfire support with 2x PCI-E X16  slots gives you more flexibility in upgrading later on with another GPU. The board also supports onboard dual-HDMI, both are 4K ready. The Hi-Fi H170S3H is certified BIOSTAR 6+ Experience board covering BIOSTAR's expertise: Audio+, Video+, Speed+, Protection+, Durability+ and DIY+.
The BIOSTAR Hi-Fi H170S3H has an SRP of $84.90, perfect for upgraders, new system builders and budget gamers who want to jump in the Skylake platform without spending for a complete system overhaul. Use your older DDR3 modules and plug in another graphics card for more gaming horsepower.
BIOSTAR's latest mainboard, the Hi-Fi H170S3H is based on Intel's H170 chipset which supports the latest 14nm Intel® 6th-generation socket 1151 Intel® Core™ processors.
More Connectivity More Expansion
Intel H170 chipset provides a solid platform for the latest Intel 6th-generation Core processors, offering increase bandwidth and connectivity options for more expansion possibilities. Enjoy integrated graphics, PCI-E M.2, PCI-E RAID0,1 support as well as more USB3.0 ports.
Class-Leading Advantage
In addition to its wider-array of connectivity and expansion support, the Hi-Fi H170S3H features more power-phases, completely 100% All-Solid Capacitors used in the board with included MOSFET heatsink for cooler operation.
Audio+ for Great Audio Performance:
For music lover, the Hi-Fi H170S3H comes with Hi-Fi Technology built inside, delivering Blu-Ray audio, Puro Hi-Fi features an integrated independent audio power design with a built-in amplifier. The technology utilizes audio components with an independent power delivery design for a significant reduction in electronic noise producing superb sound quality.
Video+:
For online game lovers, The Hi-Fi H170S3H supports DirectX 12 which introduces the next version of Direct3D, the graphics API at the heart of DirectX. Direct3D is one of the most critical pieces of a game or game engine, and we've redesigned it to be faster and more efficient than ever before. Direct3D 12 enables richer scenes, more objects, and full utilization of modern GPU hardware.

Speed+:
With PCI-E 3.0 technology, there is 2 times the bandwidth of PCI-E 2.0 and allows for up to 1GB/s of bandwidth per lane per direction.
Best Online Gaming Experience:
There is also BIOSTAR's SmartSpeedLAN included which is a free software application that monitors and manages your PC's network behavior. With user-friendly GUI, it allows you to select and prioritize different types of network traffic, including gaming, media streaming, communications or web surfing. You can also set any specific applications, choosing to prioritize or block accordingly. SmartSpeedLAN can feature automatic management options that use adaptive networking intelligence to ensure that you are getting the best online gaming experience over other gamers.
Power up Your Smart Phones and Tablets:
The board features the latest BIOSTAR technologies such as Charger Booster II which will power up your smart phones and tablets quickly. There is also BIOS Flasher and BIOS Online Update for easy updating and restoration of the BIOS, as well as BIO-Remote2 for remote control of the system via Android and Apple devices. Also included is BIO-Remote2 Technology which gives users a better Home Theater environment. Users who own either Android or Apple mobile devices are able to access and control the PC remotely. Your smart device can become an intelligent and functional remote control. Moreover, BIO-Remote2 also includes both the function of mouse pad and power point presentation modes.
Durability+ with Super Durable Solid Caps:
There are several design features that work towards providing a more durable motherboard on which to build a system. Low RdsOn P-Pak MOS is a low resistance design that can significantly reduce the current in energy loss. The Hi-Fi H170S3H also comes with the best quality solid state capacitors with ultra low ESR design, these Super Durable Solid Caps doubles the lifespan of the capacitors. Not only that, this board features a "Moistureproof" PCB design. That means that even in rural or coastal areas with high humidity the board will be resistant to moisture.
Protection+ Baked Into The Board:
USB Overcurrent Protection is an onboard dedicated power fuse to help prevent electrical USB port failure. This ESD protection (Electrostatic Discharge), prevents the USB Port from providing overcurrent. In addition, throughout strategic places on the board there are OVER-Current Protection, OVER-Voltage Protection, and OVER-Heat Protection safeguards. These are special circuit designs to detect heat and overvoltage conditions to prevent voltage surges from spreading in real time.
DIY+ with UEFI BIOS Technology
Many people love to do it yourself when building PCs and BIOSTAR fully supports the user in many innovative ways such as with BIOS features. UEFI BIOS is a modern and easy-to-use graphical user interface. The UEFI BIOS comes with a colorful easy-understand icons leading users directly into the setup layer. BIO-Remote 2 gives users a better Home Theater environment. Users who own either Android or Apple products are able to access and control the PC remotely. This allows a smart device to become an intelligent and functional remote controller. In addition, the BIO-Remote2 feature also includes both the function of a mouse pad and a power point presentation controller.
For more info on the Hi-Fi H170S3H please go to: http://www.biostar.com.tw/app/en/mb/introduction.php?S_ID=819
Available soon from BIOSTAR's Ebay Store

About BIOSTAR
BIOSTAR is a professional brand dedicated to the production of motherboards, graphics cards and industrial computing systems. Since its establishment in 1986, the BIOSTAR GROUP has become a major motherboard supplier in the PC industry. In order to pursue the best user experience, BIOSTAR has invested heavily in research and development. With a constant emphasis on quality and innovation, BIOSTAR always seeks to offer products with the highest price-performance ratio.