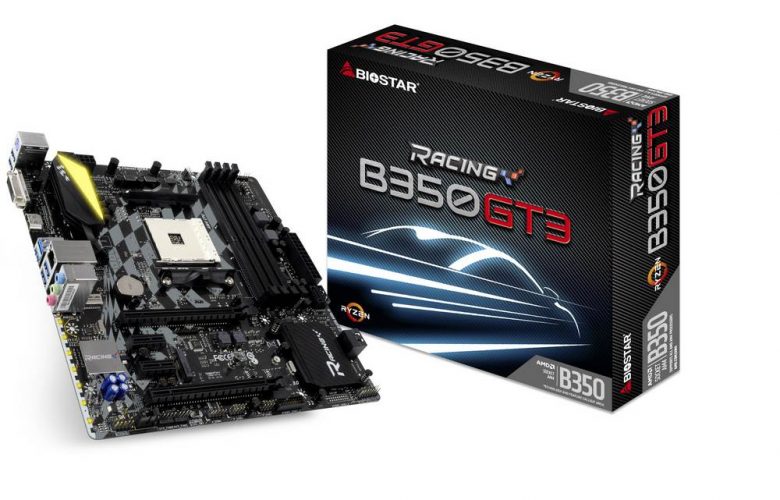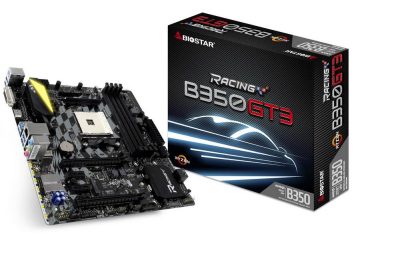 Biostar is introducing two new AMD Ryzen AM4 B350 chipset motherboards to the market in the form of the Racing B350GT3 and Racing B350T2. Both utilize a micro-ATX form factor for a compact build while having the convenient and aesthetic features of the Biostar Racing line. Both AM4 B350 micro-ATX motherboards have the Biostar Vivid LED DJ feature and 5050 LED Fun zone for users and modders who want to customize their build with RGB LED lighting. Vivid LED DJ allows users to select from multiple presets and customize color schemes and effects so the build can be shown off in style.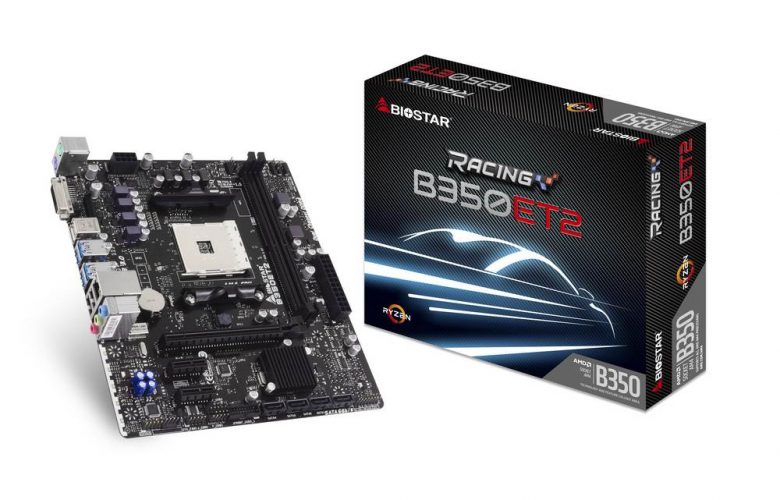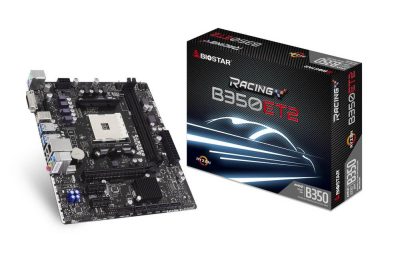 The Biostar Racing B350GT3 is the higher end of the two micro-ATX motherboards having dual-BIOS capability for redundant safety. Should the first BIOS get corrupted, the secondary chip can be manually selected so the corrupted can be reflashed as well. The Racing B350ET3 also has the USB music power feature to ensure the best audio quality when USB audio devices are plugged in through delivering stable and precise power through an independent +5V power. The AM4 B350 Racing B350GT3 also gets Fly.net bandwidth management which automatically optimizes network performance.
Both motherboard come bundled with a World of Tanks Premium gift exclusive for Asian servers. The Racing B350GT3 however, gets a Biostar VIVID LED fan as a bonus. The Racing B350GT3 has an MSRP of $109 and the B350ET2 has an MSRP of $79.
Specifications

 
RACING B350GT3
RACING B350ET2
CHIPSET
                                                                              AMD B350
CPU SUPPORT
AMD A-series APU / RYZEN CPU / NPU for Socket AM4
Maximum CPU TDP (Thermal Design Power) : 95Watt
MEMORY
Support Dual Channel DDR4 2667/ 2400/ 2133/ 1866 MHz
4 x DDR4 DIMM Memory Slot
Max. Supports up to 64GB Memory
* DDR4 2667 for AMD RYZEN CPU
Ryzen – DDR Maximum Frequency Support Table

| | | | | |
| --- | --- | --- | --- | --- |
| Maximum | DIMMA1 | DIMMA2 | DIMMB1 | DIMMB2 |
| DDR4-2667 | – | SR | – | – |
| DDR4-2667 | – | DR | – | |
| DDR4-2667 | – | SR | – | SR |
| DDR4-2400 | – | DR | – | |
| DDR4-2133 | SR | SR | SR | SR |
| DDR4-1866 | DR | DR | DR | DR |

SR:Single-rank DIMM, 1R x4 or 1R x8
DR:Dualrank DIMMs, 2R x4 or 2R x8

Support Dual Channel DDR4 2667/ 2400/ 2133/ 1866 MHz
2 x DDR4 DIMM Memory Slot
Max. Supports up to 32GB Memory
* DDR4 2667 for AMD RYZEN CPU
Ryzen – DDR Maximum Frequency Support Table

| | | |
| --- | --- | --- |
| Maximum | DIMMA1 | DIMMB1 |
| DDR4-2667 | SR | – |
| DDR4-2667 | DR | – |
| DDR4-2667 | SR | SR |
| DDR4-2400 | DR | DR |

SR:Single-rank DIMM, 1R x4 or 1R x8
DR:Dualrank DIMMs, 2R x4 or 2R x8

EXPANSION SLOT
1 x PCI-E x16 3.0 Slot(x16 for RYZEN CPU only, NPU/APU run at x8 speed)
1 x PCI-E x16 2.0 Slot(x4)(share bandwidth w/ PCI-E x1 slot, when PCI-E x1 is occupied, PCI-E x16(x4) will run at x1 speed)
2 x PCI-E x1 2.0 Slot
1 x PCI-E x16 3.0 Slot(x16 for RYZEN CPU only, NPU/APU run at x8 speed)

2 x PCI-E x1 3.0 Slot

STORAGE
4 x SATA3 Connector
Support SATA RAID: 0,1,10
1 x M.2 Key M 32Gb/s Connector, support M.2 type 2242/ 2260/ 2280 SATA 6Gb/s & PCI-E Storage
* M.2 (32Gb/s) : The bandwidth is depended on CPU, RYZEN is 32Gb/s ; APU & NPU is 16Gb/s.
4 x SATA3 Connector

Support SATA RAID: 0,1,10

USB
2 x USB 3.1 Gen2 Port
4 x USB 3.1 Gen1 Port
1 x USB 3.1 Gen1 Header
2 x USB 2.0 Header
4 x USB 3.1 Gen1 Port
1 x USB 3.1 Gen1 Header
2 x USB 2.0 Port
2 x USB 2.0 Port (only 5V power, up to 1.5A)
2 x USB 2.0 Header
LAN
Realtek RTL8118AS – 10/100/1000 Controller
Support Super LAN Surge Protection
Realtek RTL8111H – 10/100/1000 Controller
Support Super LAN Surge Protection
INTEGRATED VIDEO
By CPU model
Supports DX12
Supports HDCP
CODEC
Realtek ALC887 8-Channel HD Audio
Support BIOSTAR Hi-Fi