Measuring in at only 17x17cm, BIOSTAR's N3150NH manages to pack an Intel N3150 1.6GHz Quad-Core processor that can turbo up to 2.08GHz, a PCI-E 2.0 expansion slot, a Gigabit LAN controller and upgradeable DDR3L support for up to 8GB of 1600MHz or 16GB of 1066MHz. Expansion slots include a pair of USB 3.0 an an additional USB 3.0 onboard header as well as four USB 2.0 ports. For more information, refer to the official press release below:
BIOSTAR Releases N3150NH – A Mini-ATX Board with Embedded Value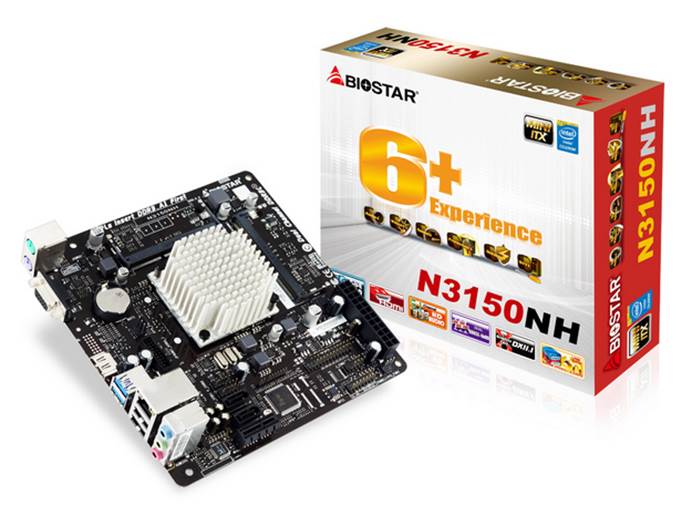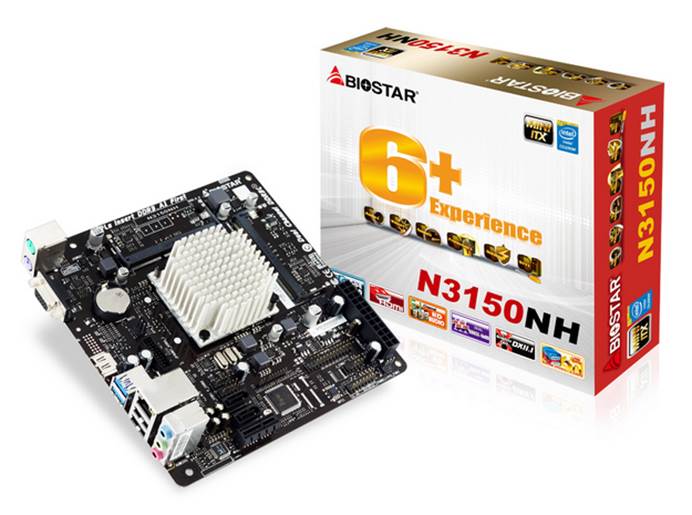 Taipei, Taiwan – BIOSTAR is offering the N3150NH motherboard with the on-board Intel® N3150 1.6G Quad-core processor, using a Mini-ATX form factor with a size of 17x17cm, builders are able to make creative designs for many different uses that fit into small enclosures.
The N3150NH boards comes with the Intel® Celeron N3150 1.6G Quad-core processor with turbo boost up to 2.08G already installed and it supports up to 8GB Memory for DDR3L-1600 OR 16GB Memory for DDR3L-1066. With the integrated GPU, watching HD content and playing games is no sweat. Expansion includes 1 PCI-E 2.0 slot. Indeed, the N3150NH board is ready for building all kinds of multimedia systems with its HDMI and analog VGA-out, and high definition audio with the Realtek ALC662 6 Channel HD Audio chip.
LAN networking is covered by the Realtek RTL8111H – 10/100/1000 controller and being a BIOSTAR board it has the Smart Speed LAN feature. SmartSpeedLAN is a free software application which monitors and manages your PC's network behavior. With user-friendly GUI, it allows you to select and prioritize different types of network traffic, including gaming, media streaming, communications or web surfing. You can also set any specific applications, choosing to prioritize or block accordingly. SmartSpeedLAN can feature automatic management options that use adaptive networking intelligence to ensure that you are getting the best online experience possible.
Hooking up content from hard drives or other USB devices is no problem with 2 USB 3.0 ports, 1 USB 3.0 header and 4 USB 2.0 ports.
The X.D.C (eXtreme Durable Capacitors) is quality solid capacitors to help make sure the board remains rock solid and stable. These are low ESR and high ripple conductive solid state capacitors that provide a stable power supply to the CPU. The life span can also be more than 6.25 times that of ordinary liquid caps.
Not only that, this board features "Moistureproof" PCB design. That means that you can setup an outside kiosk or signage and even in rural or coastal areas with high humidity the board will be robust.
The boards feature the latest BIOSTAR technologies such as BIOS Flasher and BIOS Online Update for easy updating and restoration of the BIOS, as well as BIO-Remote2 for remote control of the system via Android and Apple devices.
BIO-Remote2 Technology gives users a better Home Theater environment. Users who own either Android or Apple mobile devices are able to access and control the PC remotely. You're smart device can become an intelligent and functional remote control. Moreover, BIO-Remote2 also includes both the function of mouse pad and power point presentation modes.
The N3150NH also features the Charger Booster function. It is a high powered charging solution for Apple or Android devices such as iPad, iPhone and Android phones and tablets. Charger Booster Technology is able to boost the charging time to be more efficiency and faster once any mobile device is connected to the motherboard. With Charger Booster technology, you are able to charge your devices up to 42 % faster.
The N3150NH fully meets the requirements for systems running under the Windows 7 and Windows 8 and 8.1.
Lastly, the N3150NH features ESD (Electrostatic Discharge) protection where the board is protected from accidental electricity charges from user's touching areas of the board or when devices are connected or disconnected.
The N3150NH will have an MSRP of $69 USD. For more information please visit: http://www.biostar.com.tw/app/en/mb/introduction.php?S_ID=804
Check out BIOSTAR's latest Gaming video: https://www.youtube.com/watch?v=6HWznc8bLP8
About BIOSTAR
BIOSTAR is a manufacturer dedicated to the production of motherboards, graphics cards and industrial computing systems. Since its establishment in 1986, the BIOSTAR GROUP has become a major motherboard supplier in the PC industry. In order to pursue continuous growth, BIOSTAR has invested heavily in acquiring the physical and human resources to excel at research and development. With a constant emphasis on quality, BIOSTAR always seeks to offer products with the highest price-performance ratio.