MAINGEAR is bringing high-end PC gaming to the living room with the unveiling of the DRIFT, an ultra-compact gaming PC and STEAM machine equipped with a powerful i7-4790K CPU with either an NVIDIA GeForce GTX 980 or an AMD Radeon R9 290X for a smooth framerate gameplay. Each MAINGEAR DRIFT system has up to 16GB of memory with room for a pair of 1TB SSD as well as a 6TB HDD for storage. The system itself is fully upgradeable and can be custom painted with MAINGEAR's true automotive paint finish. More information is available from the official press release below: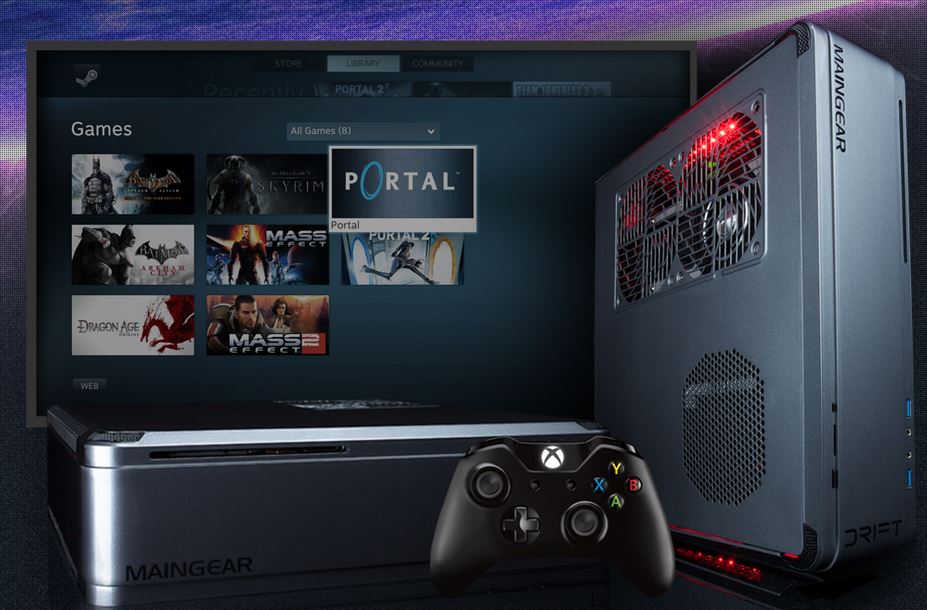 MAINGEAR Unveils DRIFT, the Ultra-Compact STEAM Machine and Gaming PC
Fully customizable, devastatingly powerful and incredibly compact PC brings 4K gaming to any location
Kenilworth, New Jersey – March 4, 2015 – MAINGEAR, an award-winning PC system integrator of custom gaming desktops, notebooks, and workstations, unveils the DRIFT, a STEAM machine and gaming PC designed to bring unparalleled gaming performance to compact spaces.
Powered by the latest in gaming technology, including Intel® Core™ i7-4790K CPU and NVIDIA® GeForce® GTX™ 980 or AMD Radeon R9 290X GPUs,  MAINGEAR's DRIFT delivers pixel-shredding performance that rivals full-sized desktops in a console-sized unit.  The DRIFT is a compact speedster with an F-1 engine featuring a stylish uni-body aluminum chassis that is whisper quiet thanks to an Epic 120 Liquid Cooling system and superbly designed airflow.
"The DRIFT packs the muscle and performance of larger gaming desktop systems into a beautiful compact design that fits on your desk or coffee table," states Wallace Santos, CEO and Founder of MAINGEAR.  "Valve's STEAM OS will bring PC quality gaming to any location and the DRIFT is the perfect way to deliver that experience."
MAINGEAR's DRIFT makes 4K gaming possible in the most compact spaces with a versatile design that allows it to be placed both vertically or horizontally.  It supports up to 16 GB of DDR memory, can hold 2 1TB SSDs and a 6TB HDD, and can be fully upgraded and customized with MAINGEAR's true automotive paint finish available in any color and combination.
Watch the DRIFT in action:
https://www.youtube.com/watch?v=WnN8p_HX50c&feature=youtu.be
For more information about MAINGEAR, please visit www.maingear.com.
About MAINGEAR
MAINGEAR is a high performance PC system integrator that offers custom desktops, notebooks and workstations.  Each system is hand crafted for precision performance and uncompromised quality, and has won multiple Editors' Choice awards from publications such as PC Gamer, Hot Hardware, PC World, Maximum PC, Computer Shopper and more. With a passion to build the best and most innovative high performance computers, MAINGEAR sets the standard among system integrators.
For more information visit www.maingear.com or follow us on Facebook at facebook.com/maingear and Twitter at twitter.com/MAINGEAR.