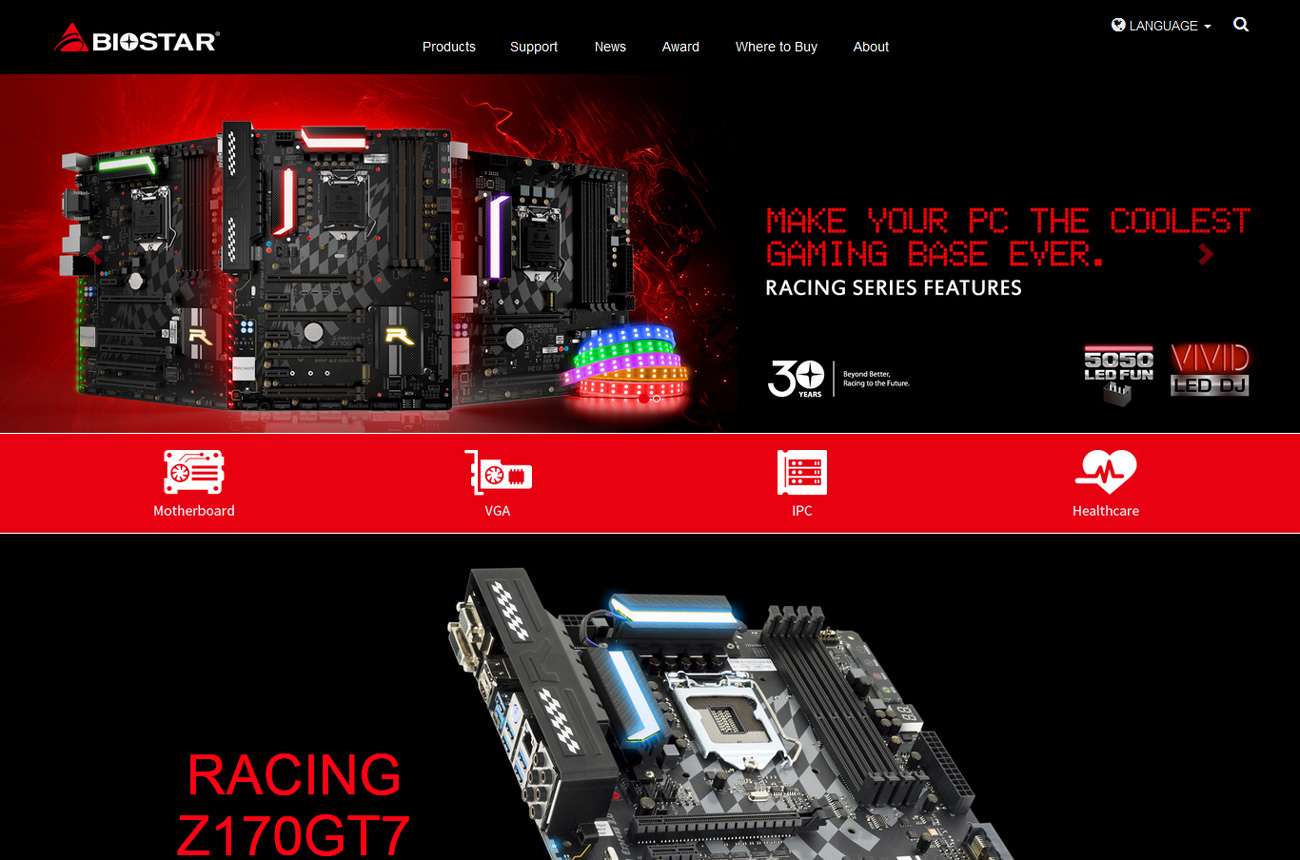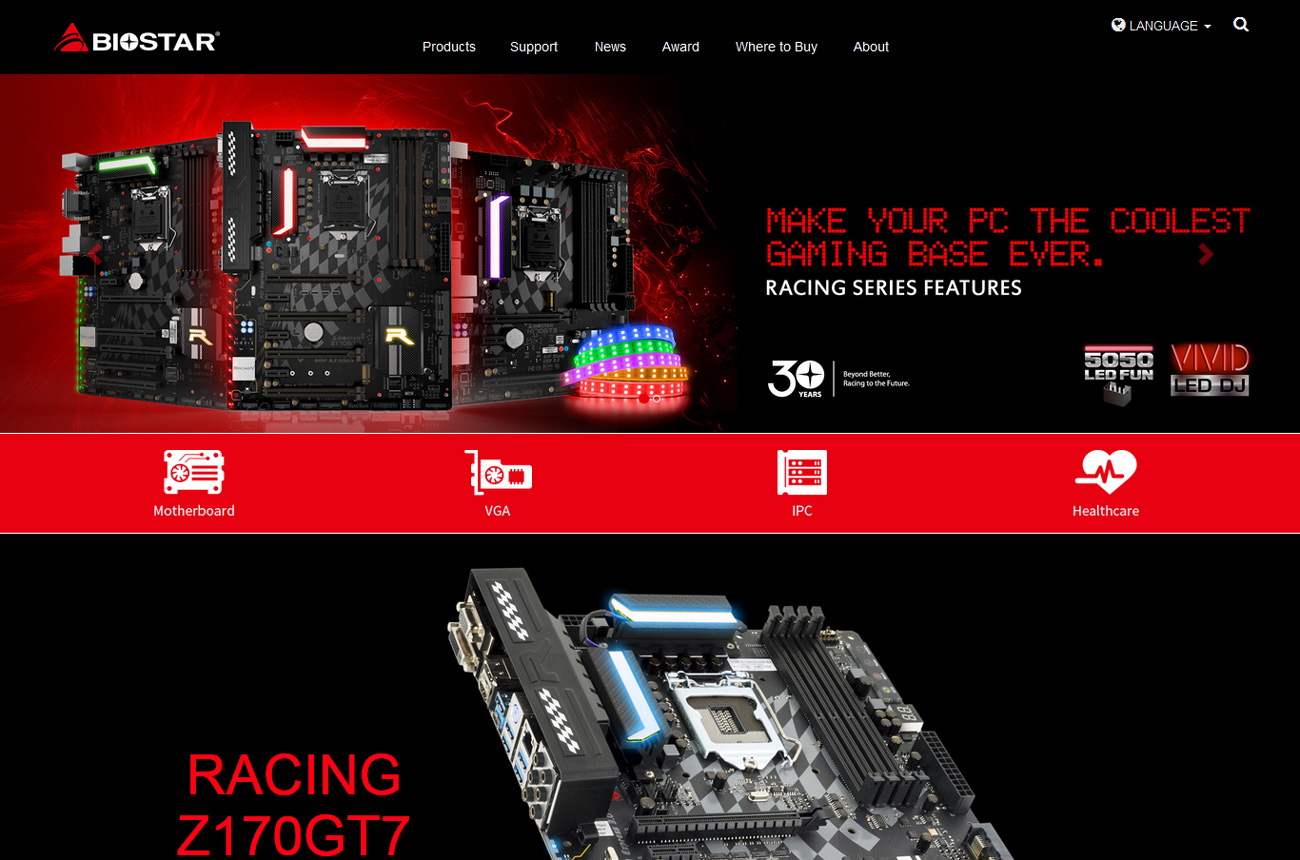 Mainboard and VGA card manufacturer Biostar has updated their website to be much for functional, enabling users to now compare products easily and a dynamic store locator feature has also been added. The product comparison feature allows users to look at the specific motherboard capabilities, even across families, chipsets and CPU compatibility.  The comparison table can also then be exported to a Microsoft Excel worksheet for later viewing. The dynamic store locator on the other hand, not only allows users to search for Biostar resellers in their area but be able to search for local distributors as well. This is part of the company's 30th anniversary celebration and what has become a banner year for them as well, introducing a streamlined motherboard family with more competitive features than they have ever offered before. To check it out, visit: http://www.biostar.com.tw
source: Press Release
BIOSTAR Races to the Future with New and Improved Website
New website offers a more interactive, modern and intuitive way to get information about BIOSTAR
April 6th, 2016, Taipei, Taiwan – BIOSTAR is proud to announce the launch of its official website which recently went online to serve as the new information portal for customers to get information for BIOSTAR products as well as the company. As part of the BIOSTAR's 30th Anniversary celebration, this milestone marks a momentous occasion in the company's storied history and serves to mark the beginning of its reinvigorated presence in the components industry.
The live website can be viewed here: http://www.biostar.com.tw/app/en/index.php
BIOSTAR's History at a Glance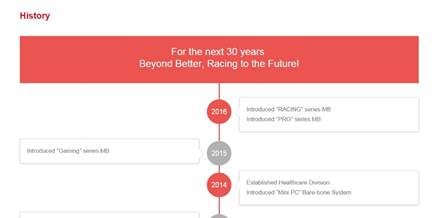 Backtrack 30 years of achievements and milestones in BIOSTAR's updated history timeline. Highlighting the key achievements in BIOSTAR's history, this new presentation allows easier viewing of the company's activities throughout the years in an easy-to-understand timeline allowing users to backtrack at a glance.
View the new timeline here: http://www.biostar.com.tw/app/en/about/history.php
Get the Info You Need – All new PRODUCT OVERVIEW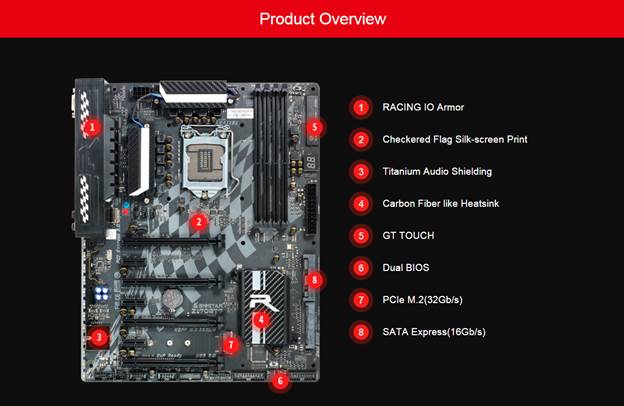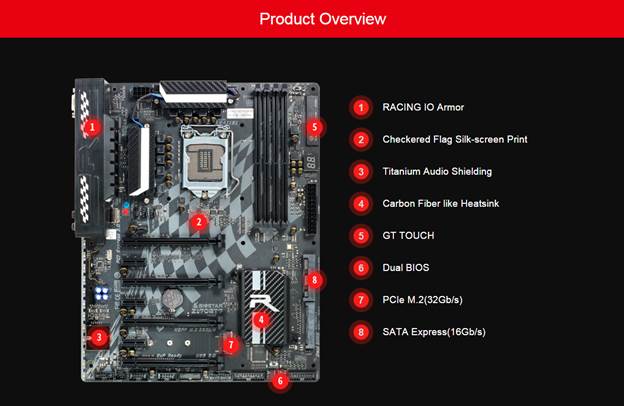 Get all the information you need with BIOSTAR's new product overview page. Scroll through all the features and details of any BIOSTAR product and get detailed information at your fingertips. The new product overview layout details specifications, unique features and includes video and graphs for a more detailed look at the product giving you everything you need in one place.
New Feature – PRODUCT COMPARISON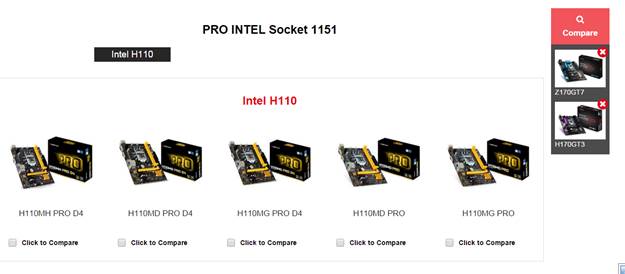 BIOSTAR makes it easier than ever to find the right product for customers with the new fully-integrated product comparison feature. This allows users to easily pick the right product for their needs with an easy to glance comparison of the products specifications.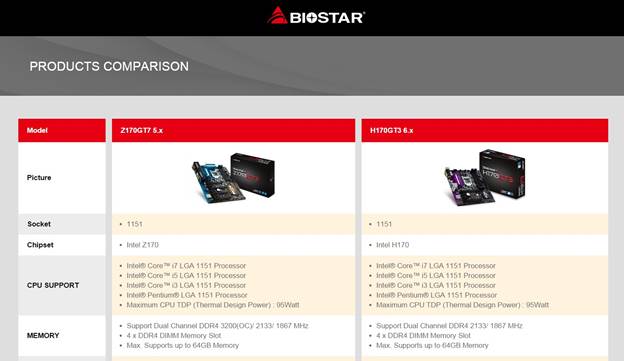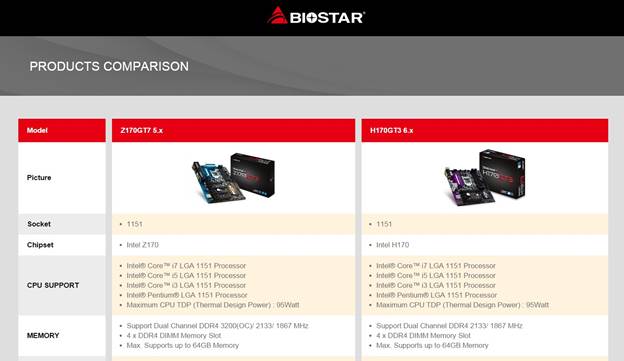 BIOSTAR's wide range of motherboards, graphics card and other solutions can now be compared against each other to provide a more comprehensive way to help customers in their decision-making.
Simply click on the "Click the compare" tick box underneath your product in the catalog and hit the compare button to see a full specs sheet of your chosen items.
 
Find a Store Near You – Dynamic Store Locator Feature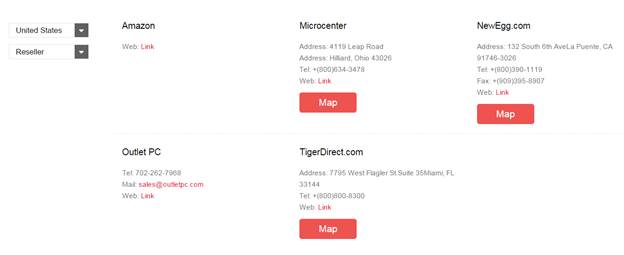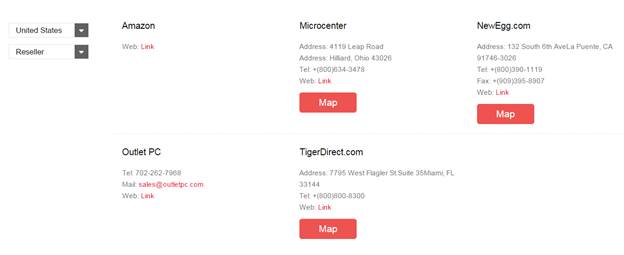 To further help make BIOSTAR products accessible to customers, a dynamic store locator is now available. People from all over the globe can search the many BIOSTAR resellers and distributors in their area directly and get access to BIOSTAR products.
See the new store locator here: http://www.biostar.com.tw/app/en/wheretobuy/index.php
Responsive and Accessible Design
The new BIOSTAR website is created with compatibility and accessibility in mind. Created with RWD website technology along with HTML5, used by Apple and many other leading brands in the industry, the new website features dynamic animations and can adjust to your devices viewport especially mobile devices. The entire site is responsive and scales to your viewing device giving BIOSTAR customers better interaction on whatever device they are using be it your phone, tablet or desktop.
A New Vision for the Future
BIOSTAR is committed to improving itself more and more into the future and has set a new vision to serve as a guideline while it races into the future:
Defining a Common Goal and Value to All Employees
BIOSTAR serves as a hub for people with common goals and ideas to reach self-recognition and self-actualization while sharing ideas to help BIOSTAR grow hand-in-hand with everyone in the company.
Customer Orientation
BIOSTAR commits itself to the customers and its products are a reflection of what the brand and customers can do when they listen to each other. BIOSTAR has always put the customer first and in this way, the company has put forth an effort to providing competitive products with reasonable prices but exceed expectations in terms of features and customer service. BIOSTAR has adjusted to the dynamic market and has responded accordingly and has come up with new ways to improve itself all the while extending benefits to the users.
Operating Continuously with Integrity
BIOSTAR's integrity as a company is unparalleled and its sincerity is nothing short of noble. BIOSTAR hopes to continue this legacy by going forth with the same critical decision-making and assessments that have helped shape it to what it is now.  View more of BIOSTAR's company vision: http://www.biostar.com.tw/app/en/about/vision.php
Visit the new BIOSTAR website at: http://www.biostar.com.tw
For latest updates and giveaways, like us on Facebook: https://www.facebook.com/BiostarHQ
ABOUT BIOSTAR
BIOSTAR, is a brand dedicated to the production of motherboards, graphics cards, industrial computing systems, IOT, and healthcare solution. Since its establishment in 1986, the BIOSTAR GROUP has become a major motherboard supplier in the IT industry as well as in IOT, Internet Of Things. In order to pursue the best quality and aesthetic design, BIOSTAR has invested heavily in ID design, equipment, global marketing research as well as R & D. With a constant emphasis on quality, BIOSTAR always seeks to beyond better and race to the future.