Page 2 »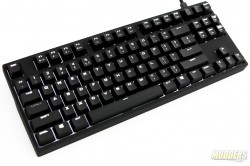 Cooler Master's QuickFire Rapid was the first and perhaps the most popular mechanical keyboard from their CM Storm line. The critical and user response to the QFR was overwhelmingly positive due to its affordable price and excellent built quality. Since then, Cooler Master has diversified their mechanical keyboard line to cater to those who prefer the feature oriented gaming keyboards such as MECH, QF Trigger, QF Ultimate and QF TK and those that prefer a more conservative look with the QF Rapid, QF Stealth, and QF XT. Like the original QFR, the QuickFire Rapid-i is a feature-balanced gaming keyboard with a tempered style and competitively priced against current backlit tenkeyless offerings.
Review Sample Provided by: Cooler Master
Price at the time of review: $149.99 MSRP ($139.99 at NewEgg.com)
Product Name: CM Storm QuickFire Rapid-i
Product was given in exchange for work done to produce this review
Placed in a informative decorated box Cooler Master gives you a lot to look at and read about the CM Storm QuickFire Rapid-i keyboard.
A quick start guide, special keys usage guide, a key-puller and a 1.8 meter long braided USB cable is included out of the box.
Specifications:
Model number
SGK-4040-GKCL1(Blue switch-tactile clicky)
SGK-4040-GKCM1(Brown switch-tactile silent)
SGK-4040-GKCR1(Red switch-linear)
Switch availability may vary on language layout
Key Rollover
NKRO (Windows only)
Keycaps
ABS, grip coated, removable
Polling Rate
1000 Hz/1ms
Backlight
All White, All keys, 5 settings and 5 modes
Windows Key Lock
Yes
On-board Memory
128k bytes
Media Keys
Yes (via F keys)
Interface
Micro USB 2.0, full speed
USB cable
1.8m braided, gold plated and removable
Dimensions
35.9(L) *13.8(W) *3.9(H) cm
14.1(L) *5.4(W) *1.5(H) inch
Weight
932 g / 2.05 lbs
A Closer Look at the CM Storm QuickFire Rapid-i
The QuickFire Rapid-i is slightly larger than the original QuickFire Rapid but the key-count remains the same. The QuickFire Rapid-i is also slightly taller with a sharper angle. Underneath, four rubber soles hold the Rapid-i in place and two heels can be flipped out to raise the back end for a steeper typing position.