Page 2 »
Obsidian is a naturally occurring volcanic glass and it is produced when the felsic lava from a volcano cools rapidly. So something so hot can be really cool looking, can we say that about the Obsidian 650D from Corsair? You should be able to make that judgement call after this review.

Sponsor: Corsair
[hr]
First Look – Packaging and Information
A plain old box is what the 650D case comes in…NOT! Even though it may look that way you do get all kinds of information from the shipping container. I think it might be one of the more informative boxes about computer case I might seen. You do not have to have flashy colors and wild graphics to sell a computer case, sure you first time DIY computer builders get sucked in to the flash and awe, but when you are really serious about your next case you want to know or see all the little details.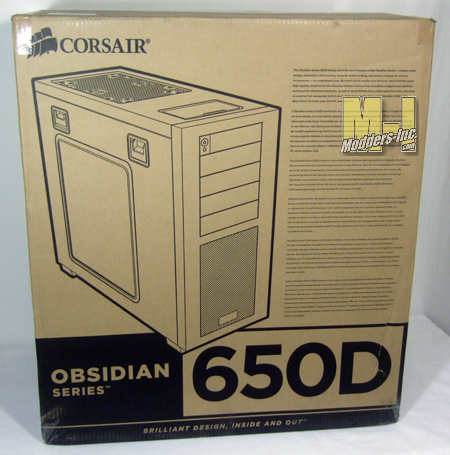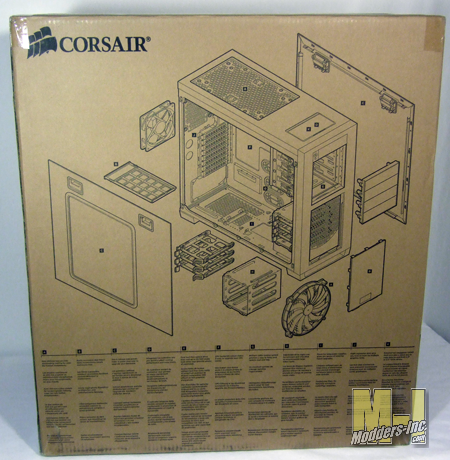 An exploded view of the case is given on the backside of the box with detail about every item shown. I know you can not read the information from the box in the image so I have taken the liberty to post some of it below. 
Dual 200mm fans provide outstanding cooling for even the hottest components
Easily accessible dust filters make maintenance simple and hassle-free
Quick-release side panels make it easier than ever to upgrade your hardware
Integrated fan controller lets you quickly adjust cooling performance and noise levels
Four tool-free optical drive bays and up to six SSD-ready hard drive trays provide plenty of expansion
CPU back plate cutout makes it easy to upgrade your CPU cooler
Brilliant cable routing system provides a way to keep your system neat and tidy
Adjustable drive cages can be removed and relocated to accommodate large video cards
Room for long power supplies gives you peace of mind for future upgrades
| | | | | | | |
| --- | --- | --- | --- | --- | --- | --- |
|  Warranty |   |   |   |   |  Two years |   |
|  Dimension |   |   |   |   |  21.5" (L) x 9" (W) x 20.5" (H) 546mm (L) x 229mm (W) x 521mm (H) |   |
|  MB Support |   |   |   |   |  ATX, mATX |   |
|  Expansion |   |   |   |   |  Slots 8 |   |
|  Form  Factor   |   |   |   |   |  Mid-tower |   |
|  Material |   |   |   |   |  Steel structure with black brushed aluminum faceplate |   |
|  Drive Bays |   |   |   |   |  (x4) 5.25" (x6) 3.5"/2.5" Drive Caddies |   |
|  Cooling |   |   |   |   |  (x2) 200mm Fans (x1) 120mm Fans |   |
|  Front |   |   |   |   |  I/O (x4) USB 2.0 (x1) USB 3.0 (x1) IEEE 1394 (x1) Headphone, (x1) Mic 4-channel Fan Controller |   |
|  PowerSupply |   |   |   |   | ATX (not included)  |   |