Cougar adds a new right-handed ergonomic mouse to their gaming line with the launch of the 600M. In addition to Cougar's 700M mouse, the 600M is smaller and ergonomically designed for users who prefer claw-grip use. Inside, an Avago ADNS-9800 laser sensor is utilized for up to 8200 adjustable DPI. A 32-bit ARM microprocessor is also embedded inside the 600M, providing programming function for up to 8 buttons and RGB LED control for the outline backlighting.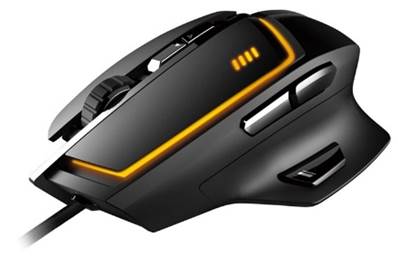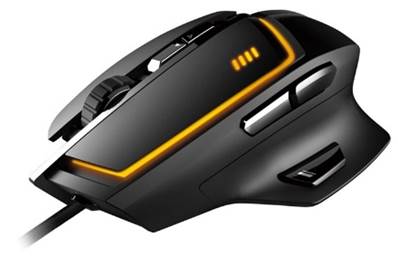 The Cougar 600M is lightweight at only 90 grams and also employs premium features such as braided cabling, gold-plated USB connectors and a soft-touch surface finish. As with all of Cougar's latest peripherals, the 600M is compatible with their UIX and Fusion system, able to communicate with other Cougar devices and sync settings under a single software control panel. The full press release is available below and will be available in retail stores in Q4 2014.
COUGAR Launches 600M Gaming Mouse
October 16th 2014, Taipei – COUGAR. COUGAR announces today the release of the new 600M gaming mouse. The 600M is COUGAR's second gaming mouse after the acclaimed award-winning 700M. This mouse has been specially designed to suit gamers with a claw grip, but palm and fingertip grip users will find it very comfortable too.
The COUGAR 600M has been designed with the clear objective of offering gamers a mouse that can both provide state-of-the-art technology, all the features necessary to enhance the gaming experience and an aesthetically pleasing design. Its premium components (OMRON switches, ADNS-9800 Sensor, premium quality soft touch surface) guarantee a flawless performance during gameplay, and its 32-bit ARM processor and 512KB on-board storage provide virtually instantaneous responses and the possibility, without depending on any computer or external device, of keeping up to 3 full configuration profiles stored on board. Aesthetically, this mouse is very stylish and has a unique feature in that the left mouse button is a floating key with a big LED backlight that can display up to 16.8 million colors.
The 600M is also packed with a broad range of features, with 8 fully configurable buttons including a 45º sniper button designed to be pressed without affecting the mouse's movements. If the high-precision wheel's up and down motion are included, and taking into account that the mouse can store up to three full profiles on its internal memory, this means the 600M can store up to 30 different functions, with 27 or 22 of them being comfortably accessible from the mouse itself by using the mode cycle button (to change to the next mode) or the instant mode switch (to change temporarily another mode while the key is being pressed) respectively. These features, among many others, make it the 600M one of the best gaming devices currently available on the market.
Another key point is the 600M's compatibility with the COUGAR UIX™ System and COUGAR FUSION™, which allows for easy configuration of all the device's functions, mode synchronization, macro sharing and many other functions that provide the user with extra synergies if this device is used with other COUGAR FUSION™ devices such as the 700M Keyboard. The COUGAR 600M will be available in Late 2014.
More details at the COUGAR Website: http://www.cougar-world.com/products/mice/cougar_600m.html
About COUGAR
COUGAR products target enthusiast gamers who not only demand state-of-the-art PC chassis and highly efficient power supplies, but also want to enjoy gaming with the best peripherals. COUGAR provides these enthusiasts with cutting-edge high quality gaming products. Founded in 2007 by a group of enthusiasts in Germany who were tired of the boring looks of PC hardware, COUGAR aims to blend passion with innovation. COUGAR products are renowned for the highly stylish concepts and strict quality requirements.