« Sub-System Benchmarks (Storage, Audio, Network, Gaming)
Final Thoughts about the ECS Z270H4-I Motherboard
The ECS Z270H4-I mainboard is hardly the company's first move into the mini-ITX space. ECS released the Z97I-DRONE motherboard for the Z97 chipset several years prior, and the approach with the Z270H4-I's design is now much different than what they were trying to do with that motherboard. The layout has been significantly improved, allowing for better component clearance for example. The CPU socket now sits further from the lone PCIe x16 slot so there is no conflict even with larger CPU heatsinks and video cards installed. The front m.2 slot is also much more readily serviceable even with a heatsink installed.
It also does not compromise too much considering the small space. It has a USB 3.1 Type-C port (albeit having Gen 1 speeds), and an M.2 port that supports PCIe x4 32Gb/s devices (albeit limited to 2242 or 2280 form factor mounts). It offers five analog audio jacks with an optical out via a Realtek ALC1150, rather than opting for an older solution and being limited to three audio jacks. It does not come bundled with an M.2 WiFi/BT module but it comes with an antenna.
The compromises are for the value benefit of the user and to push the ECS Z270H4-I into being the most affordable mini-ITX Z270 solution available. While most mini-ITX motherboards retail for $149 or more, the ECS Z270H4-I is available for only $109.99.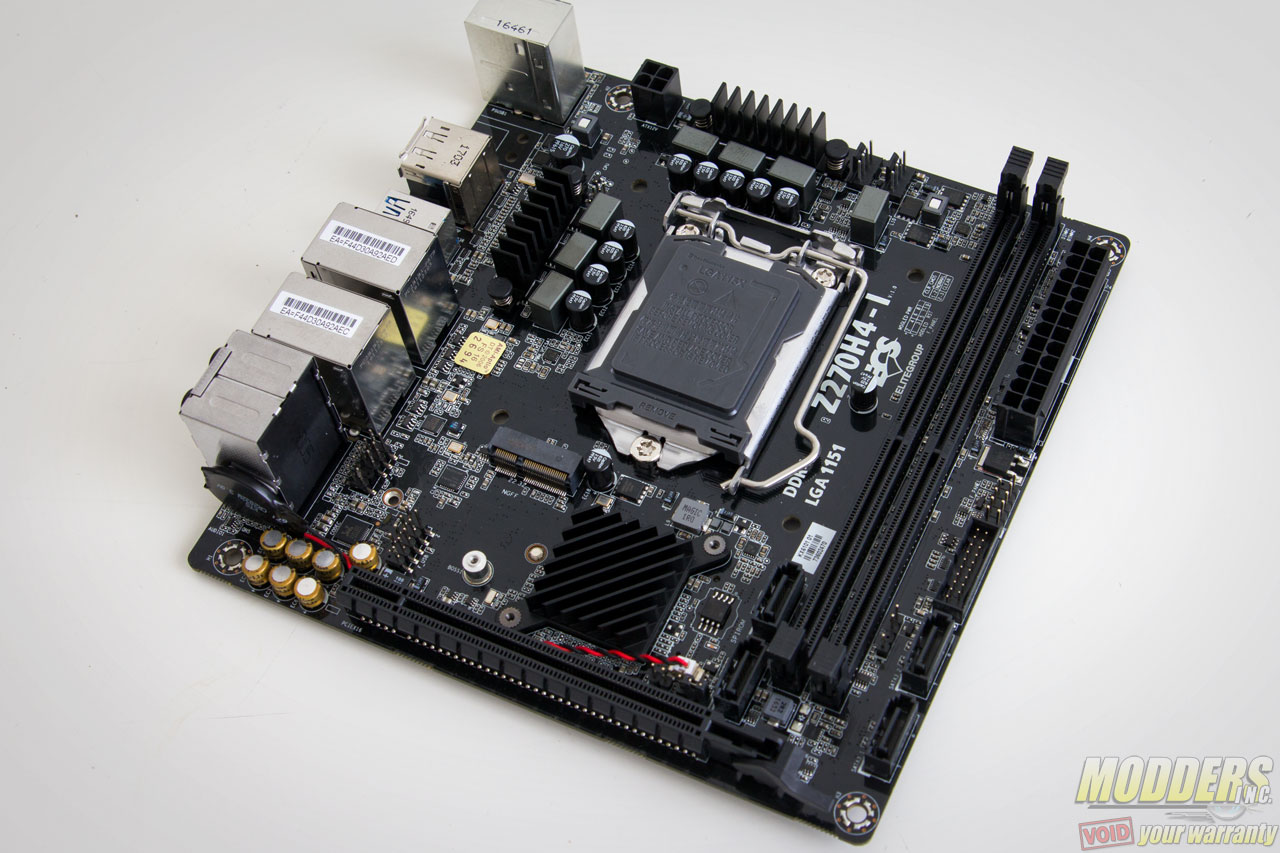 As with most ECS mainboards, the hard part is actually finding it on sale. It is not listed on Amazon.com or NewEgg.com yet. It is not listed on NCIX.com either. You can find it in other markets if you are diligent. The Wi-Fi edition is available at PCHome for the equivalent of only $129, which is still much more affordable than all other mini-ITX Z270 motherboards. If you are looking for a Z270 ITX motherboard that has a sensible layout, and solid fundamentals, then the Z270H4-I is an ideal choice. You just have to look a lot harder however since it is not as widely distributed as other boards in North America.