A Closer Look at the MSI X299 Tomahawk Arctic Motherboard »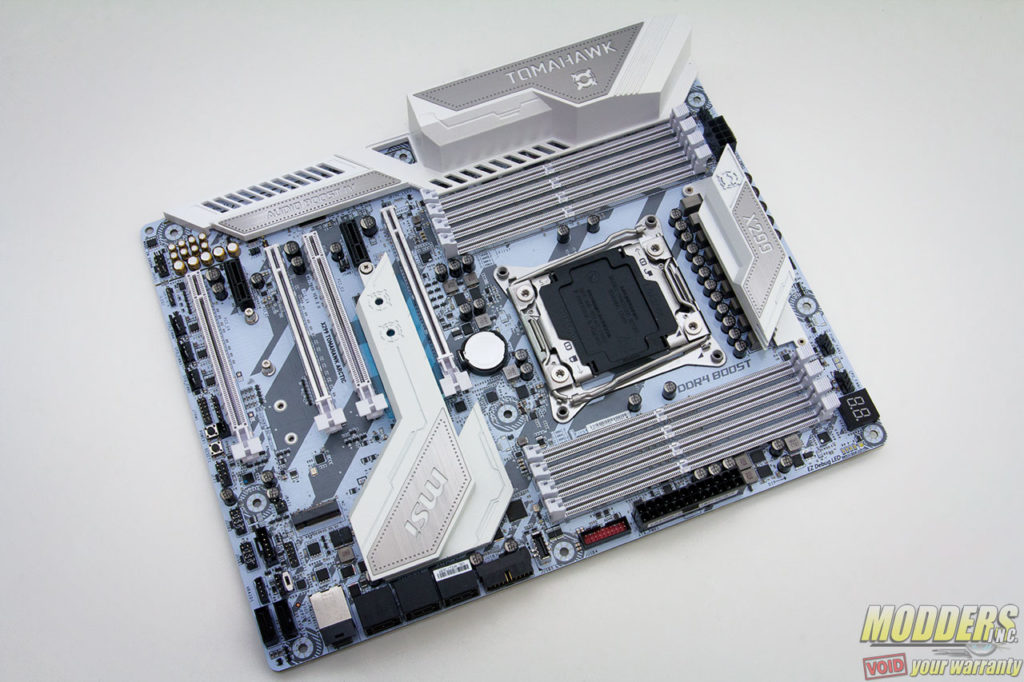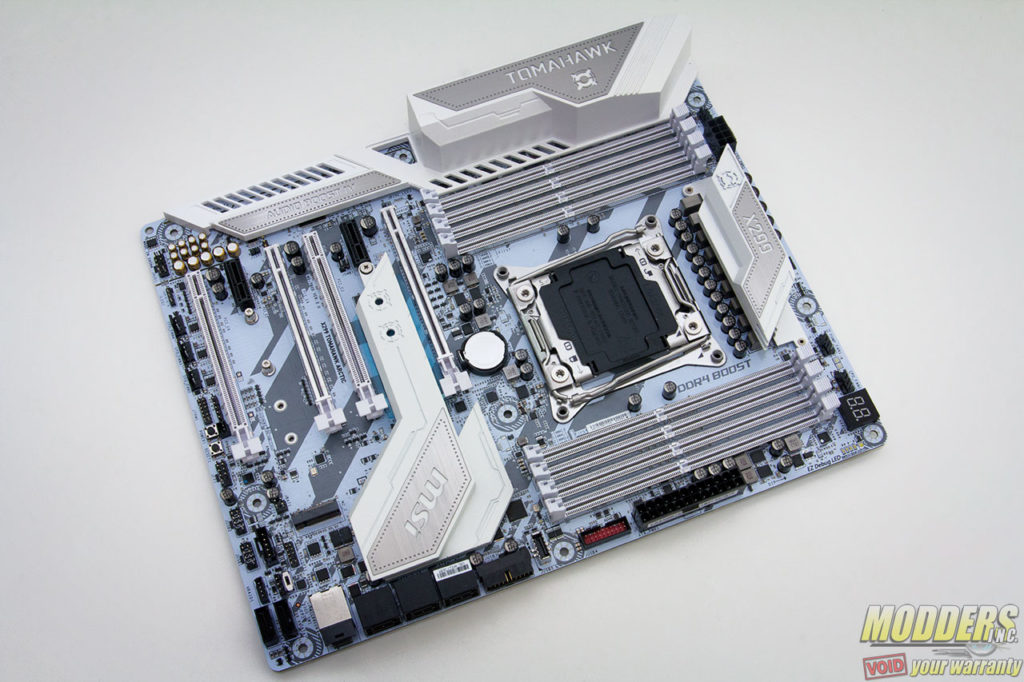 Intel's next generation HEDT platform is here, and weirdly enough, they are offering much more affordable quad-core CPUs for it. Understandably, these do not provide as much feature as the full-blown and more expensive HEDT CPUs, but the platform itself has become something that is more accessible to most people.
MSI's Tomahawk motherboards provide good gaming value using Intel's mainstream desktop chipsets. Now, that same focus on aesthetic and bang-for-buck gaming performance is available on the new X299 platform as well. For $279, the X299 Tomahawk Arctic is full of features, both familiar and new.
[sc:sponsor sponsor="MSI" product_link="https://www.msi.com/Motherboard/X299-TOMAHAWK-ARCTIC.html#productFeature-section" product_name="X299 Tomahawk Arctic" product_price="$279.99″ ]
Packaging
Like most of MSI's other mainboard packaging, it flips open from the front bottom to reveal dual compartment area with the motherboard at the top and the accessories at the bottom. The motherboard is packed in an anti-static bag although this time, there is no foam padding underneath.
The top compartment is reserved for the motherboard while the bottom compartment contains the bundled accessories.
Bundled Accessories
The accessory pack includes an IO shield, a user manual booklet, a DVD driver disc, cable management labels, quick installation guide, a product registration card, DDR4 memory installation guide, and two SATA cables (one straight and one angled). MSI also throws in an SLI high-bandwidth bridge.
Form Factor and Chipset
The MSI X299 Tomahawk Arctic uses the standard ATX form factor, measuring  30.5 cm x 24.4 cm. It uses a matte white 8-layer PCB with gray  silkscreen print on it.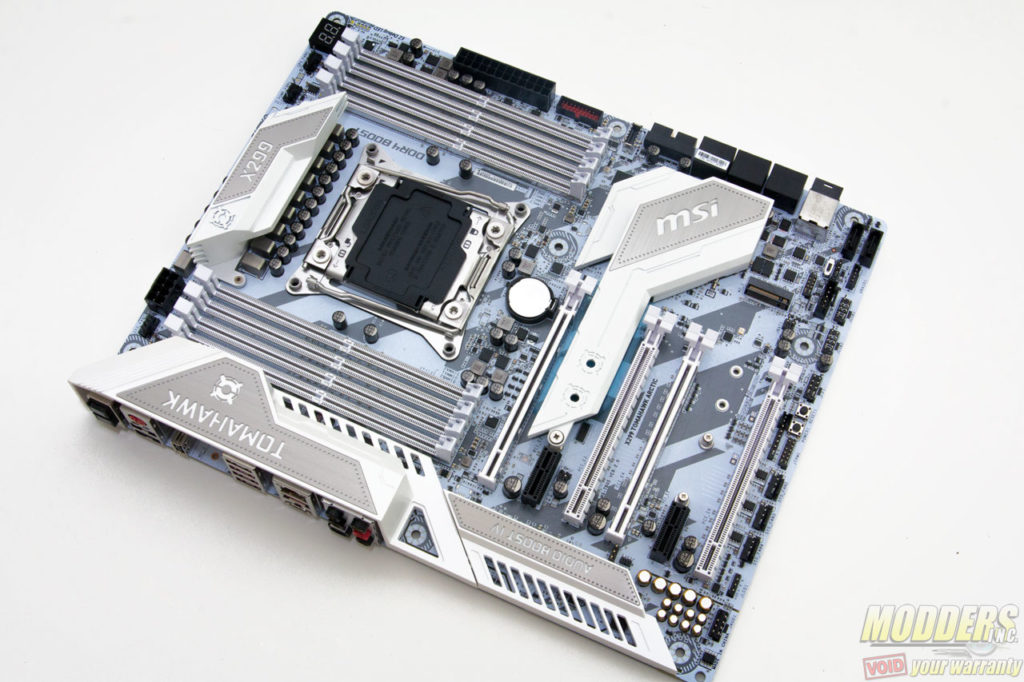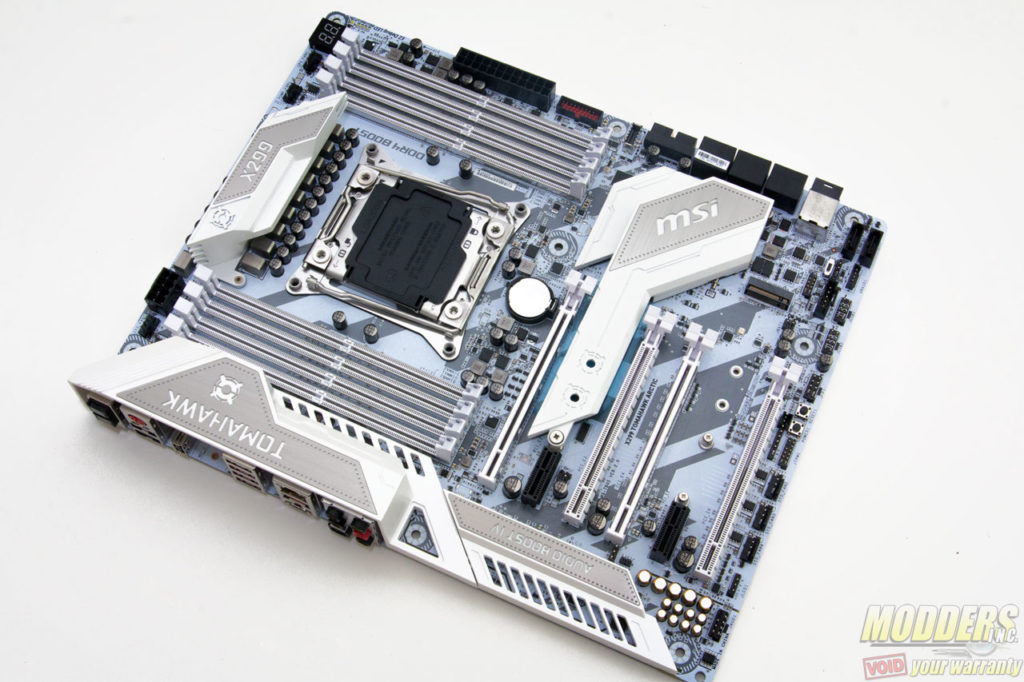 It is not just the PCB that is white, but most of the slots as well. The headers are all black, as well as the SATA ports, PCIe x1 slots  and power connectors. The PCIe x16 slots are white and the two that are spaced for SLI have a metal shielding.